MyOpinions Australia – Overall Rating
There sure are a lot of survey sites competing for your valuable time out there. And as is often the case, sorting the good from the bad can be difficult. Enter MyOpinions Australia.

Claiming to be "Australia's Favourite Paid Survey Site", MyOpinions is one of the most popular survey sites in Australia, and that's for good reason.

Completing surveys for cash makes a great side income – even more so if the site lets you redeem your points for PayPal and Flexi eGift Cards instantly and so here are four reasons to join MyOpinions Australia:
Share in a pool of nearly half a million dollars paid out every month
Fast sign up
Earn points simply for signing up
Earn up to $7 per survey
If you're not yet convinced, then keep on reading this MyOpinions review to find out why we rate it as one of the go-to paid Australian survey websites that you need to join!
Popular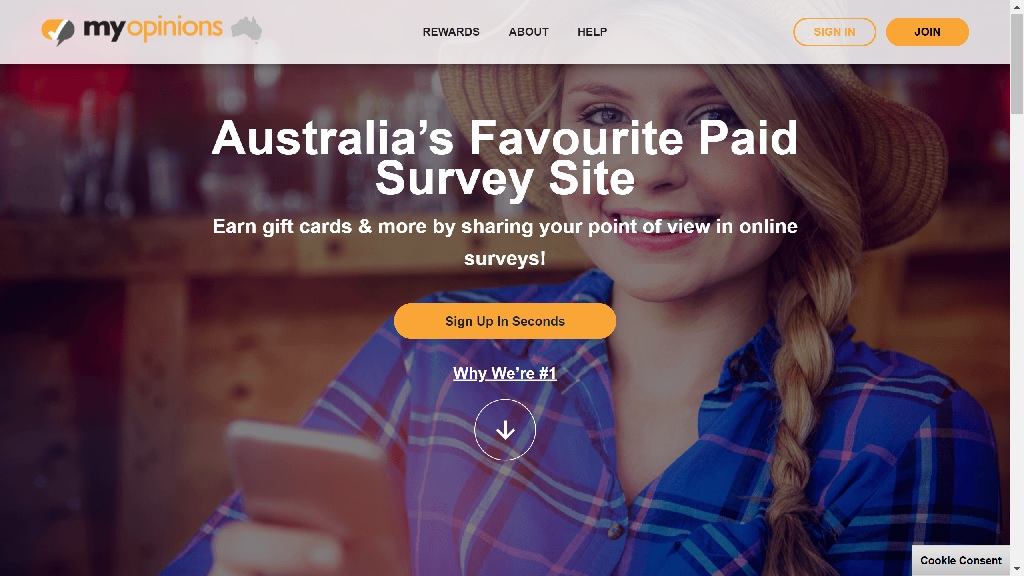 MyOpinions Australia
MyOpinions Australia is one of the most popular survey sites in Australia, and that's for good reason.Get up to $7/survey and earn gift cards & PayPal cash.
Table of Contents
What Is MyOpinions Australia?
If you're looking to convert your daily activities into financial rewards, a Get-Paid-To (GPT) site might be a better fit, but if you're looking to regularly do quality surveys, then MyOpinions Australia should be in your survey panel portfolio.

MyOpinions.com.au is one of the largest players in the Australian survey space, rewarding users for providing detailed insights into their day-to-day activities, services consumed, purchasing habits, and lifestyle.

It's backed by Dynata, LLC. which also owns Opinion Outpost, Valued Opinions and OpinionWorld. Dynata is the world's largest first-party data company, with a global reach of 70 million consumers and business professionals, driving 100+ million survey completions per annum.

MyOpinions reward points are redeemable in two ways. First, they can be transferred to a PayPal account for real cash or alternatively, users can choose to cash them out as Flexi eGift Cards.

The best thing? MyOpinions Australia is quick and completely free to join and use. All you need to do is sign up and start browsing.
| MyOpinions Australia | |
| --- | --- |
| Redemption Methods: | Flexi eGift Card + PayPal + Charity |
| Redemption Threshold: | Flexi eGift Card – $10, PayPal – $20, Charity – $10 |
| Pay Range: | $0.50 to $3.00 |
| App: | No |
| Australian Based: | No |
| Referral Program: | No |
| Join: | Join using the MyOpinions login here |
Is MyOpinions Legit Or A Scam Site?
If you consider how many rewards programs can be shady, you'll understand that this is a completely reasonable question to ask.

Having used MyOpinions, I can reassure you that it is an entirely legit market research company, having existed since 1999 and is now experiencing over 2 million survey starts per month.

Trustpilot rates MyOpinions with a 4.5 out of 5, with 1934 reviews, which is excellent. Dynata, LLC, the MyOpinions parent company, is rated with Trustpilot as a 3.3 (out of 5), with 1500+ reviews.

MyOpinions takes privacy and data handling seriously if you care to read the policy. A copy of the terms and conditions can also be accessed on the website.

A quick search of Google will deliver thousands of testimonials and reviews about how members make cash with MyOpinions.

MyOpinions is legitimate!
Why Should I Join MyOpinions Australia?
There are plenty of reasons to join MyOpinions Australia, but that's provided you're prepared to invest your time in completing quality surveys honestly. If you're more task-orientated and have a shorter attention span, then have a look at our GPT sites.

MyOpinions is one of the higher quality survey sites in Australia and fields a lot of surveys of large ASX 200 companies looking for input on their services and products. It is NOT a survey aggregator site that seeks to make a margin off redirecting you to 3rd Party surveys.

And what you'll find is that like with anything, the more you invest your time in MyOpinions Australia, the greater your earnings will be. So, if income from a side hustle is your goal, look no further.
Popular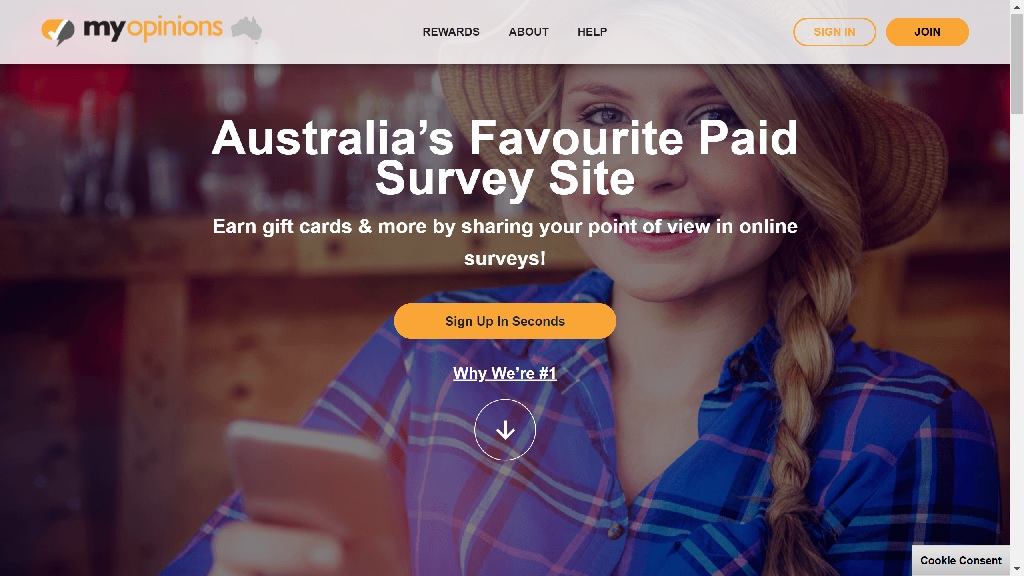 MyOpinions Australia
MyOpinions Australia is one of the most popular survey sites in Australia, and that's for good reason.Get up to $7/survey and earn gift cards & PayPal cash.
Who Should Join MyOpinions?
MyOpinions allows anyone 18 or older to become a member. You will also need to reside in Australia.
How To Sign Up For MyOpinions
The sign-up experience for MyOpinions Australia is quick, easy, and free.

To sign up and start answering regular surveys, head to myopinions.com.au

You'll need to provide some personal information, including your name, postal address and email address, password, but no phone number is required. Then you'll need to verify your email address once MyOpinions has sent you an email.

It is also possible to login with Facebook and Google.

In all, the sign up process takes a maximum of 5 minutes, but then you'll need to complete your profile information the first time you log in (30 minutes), and this includes: Business, Personal & Household, Politics, Insurance, Leisure & Interests, Magazines, Utilities, automotive, Health Conditions, Technology Devices Owned, Shopping, Food & Beverages, Personal Banking, Investing, Electronics & Gadgets and Mobile Devices.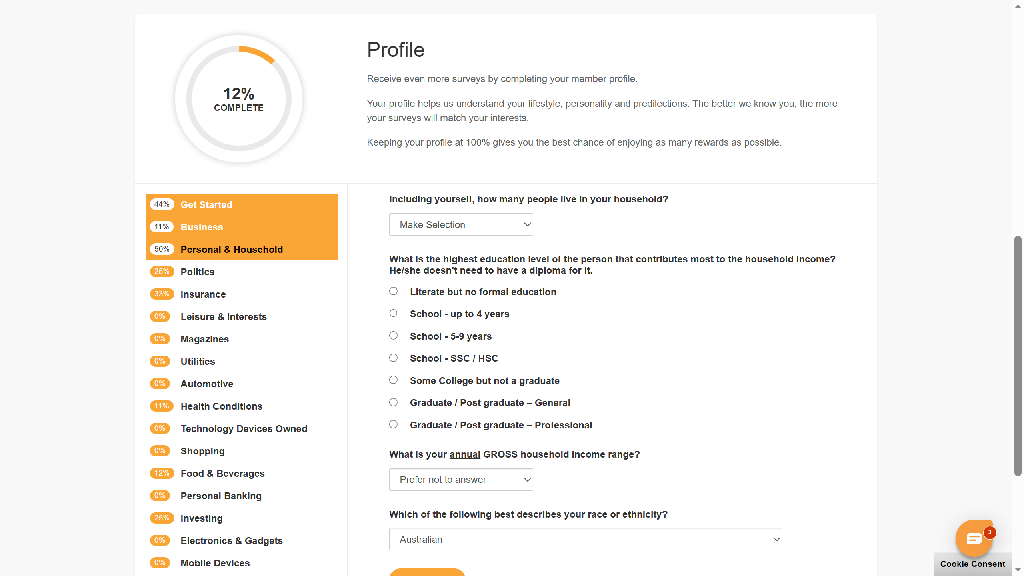 Is There A MyOpinions App?
No, but don't let this put you off as their website is well-optimized for PC, tablet, and mobile. No Chrome extension is available either.

If only app-based surveys are for you, check out our Best Survey Apps page here.
How Does MyOpinions Actually Work?
The primary purpose of MyOpinions is to offer market research insights. It works with a wide range of advertisers, including premium brands. Brands need your honest feedback to help improve their products and services. By sharing your views with MyOpinions, you get to provide a direct line to brands, telling them how you really feel.

MyOpinions Australia rewards you in the form of online rewards for consumers. Points can be redeemed for PayPal cash or Flexi eGift Cards.
How To Make Money With MyOpinions
Users need to have realistic expectations when it comes to making money with MyOpinions Australia. Consider MyOpinions a side hustle, not a primary source of income.

With focus an income of $50 to $100/month is achievable, but results will vary widely. Much comes down to your demographics and the degree of effort you put into creating your profile.

Here's how you can start earning, too.
Take Online Surveys
Surveys are the main way to earn points with MyOpinions. Subscribers can expect to be able to access several surveys per day.

Expect a pay range of between $0.50 to $7 per survey, with the vast majority in the $1 to $3 range.

Often when you take a survey via an email from MyOpinions, you'll be redirected to Survey Sampling International (SSI), don't panic. SSI has been acquired by Dynata, the owner of MyOpinions.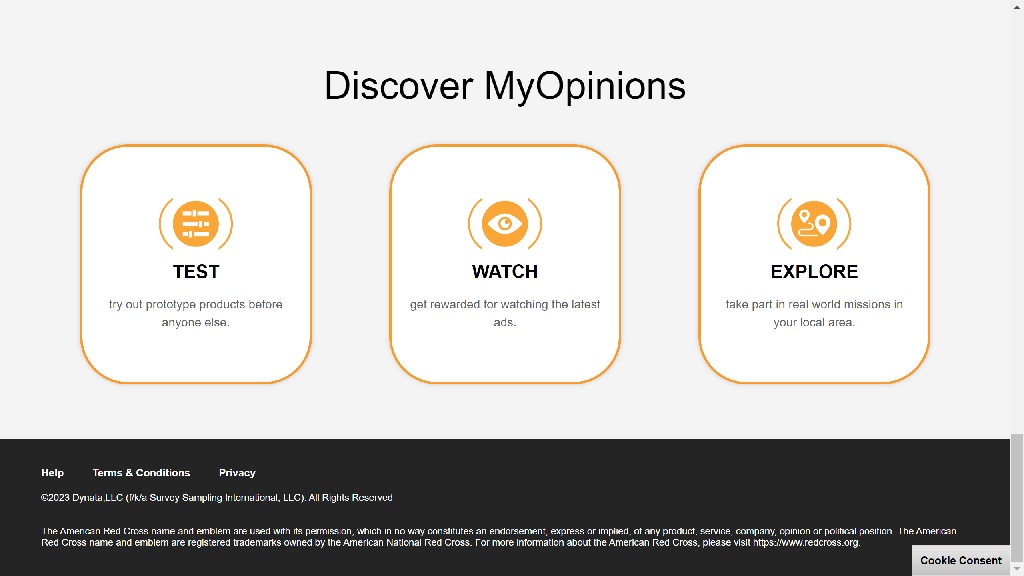 Product Testing
You may get the chance to undertake product testing via email invites, based on your demographics. However, while this pays reasonably well, don't expect it to form a regular portion of your income from MyOpinions.
Watch Ads
MyOpinions is very short on detail and I've never had the opportunity to participate, but it is stated as an option on the website.
Mystery Shopping
The same applies to Mystery Shopping as "Watch Ads".
Other Ways To Earn MyOpinions Points
Outside the ways mentioned above, MyOpinions offers few opportunities to earn extra points – partly because it is not a Get-Paid-To (GPT) site.

It also appears that in recent times, a number of games, prize draws, and other elements have been removed from the site in a bid to simplify it.
Bonus Welcome Survey
Complete the Bonus Welcome Survey to kick off your earning with 50 points.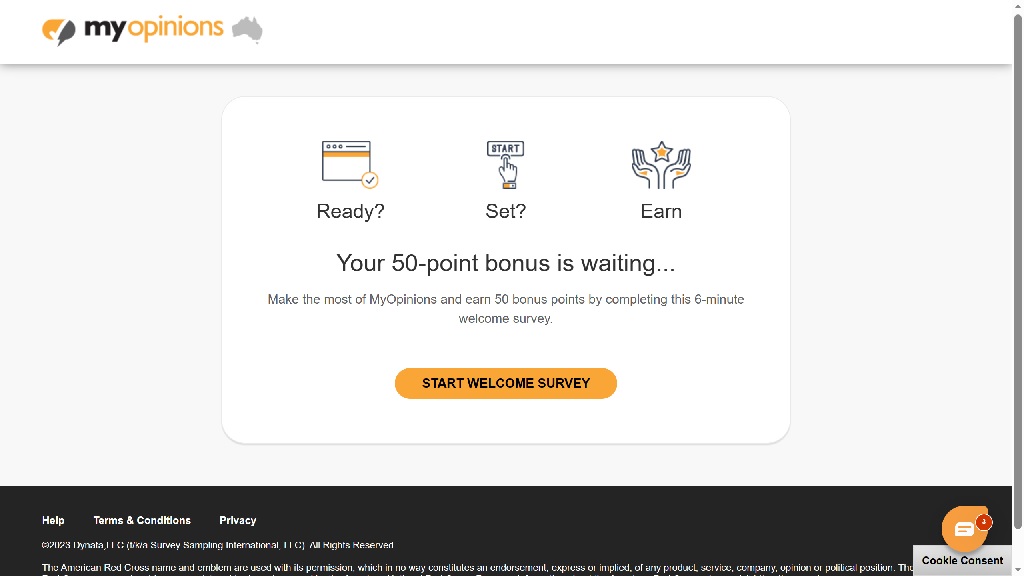 New Member Challenge
Subscribers can complete 3 surveys in the next 7 days to score an extra 100 bonus points.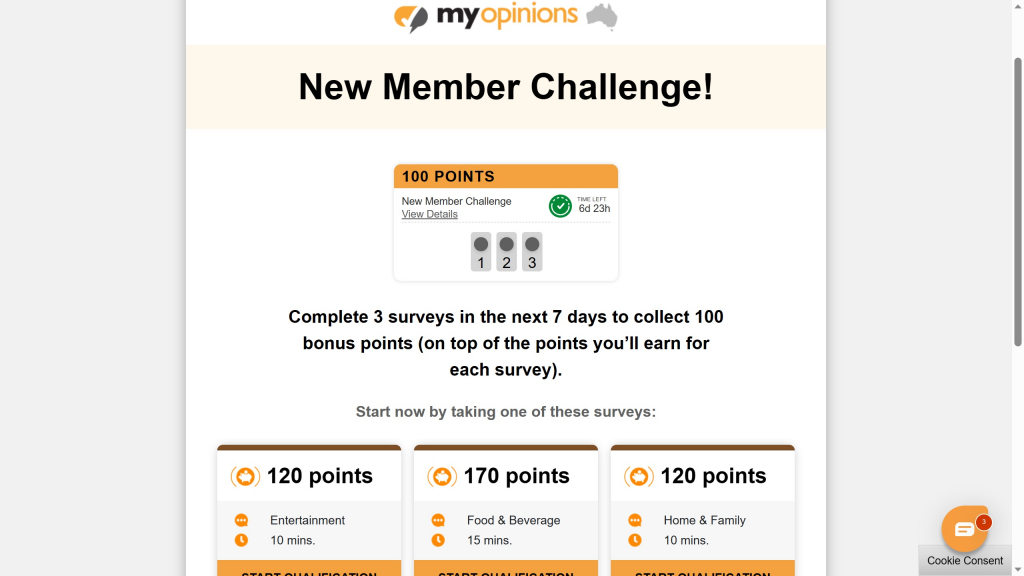 Loyalty Status Program
The closest users come to a loyalty program is a section of the website called 'Badges". Survey participants are able to take more surveys to level up and unlock weekly bonuses.
Level
Activates at
Weekly bonus on
surveys completed
Bronze
2.5%
Silver
2,500 Lifetime Points
2.5%
Gold
5,000 Lifetime Points
5%
Platinum
10,000 Lifetime Points
7.5%
Diamond
15,000 Lifetime Points
10%
Refer a Friend
It appears that in recent times, MyOpinions has removed this feature.
Update Your Profile
Improving your profile is easy and many users do not spend enough time on it, in the rush to begin answering surveys. While this doesn't directly earn you more points, it typically results in more surveys and opportunities being available to you.
Screenouts
You'll receive 20 points every time you're screened out of a survey.
Popular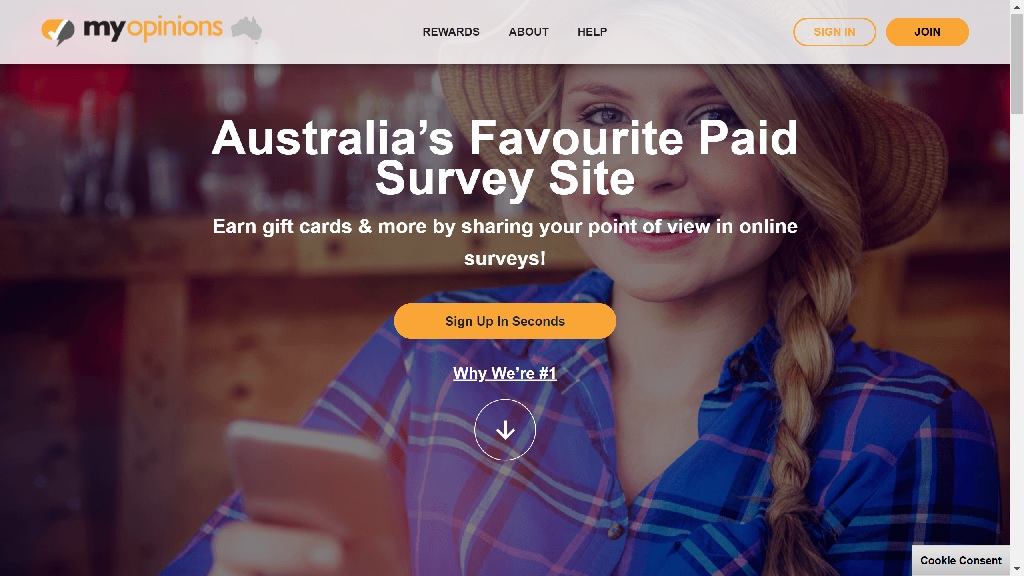 MyOpinions Australia
MyOpinions Australia is one of the most popular survey sites in Australia, and that's for good reason.Get up to $7/survey and earn gift cards & PayPal cash.
Redeeming MyOpinions Points
How Many MyOpinions Points Make A Dollar?
Some of you may be asking, how much is one MyOpinions point worth? Each point is worth about one cent, so 100 points is equal to $1.
PayPal
Payout options of PayPal and Flexi eGift Cards appear under the 'Rewards' tab, but there is more to it than meets the eye.

PayPal payments of $20 and above are available.

If you choose PayPal as your preferred payment option, it can take 24 hrs to reflect payments on your account.
Flexi eGift Cards
Call them e-vouchers or gift cards or something in between, but Flexi eGift Cards are a popular form of redemption for survey websites.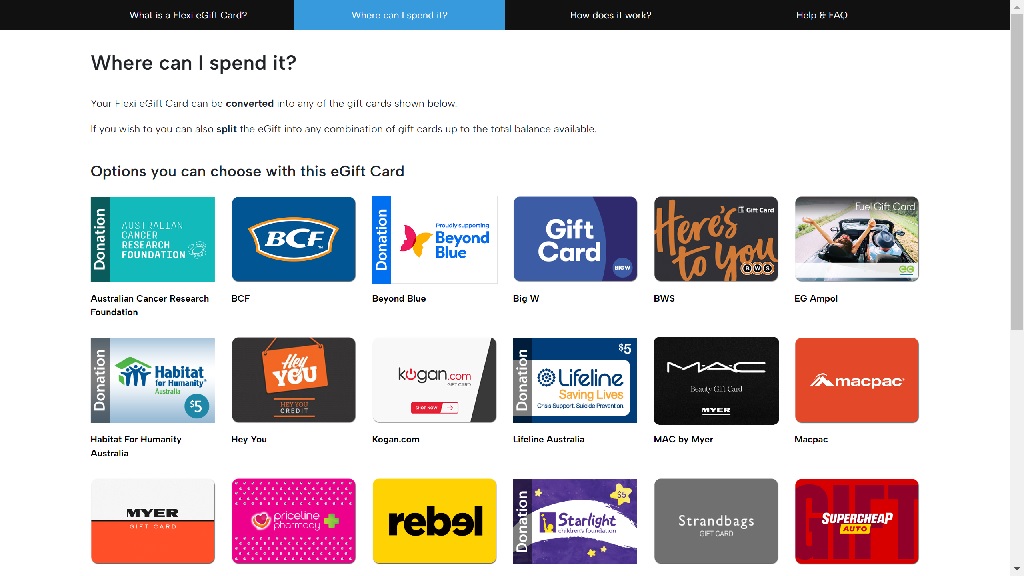 With redemptions starting at $10, this is splittable between two companies at $5 a piece. At the time of writing, subscribers have access to the usual options such as Woolworths, Myer, Rebel Sport, BCF, Catch, Optus and Vodafone. This is not to say other brands such as Coles won't appear as it is stated: "Each gift card brand and denomination is subject to demand and availability. Therefore each brand and denomination of gift card may not be available at all times".

Opt for e-gift cards and e-vouchers and you can receive them instantly.
Charity
Within the Flexi eGift Card option, subscribers can choose to donate to the Australian Cancer Research Foundation, Beyond Blue, Lifeline Australia, Habitat for Humanity, and Starlight.
Pros and Cons – MyOpinions Australia
Pros
source of quality surveys
pays well
simple and focused interface
quick registration
screenouts points awarded
Cons
no Refer A Friend program
redemption difficulties reported
limited opportunities to earn
customer support lacking
Similar Survey Sites To MyOpinions Australia
A good number of survey sites operate similarly to MyOpinions. However, most don't offer the same level of payment.

If you're serious about completing online surveys frequently, we recommend exploring other platforms. Here's how MyOpinions Australia compares to similar sites:
MyOpinions Reviews from Others
Here are some MyOpinions reviews from customers who use the site:
Surveys for cash

I have been with them for a while, When I first went to withdraw it took 3 days. After that, every $20 payment has been instant into my Paypal. I am not sure why they have such little stars. I assume people are just spamming any answers or answering surveys differently. Keep in mind people when you do surveys, they can track your answers over multiple surveys to see if you are truthful or not.

AdamJ, from Sydney, NSW. Member since 4 Jan 2023, on Productreview.com.au
I don't even know how this site still up. SCAM! (EDITED)

EDIT:
Ok it took a little while but they actually sorted the 72 hour issue and I was able to cashout, got paid within minutes on my paypal after contacting their support a couple of times. I'll leave it at 3 stars, the amount paid per survey is good but the technical issue was a bit annoying.
EDIT 2:
Still no issues so far, was able to cash out a couple of times and to be honest I'm pretty satisfied now hahah
Changing the rating one last time to 4 stars.

Original:
As many others have already stated this site is a scan, I completed enough surveys to get the 2000 pts so I could try and claim a paypal reward but it says my account is under review for a period of 72 hours, but it's been like that for more than a week. Tried emailing their support, followed all the steps to try and "fix" the issue but it didn't work. Sent a screenshot of the error message as requested by the support and all I got was "We are going to look into it and get back to you whenever we can find a solution for this problem".

Rick A, Member since 10 Nov 2022, on Productreview.com.au
Have cashed in many e-gift cards successfully.

I have been doing surveys and cashing in Woolworths vouchers successfully for the past couple of months. The first time you cash in you have to provide all your drivers licence details and wait three days. After that, every cash in is paid out immediately. All the Woolworths egift cards I've received have worked perfectly with no problems.

I work full time but have been able to earn around $50 a week doing these surveys in my spare time after work and on weekends. They do check your answers across all your surveys, so if you lie or don't read the questions properly, they will suspend your account. If you are honest and do the surveys properly, you won't have a problem.

Naomi, review on 2 april 2023, TrustPilot
Popular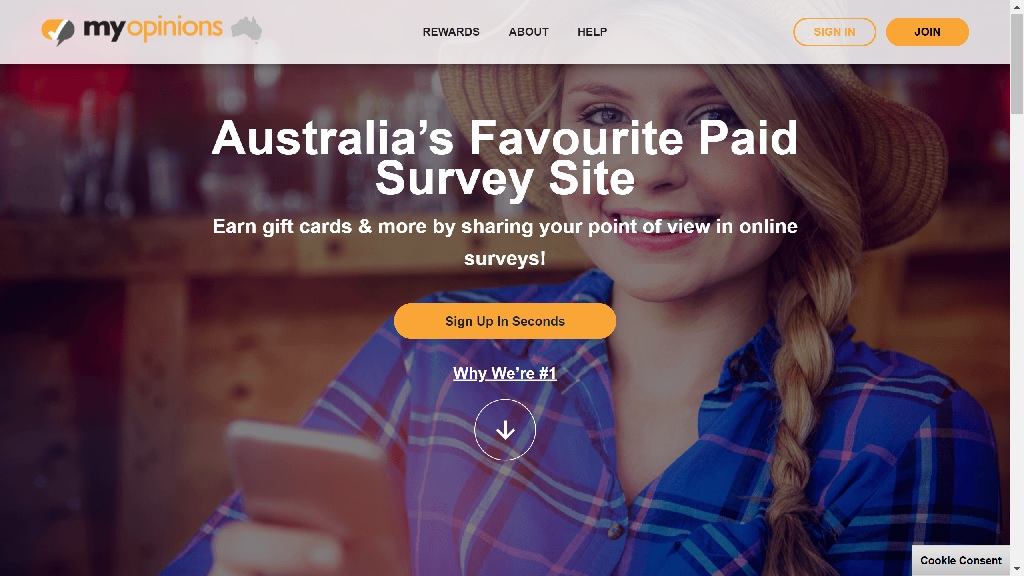 MyOpinions Australia
MyOpinions Australia is one of the most popular survey sites in Australia, and that's for good reason.Get up to $7/survey and earn gift cards & PayPal cash.
MyOpinions Australia Customer Support
A number of review sites indicate that most issues with MyOpinions Australia revolve around accounts being suspended or deleted upon redemption requests. Customer support also appears to be slow. If you become a subscriber to myopinions.com.au customer support may be required at some point. Here are your options:

Check the FAQs: First, browse the Help tab on the website. You can use the search function if you are not sure where to start and you'll find answers to many questions.

Lodge an online support ticket: At the bottom of the support questionnaire is a link to lodge a ticket and within it, you'll find most issues that can be experienced from on the website.

Phone: No telephone support is available.

Social media: MyOpinions.com.au does not appear to have a dedicated Facebook page.

TrustPilot: Write a brief, factual, and cutting review including your issue and may be contacted MyOpinions seeking contact. If they address your issue, be sure to amend the review.
Conclusion: MyOpinions Review
MyOpinions Australia

After this MyOpinions review it should be clear that the site has been simplified and re-focused on surveys in recent times. While the site might seem simplistic, it is one of the survey sites that you should be joining.

On the flip side, there do appear to be a lot of historical complaints around accounts and redemptions, but this appears to have significantly dropped off in the last two years. Perhaps the overhaul of the site has helped?

MyOpinions has a clean and fresh feel to it, with a good supply of surveys and an adequate set of redemption options available.

What is stopping you from joining MyOpinions.com.au?

Thanks for taking the time to read this MyOpinions review!
FAQ: MyOpinions Review Australia
What is the redemption limit on MyOpinions?
Flexi eGift Card redemptions start at $10, while PayPal redemptions start at $20.
How does MyOpinions work?
Get paid to take surveys on your PC, mobile, or tablet with MyOpinions. You'll be paid in points which can be redeemed for PayPal or Flexi eGift Cards.
Is MyOpinions legit?
Yes. MyOpinions is a legitimate survey site that has operated since 1999.
How much can I earn on MyOpinions?
With a bit of effort monthly earnings of $50 to $100 are possible.