Mobrog Australia – Overall Rating
Mobrog is a market research company that operates an online platform for paid surveys. It offers individuals the opportunity to participate in market research studies and interesting surveys in exchange for compensation, in the form of cash or gift cards.
These surveys cover a variety of topics and are conducted on behalf of various companies and organizations looking to gather insights and opinions from consumers.
In this Mobrog review, we'll take an in-depth look at this German market leader and help you figure out whether Mobrog should be in your survey portfolio.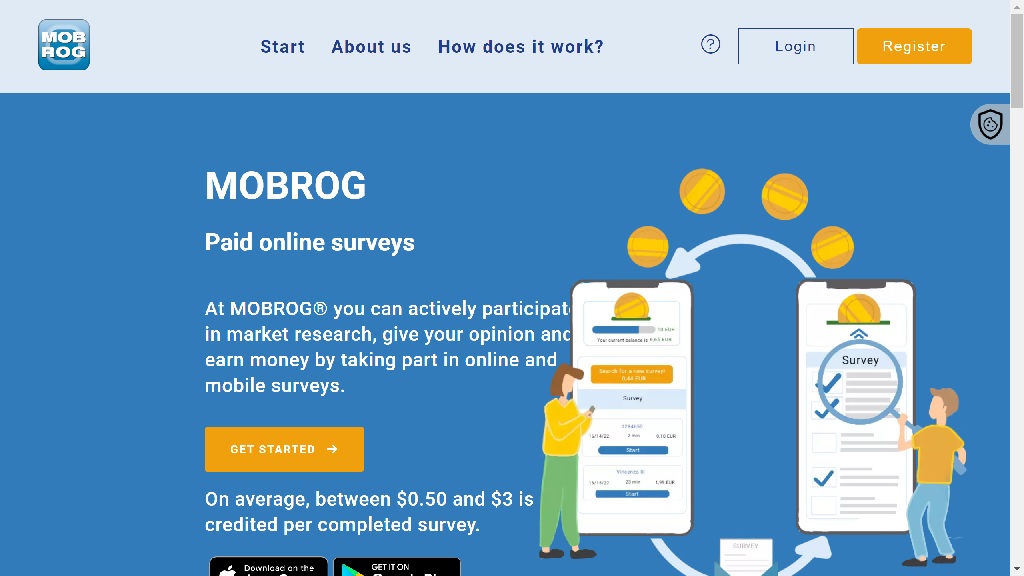 Mobrog Australia
Take part in interesting survey topics and share your opinion and experiences to help shape products and services of the future.
Table of Contents
Is Mobrog Legit?
Mobrog.com is a legitimate platform for paid online surveys, owned by Splendid Research GmbH of Germany. To date, it has paid out EUD 2.4m.

However, like any online opportunity, it's important to exercise caution and do your own research before getting involved. Here are a few things we like to consider before joining a site:

Reviews and Reputation: We look for reviews and testimonials from other users who have participated in Mobrog surveys. This can help gauge the legitimacy and reliability of the platform. Trustpilot shows a 4.5 out of 5 star rating based on 55,800 reviews. Suffice to say this is good.

Privacy and Data Security: We consider whether the platform has proper data protection measures in place to safeguard your personal information. Mobrog is a member of a number of professional groups and standards organisations; they endorse the ICC/ESOMAR International Code of Marketing and Social Research Practice and provide services in accordance with the guidelines for international market research issued by MRS, CASRO, MRA & ARF.

Payment and Terms: Mobrog is transparent about the payment methods, minimum payout thresholds, and terms of compensation. More on this later.

Contact Information: Legitimate platforms typically provide clear contact information, including customer support, in case you have any questions or concerns.

Frequency of Surveys: Be realistic about the frequency of survey opportunities. While legitimate platforms can provide a way to earn extra income, they are unlikely to provide a consistent full-time income.

Mobrog is legitimate and definitely not a scam website. We can attest to this as we have been members for a number of years.
| Mobrog Australia | |
| --- | --- |
| Redemption Methods: | PayPal, Gift Cards (limited options) and EcoMatcher |
| Redemption Threshold: | $8.50 |
| Survey Pay Range: | $1.00 to $5.00 |
| App: | Android and Apple iOS |
| Australian Based: | No |
| Referral Program: | Yes |
| Join: | Join using the Mobrog login here |
Who Can Join Mobrog Australia?
Anyone in Australia can join via the Mobrog website, provided they are over the age of 18 years old.

Mobrog is also available in mostly European countries, South American countries and the USA, including Argentina, Australia, Austria, Belgium, Canada, Colombia, Denmark, Finland, France, Germany, Hungary, Ireland, Italy, Luxembourg, Mexico, Netherlands, New Zealand, Norway, Poland, Portugal, Romania, Spain, Sweden, Switzerland, Turkey, and the United Kingdom.
Who Is Mobrog Australia Good For?
Mobrog Australia might be a good fit for:
People Looking for Extra Income: If you're looking to earn some money online in your spare time without committing to a regular job, participating in online surveys on Mobrog could provide a way to do so.
Stay-at-Home Parents: Individuals who are taking care of children or managing household responsibilities might find online surveys a convenient way to earn money without leaving home.
Students: College or university students who want to make some pocket money without interfering too much with their studies might find Mobrog Australia appealing.
Retirees: Retired individuals who want to supplement their retirement income or keep themselves engaged might find online surveys a suitable option.
Mobrog will not be a good fit for those looking to make money from Cashback, Get-Paid-To (GPT), or Shopping activities, as it is a dedicated survey website.
How Is Mobrog Australia Different From Other Paid Survey Sites?
Mobrog is a standout among paid surveys websites for its sheer simplicity. No gimmicks, few additional features to hold your attention, just a good supply of Australian surveys. This puts it on a par with Octopus Group, Ipsos iSay and YouGov.
How Do I Sign Up For Mobrog Australia?
Simply head to the Mobrog website by following this link.
Is There A Mobrog App?
Mobrog has a mobile app for both operating systems – located in the Google Play store for Android and Apple iOS app stores. It attracts good ratings.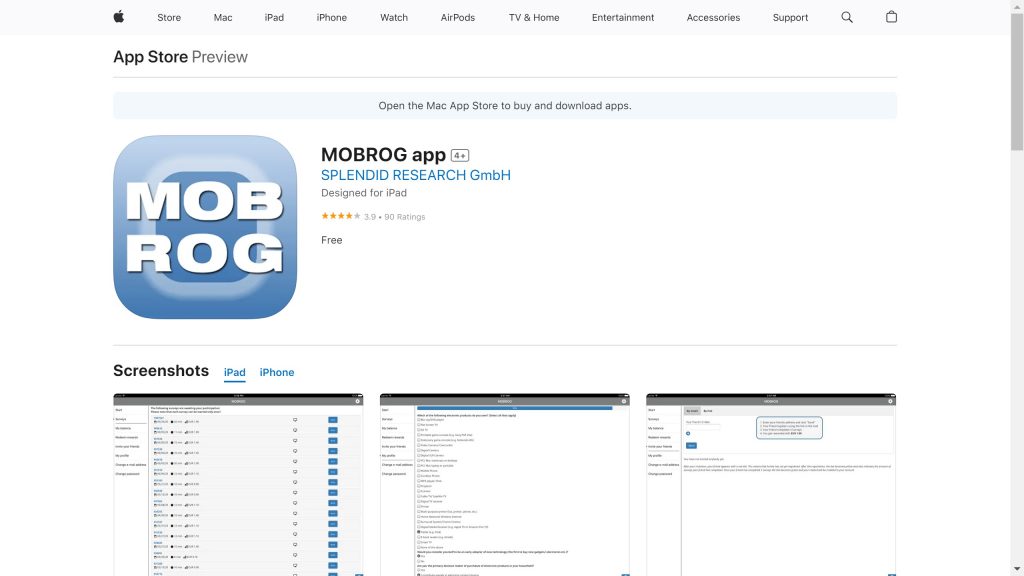 The survey app can be downloaded after joining here.

If only app-based surveys are for you, checkout our Best Survey Apps page here.
Make Money With Mobrog
Making money with Mobrog is really all about 2 things – first and foremost is surveys and secondly referrals, as a cherry on top.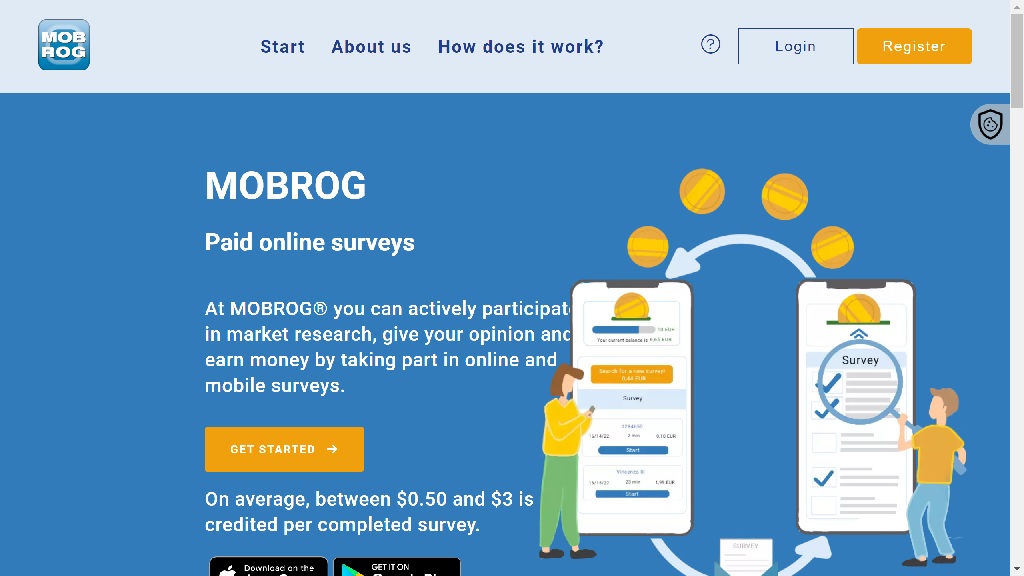 Mobrog Australia
Take part in interesting survey topics and share your opinion and experiences to help shape products and services of the future.
How Much Money Can You Make With Mobrog Surveys?
There is no guaranteed earning with any survey site, but as a rule, reputable and focused survey sites offer the best opportunity to make money from surveys. You may wish to consider:
Survey Length and Complexity: The compensation for a survey often depends on its length and complexity. Longer and more in-depth surveys may offer higher payouts.
Frequency of Surveys: The number of survey invitations you receive can impact your earnings. Some participants receive more invitations than others, depending on their demographics and profile.
Qualification: Not everyone qualifies for every survey. You might be screened out of surveys based on your responses to preliminary questions.
Time Invested: Your overall earnings will also depend on how much time you invest in participating in surveys. Since survey invitations can be sporadic, your ability to earn consistently might be limited.
As a rough estimate, individual survey payouts on platforms like Mobrog can range from $1 to $5, with longer surveys offering higher rewards.

Mobrog is very open about quotas filling fast and screenouts: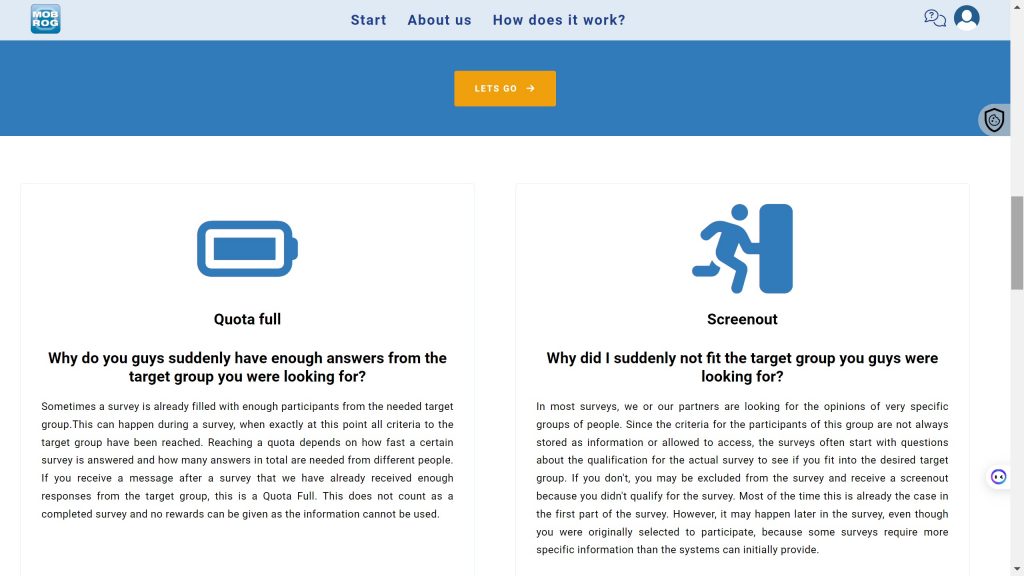 Mobrog Surveys
Mobrog is a dedicated survey website and we do not classify it as a GPT (Get-Paid-To) website, such as Swagbucks.

The main way to make money is to regularly answer new surveys as they emerge. Jump on to them quick and monitor your email for notifications.

They make it pretty easy to complete a survey as all you need to do is 'search for a new survey'.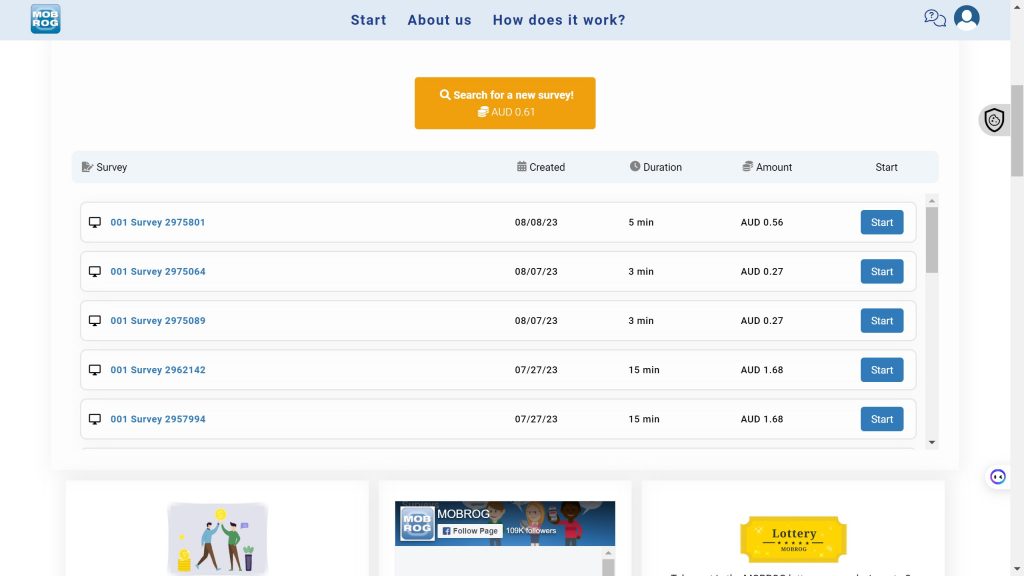 Mobrog Referral Program
Mobrog has a great referral program that can really give a boost to your earnings.

As always we advise that you be careful when referring people to programs as it can annoy people if you spam them.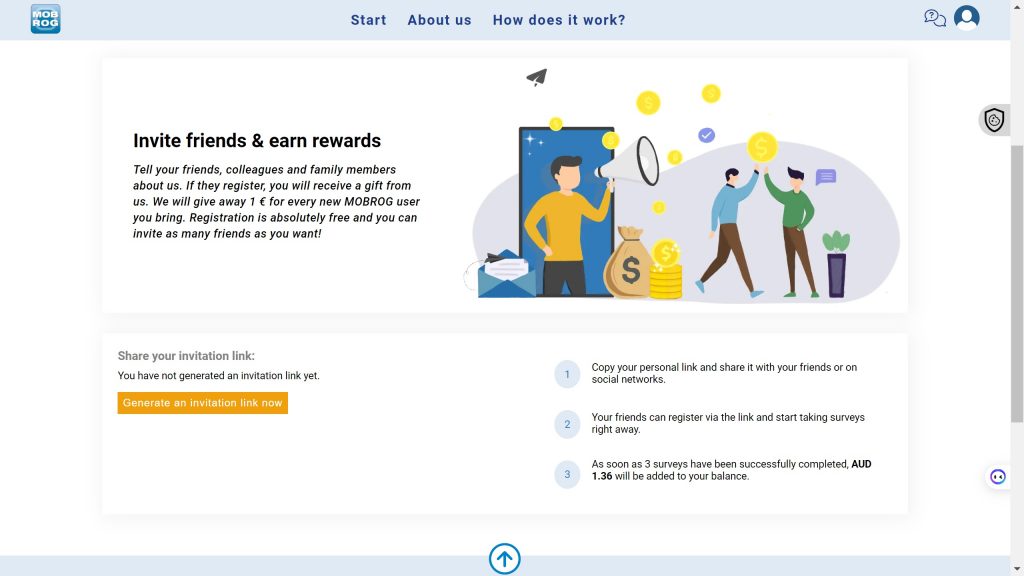 To make referrals, all you need do is:
Retrieve your personal link from the 'Invite Your Friends' subheading under the 'Account' icon on the top right of your screen and share it with your friends or on social networks.
Your friends can immediately register and commence taking surveys.
Once your friends have completed 3 surveys each, you'll receive $AUD 1.36 added to your balance. (the equivalent of 1 Euro)
Mobrog Lottery
For every unsuccessfully completed survey, you'll receive a ticket from Mobrog. Once a month, two winners are drawn, each of whom will win an online voucher worth €100!

You'll need to activate tickets to participate in each monthly lottery. Head to the 'Account' icon on the top right of your screen.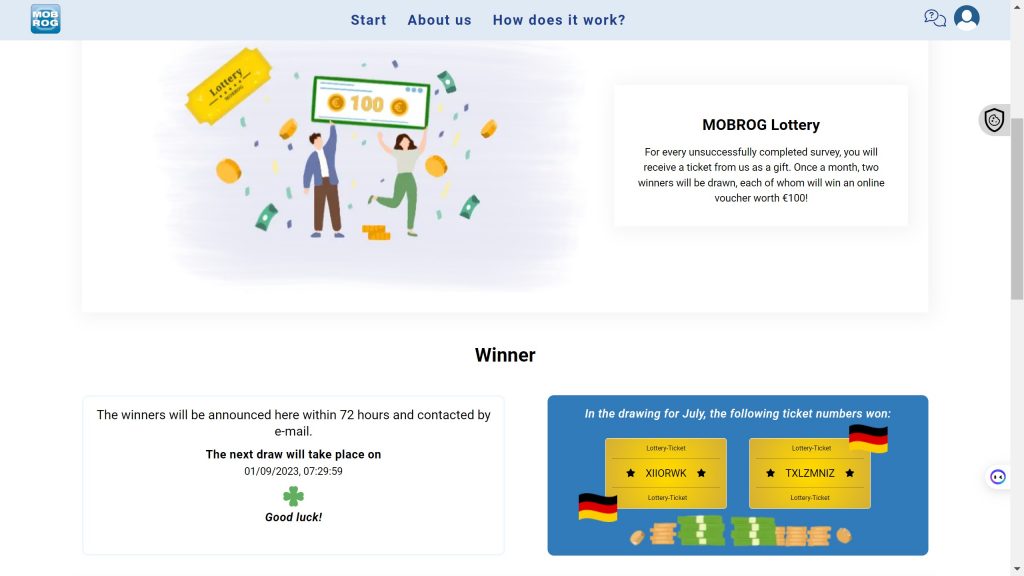 Other Mobrog Earning Opportunities
Occasionally, users may encounter other types of activities, such as paid product testing or focus groups.
Redeeming Mobrog Earnings
By far the two main methods of withdrawals are PayPal and via Gift Cards.

Paypal: A PayPal payment can be made from as little as $8.50 straight into your PayPal account.

Gift Cards: A very limited selection of gift cards is available for withdrawals. You'll need $17.00 to payout for a catch.com.au gift card, $8.50 for either a JB HiFi or Rebel Sport gift card.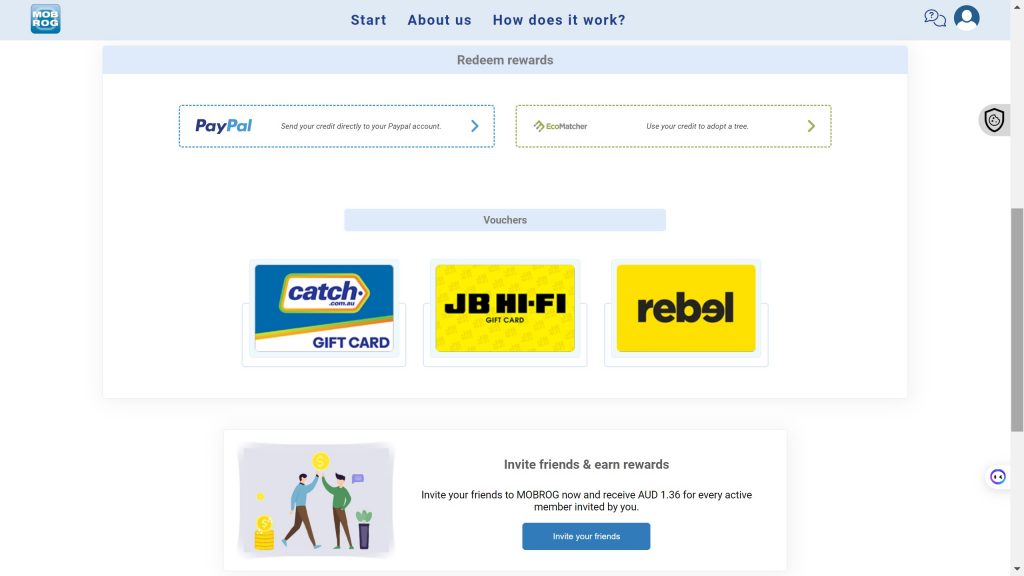 EcoMatcher: EcoMatcher is a certified B corporation, plants trees and complete forests with vetted foundations and NGOs from around the world specialized in planting trees. For $4.76 you can use your credits in an environmentally conscious way to sponsor a tree. With the TreeTracker you can see where your tree stands and watch it grow.

Skrill Account: While this option used to be available to Australians, the option is noted on the Mobrog website as: "Until further notice, Skrill is unfortunately no longer available in your country."

Mobrog does not offer an Amazon option.

For fraud and security reasons, only two payouts of the minimum redemption amount are permissible per day. So, it would pay to regularly redeem via PayPal of gift cards.
Pros And Cons – Mobrog Australia
Your experience of Mobrog may vary wildly depending on your particular set of demographics.
Pros
User-friendly interface
Low payout threshold
Variety of surveys
Referral program
Cons
Limited gift card redemptions
Few other earning opportunities
Similar Sites To Mobrog Australia
Mobrog Australia Reviews
MOBROG is the best survey company I… [sic]

MOBROG is the best survey company I have found. The surveys are good, and you earn cash from doing them, and the process for being paid is simple through PAYPAL.

K Morrow, Trustpilot, AU, 3 August 2023
Great app

Great app , easy payout system.

Dimitie Chapman, Trustpilot, AU, 26 July 2023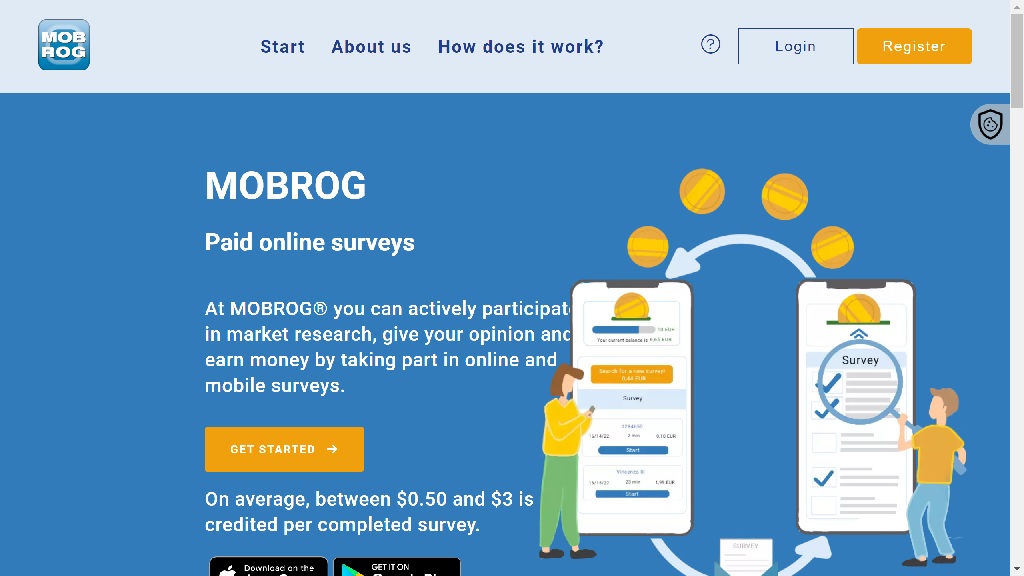 Mobrog Australia
Take part in interesting survey topics and share your opinion and experiences to help shape products and services of the future.
Mobrog Australia Customer Support
Help Page: Mobrog has a comprehensive library of support issues and questions to start with first.

Lodge an online support ticket: If you can't find an answer to your question, lodge a ticket via the help and support page.

Phone: There is no telephone support.

Reach out on social media: Mobrog does monitor and respond to comments and issues on its Facebook page.

Trustpilot: Leaving a specific and nicely worded review/issue on Trustpilot may result in follow-up messaging from Mobrog. Make sure you update your comments once the issue is resolved. They tend to initiate with a private message to your registered email account.
Conclusion: Mobrog Review Australia
Mobrog Australia

Mobrog is a simple and effective survey website, without gimmicks. We consider Mobrog to be one of the best survey panel websites due to it being focused, easy to use and offering decent rewards for your time and effort.

Yes, you should absolutely add it to your survey mix and visit daily for the best new surveys to answer.

Thanks for taking the time to read this Mobrog review!
FAQ: Mobrog Review Australia
Does Mobrog have an app?
Yes, the app is available for Google Android smartphones and Apple iOS devices.
Does Mobrog have a referral program?
Yes, simply head to your account management secion and click on 'Invite Your Friends'.
How much can I earn per survey from Mobrog?
The majority of surveys on the Mobrog paid survey website Australia pay $1 to $5.
Is Mobrog legit?
Yes, we can confirm it is. you can also review it on Trustpilot where you'll see it has a 4.5 out 5 star rating.
Who owns Mobrog?
Splendid Research GMBH owns Mobrog.