OpinionWorld Australia – Overall Rating
When it comes to earning extra cash on the side, completing paid online surveys can be a convenient and satisfying option. However, not all online survey sites are created equal.

OpinionWorld is a clear winner, where joining is effortless, participation is straightforward, and the rewards are worthwhile. Essentially, you get paid for expressing your opinions and it doesn't get much easier than that!

OpinionWorld.com.au is an online market research company that bridges the gap between consumers' feedback and brands or companies aiming to enhance their marketing strategies. The website has been operating in Australia for several years.

In this comprehensive OpinionWorld review, we will delve into how this paid survey site functions including looking at product testing, mystery shopping, and advert reviews. We'll also provide valuable tips on maximizing your earnings.

If you read our OpinionWorld review and join OpinionWorld Australia, you'll realize that it has the potential to offer more than your average online survey site.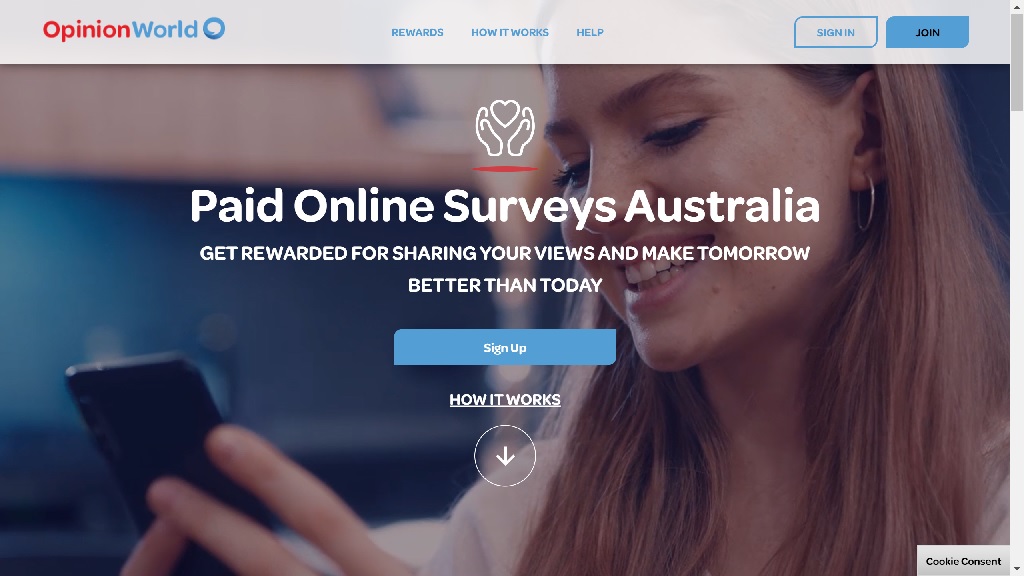 OpinionWorld Australia
A solid survey website with good survey availability and redemption options.
Table of Contents
What Is OpinionWorld Australia?
OpinionWorld, a well-established global survey company, has been operating for decades under various names. It is now owned by Dynata LLC. after having been branded as Survey Sampling International (SSI). With its reputation for trustworthiness and legitimacy, it comes as no surprise that many individuals have been using this service to earn money online for an extended period. OpinionWorld boasts a substantial user base not only in Australia but also worldwide.
| OpinionWorld Australia | |
| --- | --- |
| Redemption Methods: | eGift Card + PayPal + Uber Eats Voucher |
| Redemption Threshold: | $10 |
| Pay Range: | $1.00 to $6.00 per survey |
| App: | No |
| Australian Based: | No |
| Referral Program: | No |
| Join: | Join using the OpinionWorld login here |
How OpinionWorld Works
In Australia, users are rewarded with points for completing online surveys through OpinionWorlds' rewards system. Essentially, each survey or review you complete earns you a specific number of points, which depends on the length and complexity of the survey.

Once you accumulate enough points, you have the option to convert them into cash via PayPal or redeem them for flexi eGift cards.
How To Join OpinionWorld
To get started, all you need to do is create an account. Signing up is quick, easy, and free. Simply provide your name, email address, and some profile information. The entire process of joining OpinionWorld should take you less than five minutes. After signing up and confirming your account, you can begin taking surveys and earning reward points.

Apart from Octopus Group, YouGov and MyOpinions, OpinionWorld.com.au offers some of the most lucrative surveys available at the moment. In our experience, it provides higher earning rates compared to global sites like Swagbucks, Survey Junkie, Toluna, and is on par with Ipsos iSay.

If you're seeking to make money online through paid surveys, OpinionWorld Australia may present a solid opportunity for your time investment.

New Zealanders wishing to join OpinionWorld may head here.
Is There An OpinionWorld App?
Unfortunately it does not. However, the site presents well on mobile browsers.

If only app-based surveys are for you, checkout our Best Survey Apps page here.
Is OpinionWorld Legit or a Scam?
If you've made it this far, you may have concerns about the legitimacy of OpinionWorld and whether it's a scam. It's only natural to be cautious, especially considering that some research companies target Australians in less than reputable ways.

Thankfully, I can assure you that OpinionWorld is a 100% legitimate survey service, and it is as safe as any survey site for Australians to use. Over $470,000 is paid out each month.

As a genuine market research company, OpinionWorld adheres to a variety of Australian and global data security guidelines. Like all research companies operating in Australia, they are obligated to comply with local privacy legislation. They have made a commitment not to sell or misuse users' personal information, and they will not share your information with any third party without your consent. If you'd like more information or to read the OpinionWorld disclaimers head here, or you can explore their privacy policy.

To sum it up, it's evident that OpinionWorld is legitimate and a reliable way to earn some extra money on the side, and it is not a scam.
While OpinionWorld is legit and not a scam, there is a historical backlog of complaints such as account management and redemptions that persist in numerous feedback forums.
Having said this, it is a minority of people and customer services often appears to resolve these when valid. And – many surveys receive these same complaints, often due to scammers or multiple fake accounts from fake citizens.
Having used and reviewed OpinionWorld, I have never experienced these issues.
However, if uncertain, there are plenty of other survey sites to join OR simply redeem your points as soon as practical each time your reach a threshold.
How Much Can You Earn With OpinionWorld in Australia?
With OpinionWorld, each online survey or task you complete earns you points that can be converted into Australian Dollars. Put simply, each point is equivalent to $0.02 (two cents). So, accumulate 500 points, and you'll have earned $10.00.

As a member, you can expect to receive around 50 to 300 points (equivalent to $1.00 to $6.00) for completing a questionnaire or survey. This earning rate is relatively higher than what some other market research companies in Australia offer.

Once you reach $10, you can cash out your points for money and rewards. Typically, surveys take around 10 to 15 minutes to complete, allowing you to earn up to $8.00 per hour on average, assuming there are enough surveys available for you to take.

Additionally, OpinionWorld Australia provides extra rewards to further boost your earnings. We'll delve into these additional rewards in the following section.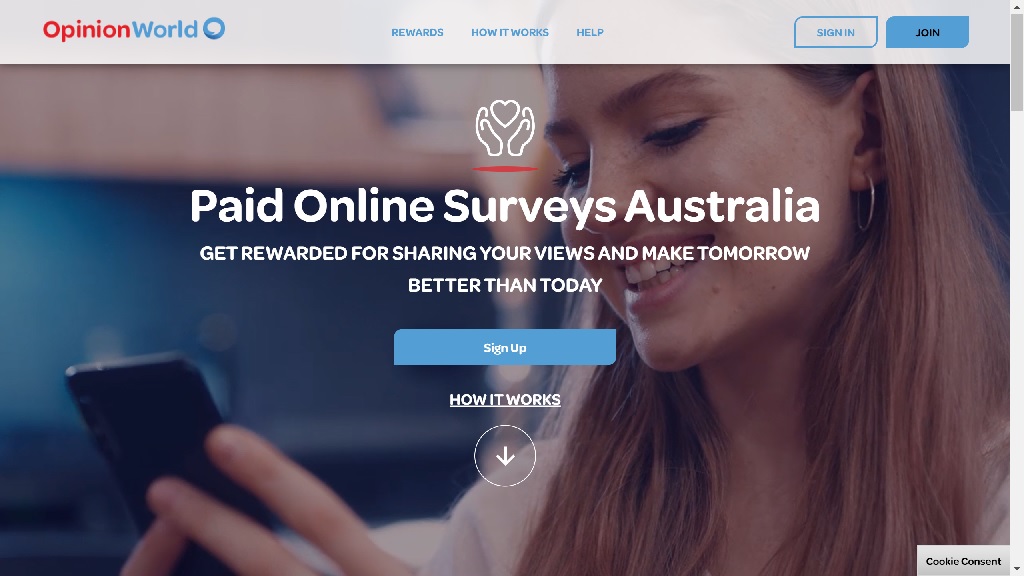 OpinionWorld Australia
A solid survey website with good survey availability and redemption options.
Who Can Join OpinionWorld Australia?
Any Australian over the age of 18 can join OpinionWorld Australia.
Who should Join OpinionWorld?
Commuters willing to do a few surveys and interactions on their trips to and from the city are ideal respondents for OpinionWorld. Likewise, students and the retired who may have more time on their hands may find it suitable.

OpinionWorld is ideal for anyone looking to save make or early a little extra on the site and might fit as a complementary option with Product Testing.
How To Sign Up For OpinionWorld Australia
Getting started with OpinionWorld Australia is east, and doesn't cost a thing. Visit opinionworld.com.au and click on the "sign up" button. From there, simply enter your information.

During registration process, you'll need to provide some profile data such as your name, birthday and email. or, if you prefer, you can sign up using a social media account.

After registration, you'll receive an email with a link to an application form. Click on it and fill out the form to complete your membership.

You'll need a PayPal account if you intend to make redemptions via PayPal. Luckily setting one up only takes a few minutes and the majority of us already have one.

During the registration process and redemption processes, you may be required to submit your ID to Veriff, which is a partner of OpinionWorld, tasked with safeguarding and protecting it against fraud. You may wish to read the terms and conditions of submitting your data to Veriff. If you're concerned with needing to provide ID, walk away.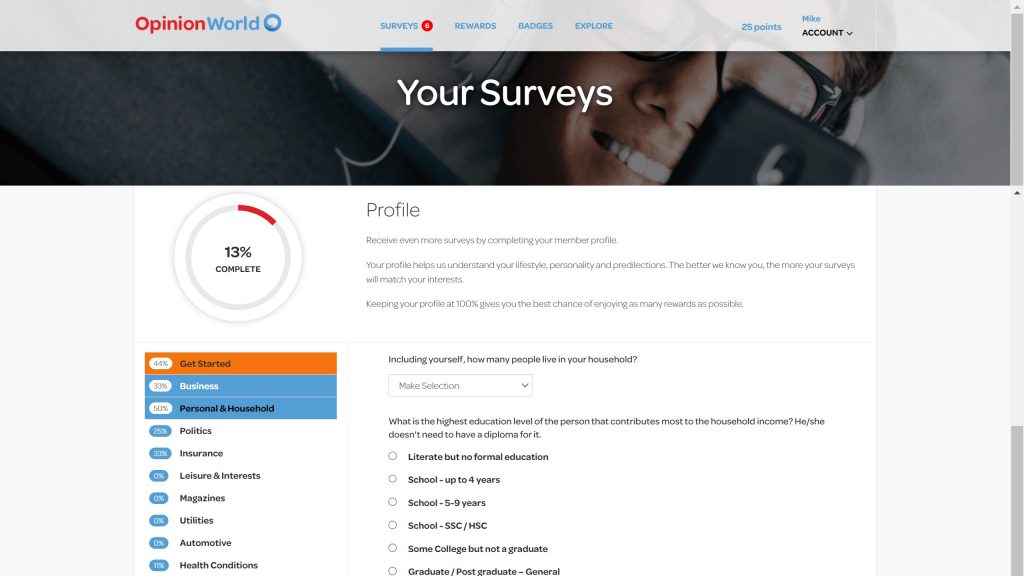 Finally, OpinionWorld Australia needs members to provide behavioural and demographic information through the "My Profile" section. Completing this section accurately will likely deliver you more surveys that match your profile and interests. In turn, it will help you unlock bonuses and lessen the risk of survey disqualifications.

Once, you've spent 30 minutes establishing your profile, start browsing for surveys, or wait for the email notifications to start rolling into your email inbox. Alternatively, enhance your membership level by completing various activities on the platform.
Learn How To Make Money With OpinionWorld Australia
As a focused survey site, there are fewer ways to make money, but you'll earn more for every minute spent on the site than you would doing small questionnaire type activities on GPT sites.
Surveys
Surveys are the main game and you can enhance your earning potential by:
ensuring your profile is up to date
checking your email regularly for survey invites
completing surveys as soon as they become available
frequently visiting the website
climbing the badge loyalty program (more below)
New Member Challenge
OpinionWorld recognises that completing all the profile surveys are tedious and offers bonuses for their completion.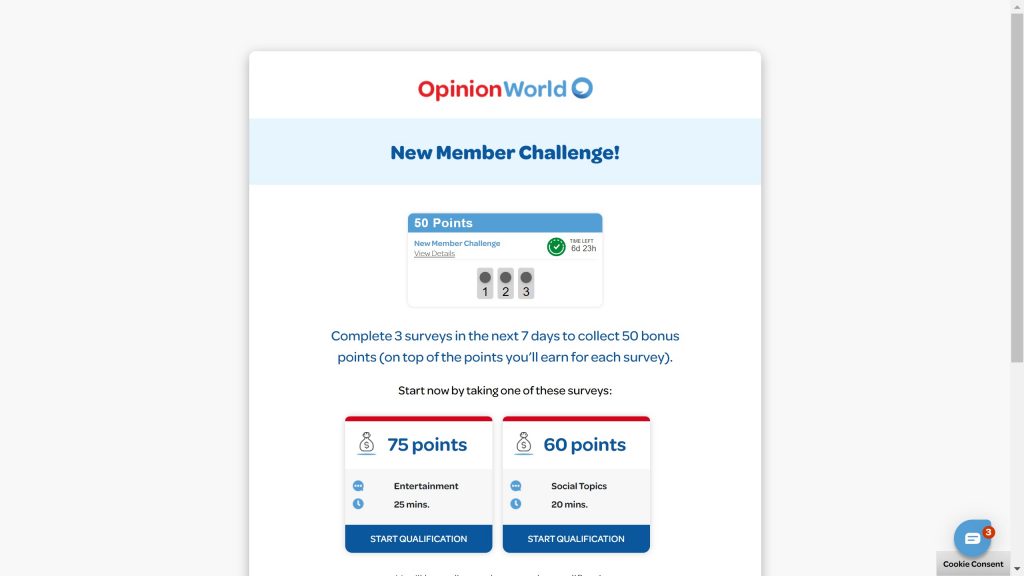 Badge Loyalty Program
OpinionWorld has implemented an incentive program that sets it apart from some online survey sites. The program aims to motivate and engage members by offering a series of achievements and increased earnings.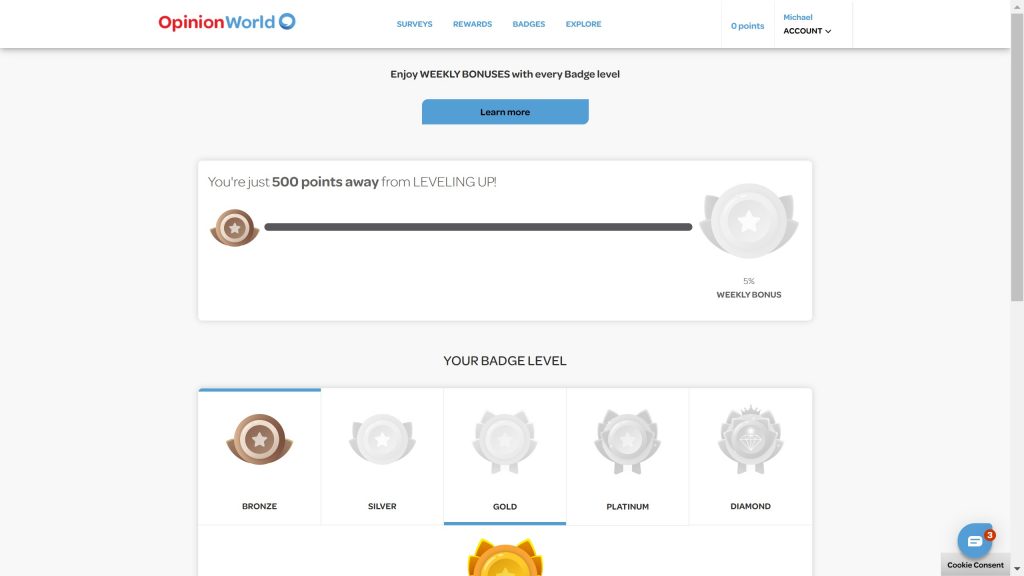 Structured from bronze to diamond, each level has specific tasks that need to be completed in order to progress. The requirements will become more challenging, the further you progress.

Reaching bronze status is achieved by signing up (very much like Qantas Frequent Flyer), while achieving gold status requires 1,000-lifetime points and delivers a 7.5% bonus on points earned from completing surveys every week.
Screenouts
A regular complaint of surveys is the number of screenouts and how frustrating they are. Often participants get well into a survey before the screenout occurs. Usually, it is caused by conflicting profile information or incomplete profiles.

OpinionWorld offers minor compensation for screenouts OR if a survey closes early.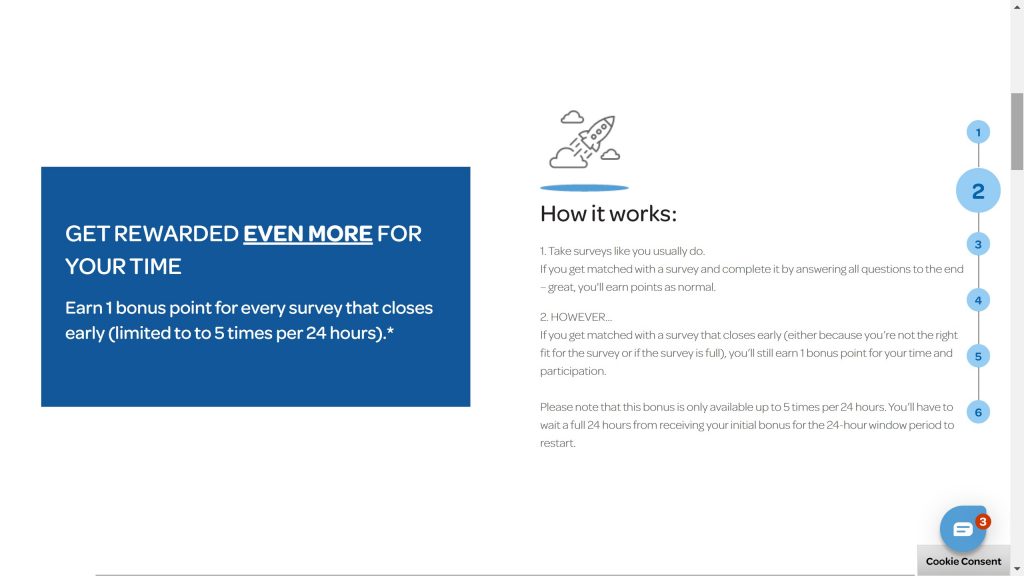 Product Testing
Those who regularly undertake surveys may come across the opportunity to undertake some product testing. It's not guaranteed to all and it largely depends on your demographics.

If the idea of receiving products to test before they hit the market excites you, then join OpinionWorld now. You can also find other product testing websites here.
Paid Focus Groups
Quality survey takers with the right demographics may be invited to join paid focus groups where earnings can be more rewarding than surveys alone.
Advert Reviews
By watching videos you may help improve the quality of ads.

It is important to note that OpinionWorld is an international site, so not all opportunities will be available to Australians.
Mystery Shopping
Members may even discover opportunities to embark on real-world missions to test retail outlets and the services they provide.
OpinionWorld Redemptions
In Australia, OpinionWorld has operated two perfectly satisfactory redemption options – Flexi eGift cards and PayPal. As of June 2023, it has introduced Uber vouchers, redeemable as Uber rideshare or Uber Eats.
Note that Uber vouchers require 1000 points for $10 of value versus 500 points for $10 value with PayPal or Flexi eGift card, so Uber vouchers are not recommended.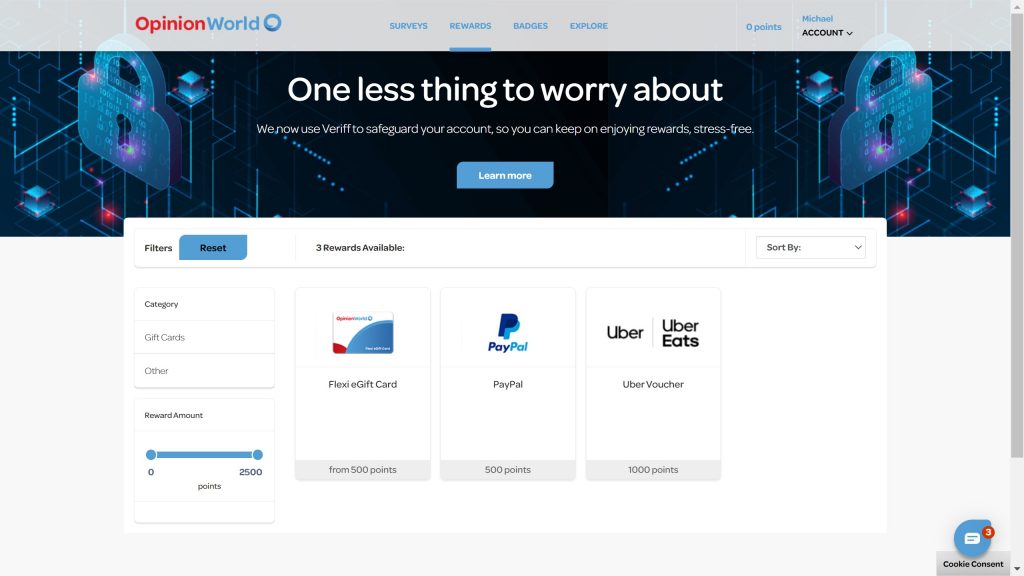 It can take 3 business days for your Flexi eGift cards to arrive, but you'll have plenty of choices for redeeming rewards when they do, with Myer, SuperCheap, Domino's Pizza, Caltex, Woolworths, Rebel and much more!
Do OpinionWorld Points Expire?
Yes, points do expire after one year, if not used. They also expire the moment you cancel your membership.

Claiming your points should not be difficult as OpinionWorld has a relatively low redemption threshold.
Pros and Cons – OpinionWorld Australia
Pros
Loyalty program
Quality surveys
Good survey earnings
Solid redemption options
Low redemption threshold
Cons
Rigorous profile completion required
Survey completion times understated
No referral program
Possible account and redemption issues
No mobile app
Points expiry
Octopus Group and Ipsos iSay may all offer slightly higher returns per survey, while PureProfile, Valued Opinions and MyOpinions may be equivalent.
Similar Sites To OpinionWorld Australia
OpinionWorld Reviews From Others
A quick perusal of OpinionWorld on TrustPilot gives a mixed bag of results with the usual complaints of being screened out, problematic redemptions and survey availability. However, many are very old and are outnumbered 2 to 1 by good reviews. In fact, it has an overall rating of 3.8 out of 5 stars and 43% of comments are 5 stars.
easy to use

easy to use, good number of points per survey, after the 72 hour verification period had past, rewards were quickly transferred to my pay pal.

Tamzin, AU, 8/3/2022
good site with plenty of surveys

good site with plenty of surveys. I took off one star for the invites that are given then, when opened up, i find that they have closed or are not suited to my profile. Surely there is a way to screen them out if that is the case.

Louise, AU, 28/2/2022
At present, we consider OpinionWorld to be in mid tier of survey platforms in Australia, but from a surveys perspective, it stands head and shoulders above GPT sites and other survey router sites.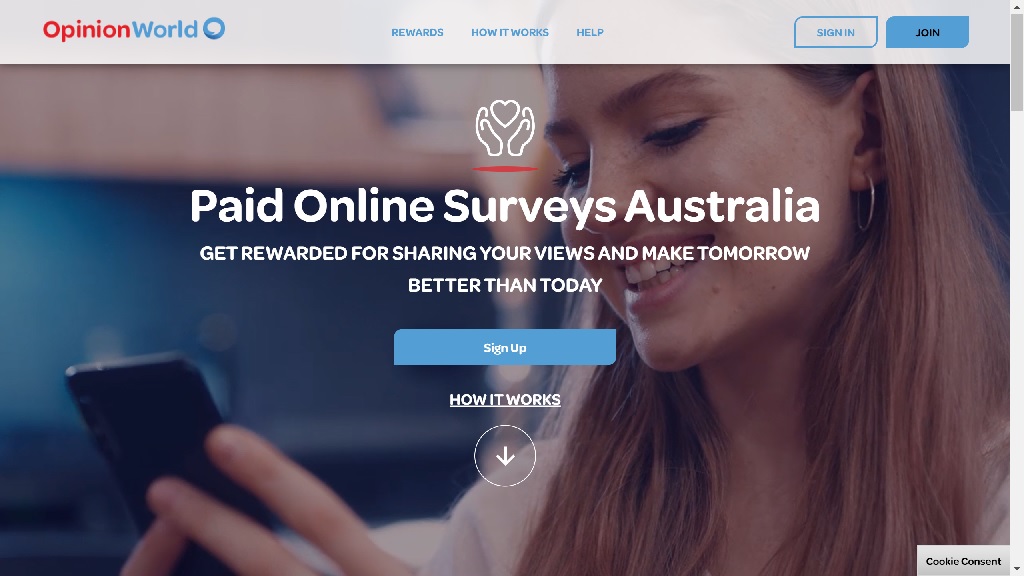 OpinionWorld Australia
A solid survey website with good survey availability and redemption options.
OpinionWorld Australia Customer Support
FAQ and Help : The online help is perfectly adequate for most questions.

Lodge an online support ticket: Second, there is also an automated chat assistant where you'll be able to contact the support team help desk.

Email: An email address may be provided by the online chat support.

Phone: There is no telephone support.

Review sites: OpinionWorld responds to a large number of issues identified by unhappy people on TrustPilot and ProductReview.com.au

Social Media: OpinionWorld is on Facebook but it appears to be intent on pushing content out and not engaging with its users.
Conclusion: OpinionWorld Review Australia
OpinionWorld Australia

If you've read this far and still wondering whether it is worth your effort joining OpinionWorld, it's time to rest assured in the knowledge that we consider it to be a solid survey site option.

It offers decent rewards for those wanting to make extra cash online for sharing their opinions. Combine a bit of effort with the loyalty program and you can unlock even more earnings over time. Competitive bonuses and additional perks are also available.

Being screened out does occur and can frustrate some, but this occurs with all surveys if you don't match their criteria. If you've filled in your profile earnestly, then it should occur far less than on some other sites.

It's simple, fast, and free to join. Ready to get started? Give OpinionWorld a try today!

Thanks for taking the time to read this OpinionWorld review!
FAQ: OpinionWorld Australia Review
Is OpinionWorld legitimate?
Yes, OpinionWorld is a legitimate survey service. It has a long-standing reputation and is considered safe to use. It is not a scam.
How do you earn money from OpinionWorld Australia?
You earn money by accumulating points. Each point is worth $0.01, so when you reach 100 points, you earn $1.00. Completing surveys or reviews can earn you between 50 and 300 points, which translates to $1.00 to $6.00.
Do OpinionWorld Australia Points Expire?
Yes, points on OpinionWorld Australia will expire after one year. However, if your account remains inactive, points may expire sooner. It's important to stay active and regularly engage with the platform to prevent point expiry.
Who can join OpinionWorld?
OpinionWorld is open to Australians who are 18 years or older. Signing up is free, easy, and convenient.
Who owns OpinionWorld?
OpinionWorld is owned and operated by Dynata, LLC, the same company that owns MyOpinions, Valued Opinions and Opinion Outpost.