PureProfile Australia – Overall Rating
As a huge fan of paid survey sites, I am familiar with legitimate paid surveys in Australia that can earn you real money. PureProfile is a regular site I visit to earn cash from surveys.

Pure Profile surveys have a user-friendly interface that makes it easy and simple to make money without much hassle and best of all, their surveys earn you real cash!

Read our PureProfile review to discover whether it's a good fit for you.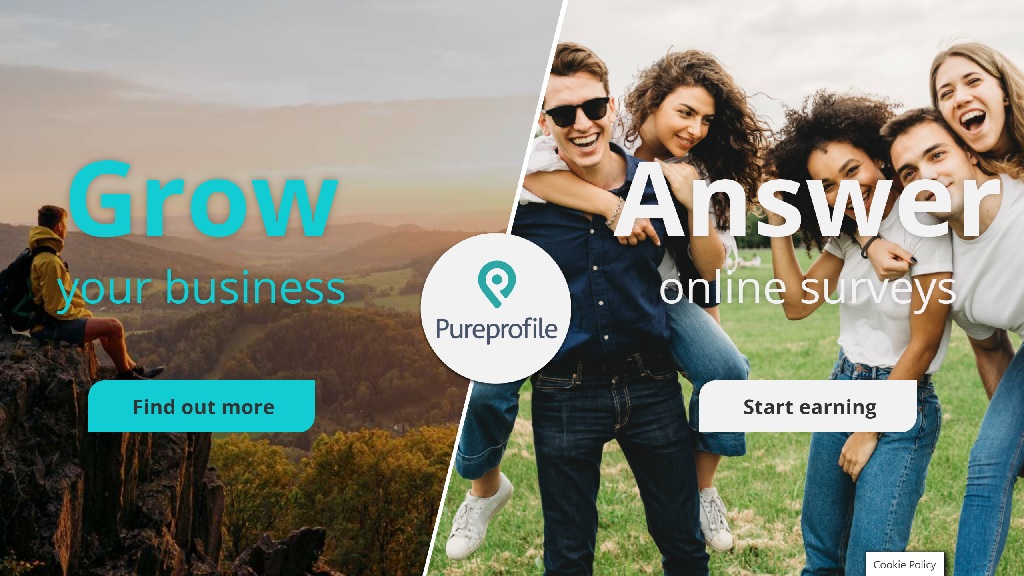 PureProfile Australia
Add PureProfile to your daily mix of survey sites for a consistent income stream.
Table of Contents
Is PureProfile Legit?
PureProfile is a legitimate platform that has been operating in Australia for years, based out of Surry Hills, Sydney, NSW 2010. With 2.1 million members and over 5 million rewards issued, it is far to say PureProfile is legit.

But to further reassure ourselves of the legitimacy and credibility of PureProfile we always consider:

Reviews: There are many reviews and sites full of feedback for PureProfile. You discover if it meets user expectations or whether the wider survey community considers it a scam.

Terms and conditions: PureProfile lays out a very clear set of terms and conditions, as well as a privacy policy for Australian users.

Customer support: PureProfile has a number of channels users can access for help. See below.

Trustpilot: – PureProfile has a 2.3 out of 5 Trustpilot rating after 196 reviews have been submitted.

Additionally, we've maintained an account for a number of years and are confident that PureProfile is not a scam.

With a strong emphasis on data privacy and transparency, PureProfile is legitimate and offers a secure, trustworthy environment for users to engage in surveys, polls, and other research activities, all while earning cash, gift cards, or movie tickets.
| PureProfile Australia | |
| --- | --- |
| Redemption Methods: | Gift Cards + Bank Transfers + Movie Tickets |
| Redemption Threshold: | $20 |
| Survey Pay Range: | $0.80 – $4.75 |
| App: | Android + Apple iOS |
| Australian Based: | Yes |
| Referral Program: | Yes |
| Join: | Join using the PureProfile login here |
Who Can Join PureProfile Australia?
Anyone over the age of 15 can join www.pureprofile.com.au. There is no provision for joining with the permission of a parent or guardian.

While it is Australian-based, it has since expanded into the United Kingdom, New Zealand, Singapore, and the United States.
Who Is PureProfile Australia Good For?
Aussies, New Zealanders, Americans, the British and Singaporeans can access the platform easily.

Here are a few groups of people who may find PureProfile Australia useful:
Commuters may enjoy completing several surveys a day on the bus or train to work, school, or uni.
Those semi-retired or retired may enjoy doing some of the surveys that are less time-dependent, as often a well-paid survey will be jumped on quickly by large numbers of people and max out the quota of respondents quickly.
Gamers and those looking for more GPT-based interactions to earn money should head to our dedicated GPT page or consider heading directly to Rewardia or PrizeRebel.

If you enjoy being engaged in market research, particularly the human interaction elements, PureProfile probably isn't the most rewarding site for you. Product testing or shopping surveys might be more suited to you.

Finally, discounts and deal seekers will be disappointed to learn that PureProfile is not for them.

So whilst we've said a lot about who PureProfile Australia is not for, just remember it is first and foremost a survey site, similar to Toluna and Ipsos iSay in style.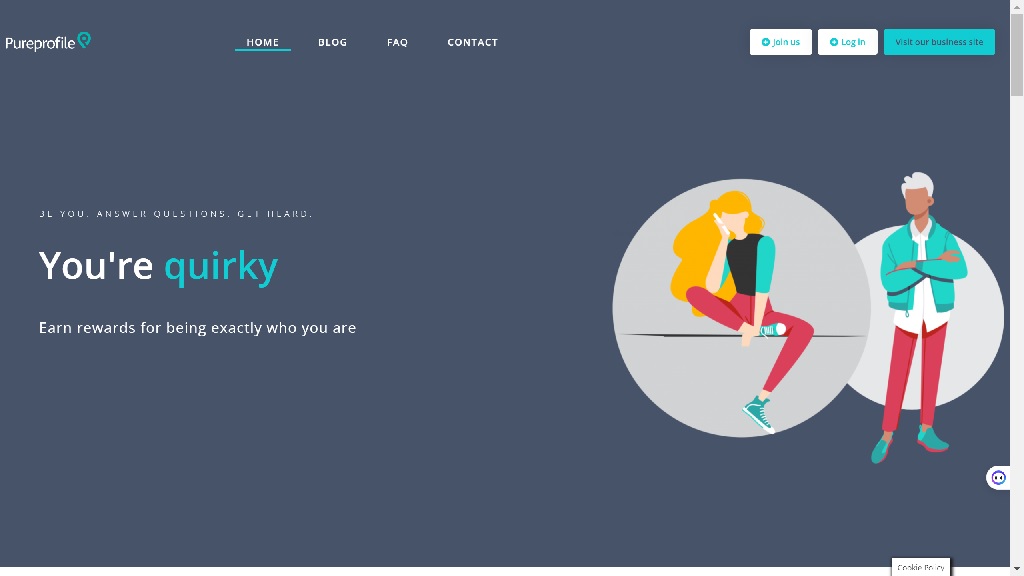 How Is PureProfile Australia Different From Other Paid Survey Sites?
PureProfile Australia sets itself apart from other paid survey sites in several ways, making it a popular choice among users seeking to earn rewards for sharing their opinions. Here are some key differences:

Personalized Profile: PureProfile emphasizes creating a personalized profile for each user. When you sign up, you are encouraged to provide as detailed information as possible about your interests, preferences, and demographics. This data is used to match you with relevant surveys and opportunities, ensuring that you receive surveys that align with your interests and background.

Transparent Reward System: PureProfile has a transparent and straightforward reward system. Survey earnings are identified in $ values rather than points, like many GPT sites. This simplicity makes it easy to track your earnings and understand how much you'll be rewarded for your time and participation.

Data Ownership and Control: PureProfile takes data privacy seriously and allows users to maintain ownership and control over their personal data. Participants can choose to share specific information and have the option to delete their account if they wish to stop using the platform.

Diverse Earning Opportunities: While PureProfile primarily offers paid online surveys, the platform also provides a few additional earning opportunities, but it doesn't extend into the Get Paid To (GPT) activities seen on sites such as PrizeRebel or Rewardia.

Mobile App: PureProfile offers a user-friendly mobile app, making it convenient for users to take surveys and participate in activities on the go. The app's accessibility ensures that users can engage with the platform whenever and wherever it's convenient for them.

Overall, PureProfile Australia stands out by providing a personalized, transparent, and user-friendly experience, allowing users to earn rewards while sharing their opinions on topics that matter to them.
How Do I Sign Up For PureProfile Australia?
Like all survey sites, PureProfile Australia is straightforward to join. Simply head to the homepage to start the sign-up process.

Once you've verified your details, head to the PureProfile login page to get started answering your profile questions. The whole exercise will only take a few minutes but will help identify you for relevant and targeted surveys.
Does PureProfile Have An App?
PureProfile does have apps. You can join here and then access the app from either the Apple iOS app store or the Android app store.

If only app-based surveys are for you, check out our Best Survey Apps page here.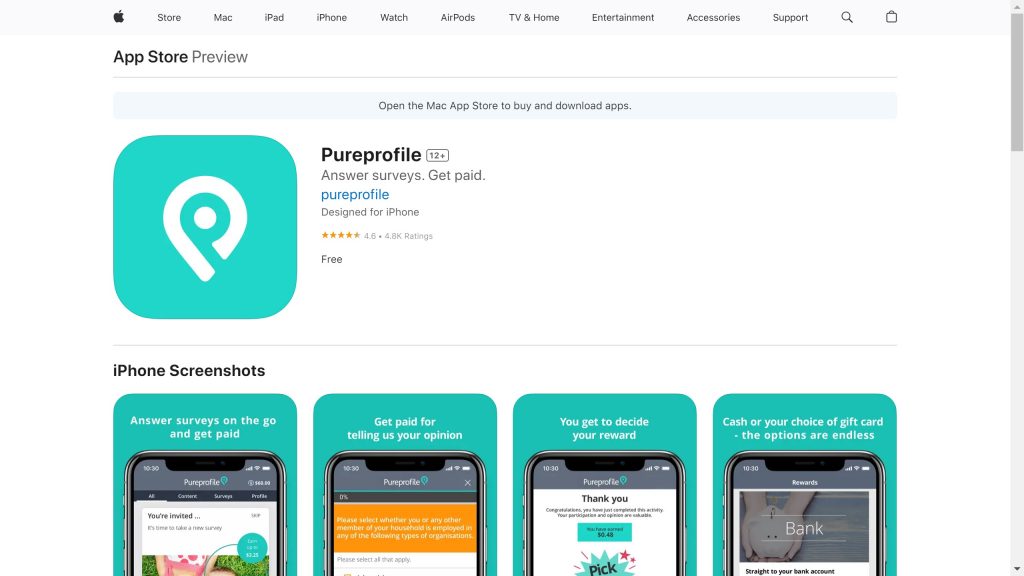 Make Money With PureProfile
While PureProfile is primarily a survey platform, there are a few ways you can enhance your earnings, but it's important not to be distracted by these when there are surveys on offer.
How Much Money Can You Make With PureProfile Surveys?
On average it is possible to make $10/hour if you were able to access continuous surveys (though unlikely). In comparison, the top new survey site Octopus Group averages $16+ per hour.

Individual surveys will typically earn you $2.40 for 15 minutes of your time.

Screenouts can and do happen, but this can be lessened by ensuring your profile is complete and accurate.
Connect Your Social Feeds
On the right-hand menu on desktops, you can choose to connect your social feeds. This may assist PureProfile to connect you with the right surveys.
Earn Money In The Surveys Feed
On the left-hand side of your screen, you'll see "Feed'. Expand it to find 'Surveys', 'My profile', News & education', and 'Partner surveys'.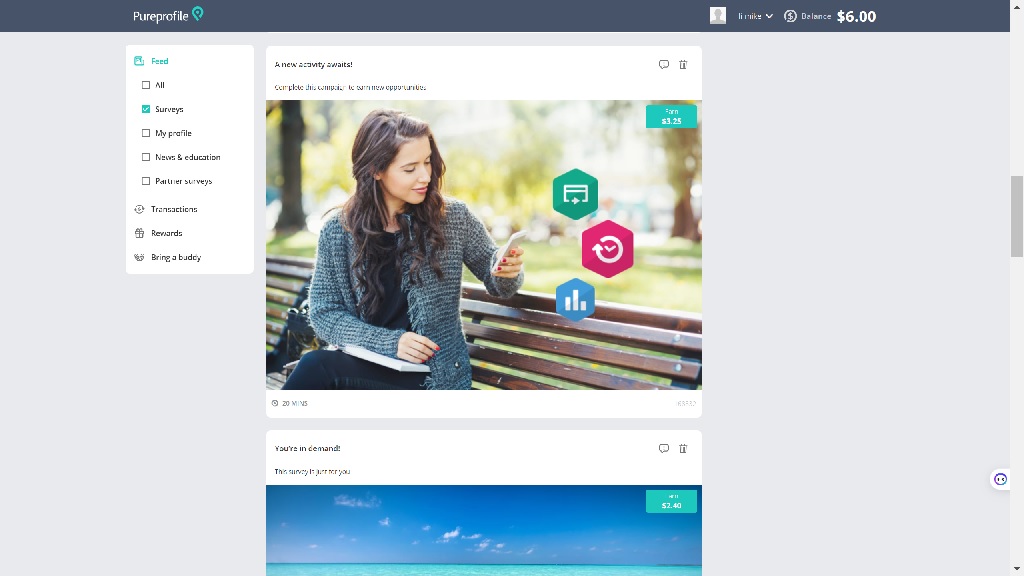 If you only select 'Surveys', you'll encounter all the online surveys native to PureProfile and these are the best surveys to focus on.

You'll also have access to 'Partner surveys' – A word of caution: The majority of the surveys are hosted on 3rd Party Providers sites that you'll be redirected to. You're sharing your information with survey companies other than PureProfile. Additionally, you can earn more for each of these surveys if you've joined a number of top survey websites and go directly to the source.
Competitions and Draws
'Pick-A-Perk' gives three lucky people each month $1,000.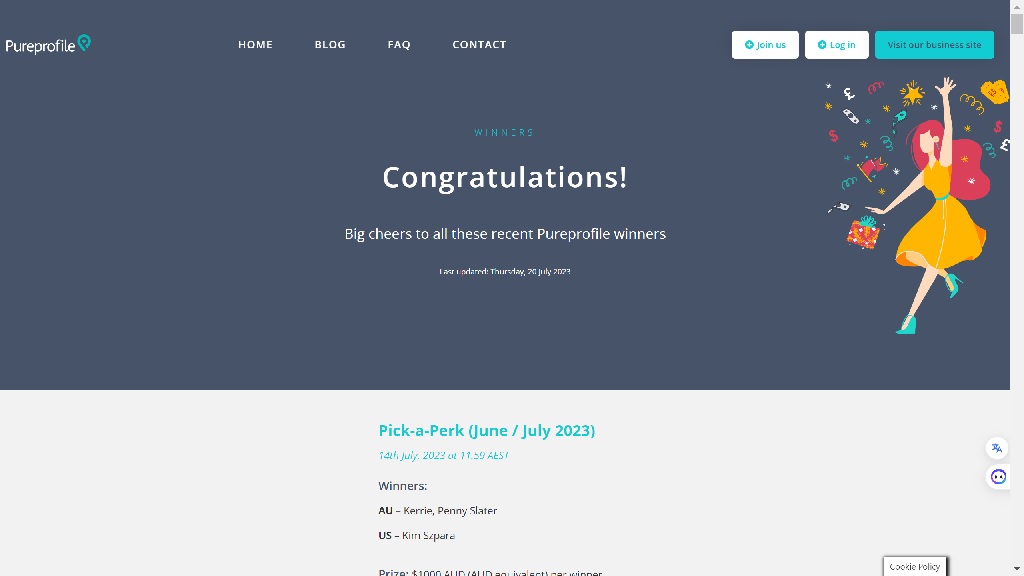 Approximately half the time when you are screened out of a survey, you'll be offered the chance to either 'Pick-A-Perk' or take a screenout token payment. You also have the chance to enter 'Pick-A-Perk' when you complete surveys. Your earnings will be converted to the equivalent number of entries.
Referral Program
Often overlooked, referring like-minded friends to survey websites can be rewarding, but it is easy to lose friends when they're bombarded with survey site emails.

Getting your referral link in PureProfile Australia is easy – simply head to the 'Bring a buddy' section.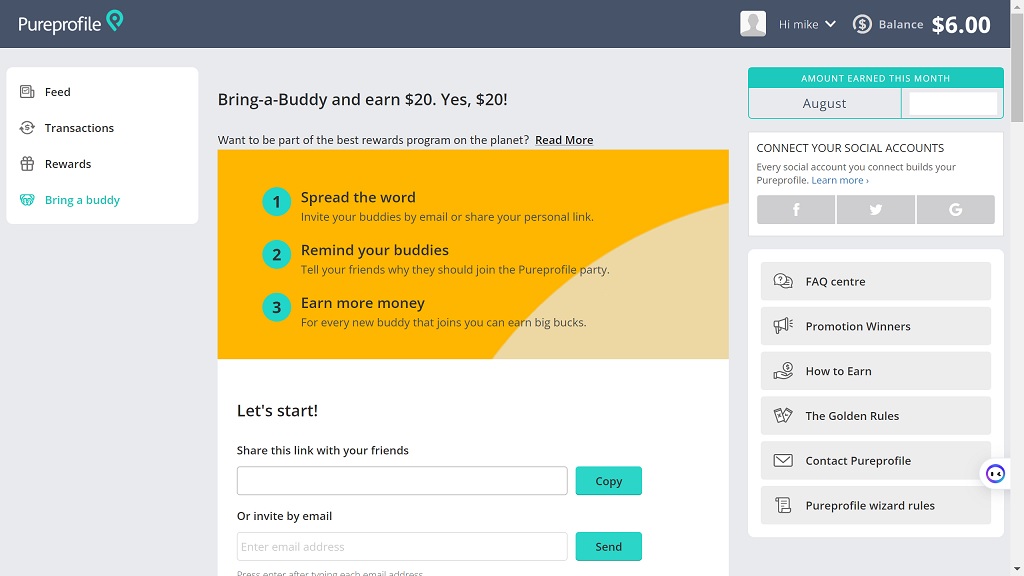 When you introduce a new pal to Pureprofile you can earn up to $20 for each eligible new member you bring.

You will be paid $2 for every friend after they have registered with a verified email address and completed 2 paid surveys (this can include the Welcome survey but doesn't include Partner surveys yet).

For every additional paid survey your friend completes you will get another $1. This applies to a maximum of 18 surveys and ends once your friend has been a member for 3 months. Terms and conditions do apply.

You can introduce as many friends as you want.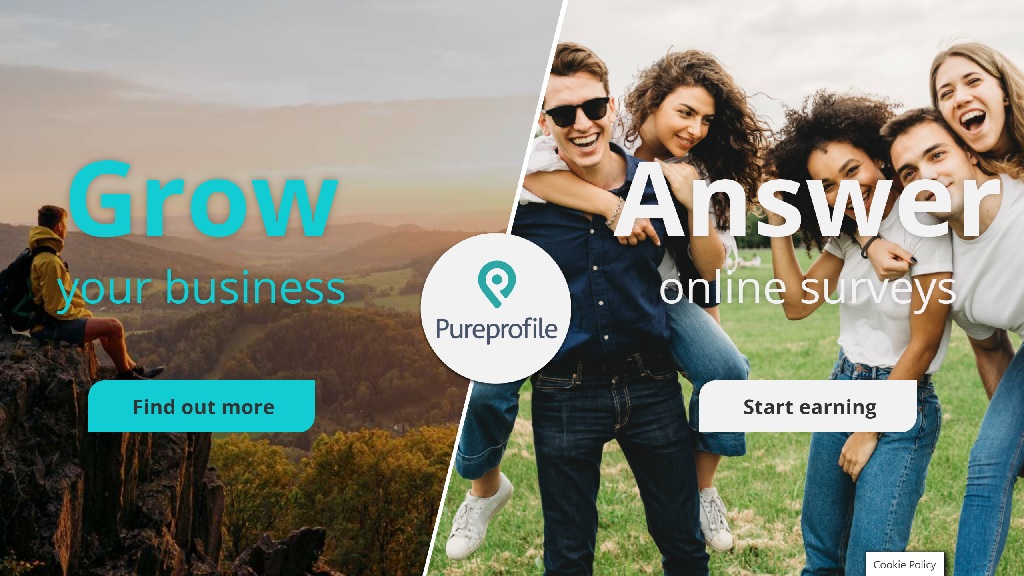 PureProfile Australia
Add PureProfile to your daily mix of survey sites for a consistent income stream.
Redeeming PureProfile Australia Earnings
The PureProfile Rewards centre is a basic affair, but very usable. In Australia, three options for payout are presented, however, in the US, up to five options are available, including PayPal.
Cash Deposit
Starting at $20, bank transfers can be made in increments of $5 all the way to $70. Once upon a time, PureProfile limited cash withdrawals to $70 every two month, but this is not the case now.

Your cash rewards can take up to 30 business days to process to your bank account.
Hoyts Movie Tickets
A single movie pass can be redeemed for $20 versus a retail cost of $24, while a double pass can be redeemed for $35. Note some limitations on movie pass redemptions in peak times.
PureProfile Gift Cards
Gift cards also start at $20 and increment in $5 up to $75 and then $50 increments up to $500.

Prezee is the provider of the vouchers and a full list of their options can be found on the Prezee website here. Brands such as Woolworths, Coles, Kmart, Myer, Uber, YouFoodz, Adore Beauty, Airbnb, Accor Hotels, Anaconda, BCF, Bunnings, BCF, Chemist Warehouse and more are all accessible.

PureProfile does not offer Amazon or PayPal options in Australia.
Pros And Cons – PureProfile Australia
With PureProfile, it does what it does well (except for payout timeframes).
Pros
Simple and intuitive interface
Surveys earnings clearly identified
Referral program
Cons
Long redemption processing timeframes
Limited opportunities to earn outside of surveys
A limited supply of surveys
High redemption threshold
Similar Sites To PureProfile Australia
PureProfile Australia Reviews
Naturally, you'll get the good with the bad when reviewing sites. Most issues with surveys arise around screenouts, redemptions and locked accounts (often due to breach of terms.
I have been with Pure Profile for a…

I have been with Pure Profile for a couple of years. I visit my feed at least once a day and I have mostly been successful in finding a survey that suits me. I am always mindful of keeping my profile on a current basis so that I can find a suitable match with surveys offered. I was lucky enough on one occasion to win one of the prizes in a lucky draw which enabled me to add to and maintain a healthy balance. I have never had any issues that weren't resolved in a very short time. I am confident that I will be enjoying myself with Pure Profile for many years to come.

Russell, AU, Trustpilot, 30 July 2023
I have been a member for many years and…

I have been a member for many years and everything was going well until the beginning of this year. Since then the majority of surveys I click on send me straight back to the pureprofile site saying 'quota full' or my demographic wasn't right for the survey. I find this happening 9 out of 10 surveys now and have come to the decision that I will close my account once I hit the next reward amount.

I have queried this with them so many times with just the generic response given or that because I do surveys from other sites, I must have already done the survey. Huh? I often do the same survey on different sites so how can they be different?

Helen, NZ, TrustPilot, 21 May 2023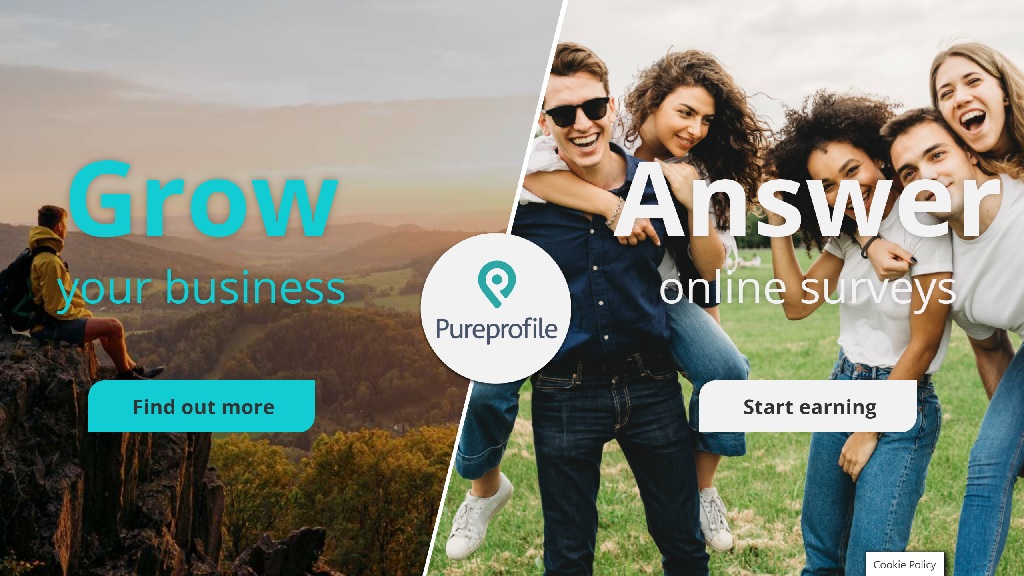 PureProfile Australia
Add PureProfile to your daily mix of survey sites for a consistent income stream.
PureProfile Australia Customer Support
Even if you're doing everything right, sometimes things go wrong. Luckily there are a number of ways to contact support when you need it.

Check the FAQs: First, browse the extensive FAQ information that PureProfile Australia has compiled over the years.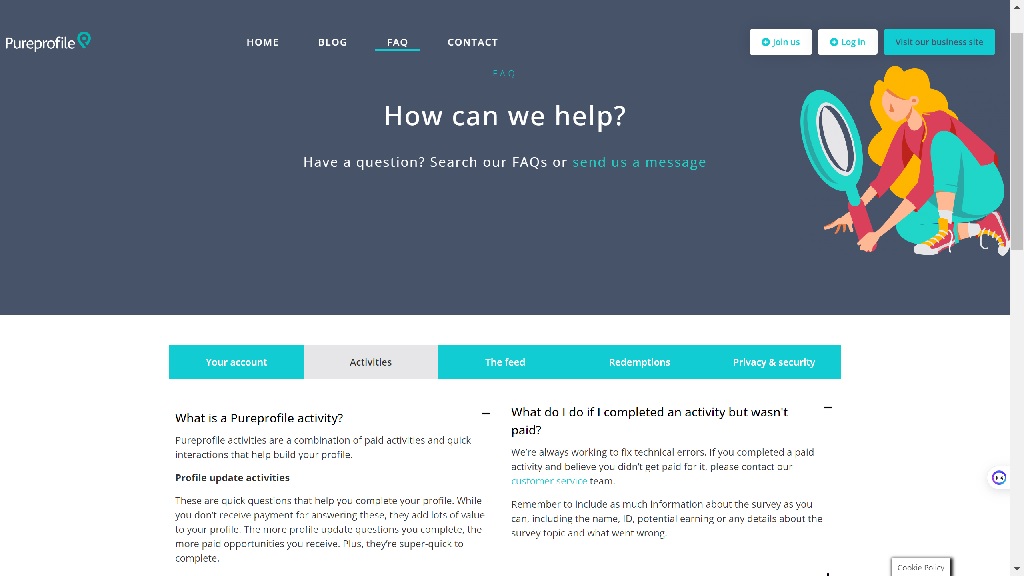 Lodge an online support ticket: If you can't find an answer to your question, lodge a ticket via the contact page. Answers can take up to 48 hours.

Phone: Fail. There is no telephone support for PureProfile Australia.

Reach out on social media: PureProfile on Facebook does have an active group, with 32k followers. There is discussion and interaction with its' survey respondents

Trustpilot: Leaving a review should result in a follow-up from PureProfile if you are sensible with your comments. They tend to initiate with a private message to your registered email account.
Conclusion: PureProfile Review Australia
PureProfile Australia

PureProfile stays true to its roots as a survey site. The interface is clean, nothing amazing, but effective nonetheless.

Surveys are reasonably compensated. Even with a redemption threshold of $20, you'll reach that soon enough due to the compensation on offer. Surveys are easy to access and redemption options are more than adequate, though my only gripe is erratic payout timeframes.

While not the highest paying, PureProfile is a survey site that you should visit on a daily basis and spend 15 minutes of spare time interacting with.

Thanks for taking the time to read this PureProfile review!
FAQ: PureProfile Australia
How to withdraw money from PureProfile?
Australian PureProfile members simply head to the 'Rewards' section where redemptions can be made for cash via direct debit, Prezzee gift cards, or Hoyts movie tickets.
How much does Pureprofile pay?
Survey pay is typically (but not always) in the AUD$0.80 – $4.75 range. Larger surveys of AUD$8.00 or more can appear but you'll have to get in quick.
How long does Pureprofile take to pay?
A major complaint of PureProfile respondents is the redemptions take up to 30 working days to process.
Who owns PureProfile?
Pureprofile Ltd owns PureProfile.