Octopus Group Australia – Overall Rating
If you're looking for a convenient legitimate way to earn real cash, our Octopus Group review is worth a read. Boasting the highest paying online survey rates in Australia (yes, really!), and a payout direct to your bank account, there are plenty of reasons why Octopus Group Australia stands out from the pack.

In this Octopus Group review you'll learn how this Australian-owned survey site works, how to boost your earnings, and discover why you need to join right now (it's free to join!)
Australian site paying cash!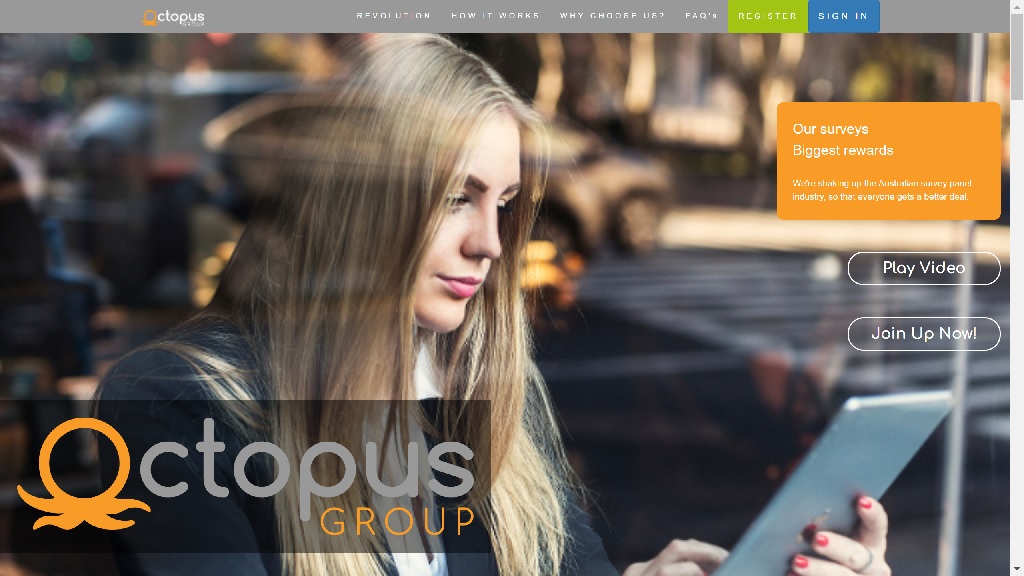 Octopus Group Australia
On Australia's highest paying survey site you can earn the equivalent of $16/hour when you join Octopus Group Australia.
Table of Contents
What Is Octopus Group?
If you've ever engaged with online surveys, you may be familiar with OctopusGroup.com.au – here are the key reasons why it's at the top of my list for paid online surveys:
Octopus Group is an Australian-owned survey panel. It works with trusted brands and pays members for taking online surveys. It's 100% legitimate.
Complete surveys on laptops, desktops, tablets, smartphones, and Octopus Group app.
Redeem cash directly into your bank account, simply by supplying your BSB or account number. Alternatively, you can choose discounted gift cards for popular brands.
Joining Octopus Group is easy, quick, and 100% free right

here
As a leading online survey panel for consumers, Octopus Australia provides frequent opportunities to have your say. If you're prepared to invest some time on the site, there's potential to rack up earnings fast. Plus, you can earn even more money by referring friends to the platform.
| Octopus Group | |
| --- | --- |
| Redemption Methods: | Bank Transfer + Gift Cards + Charity |
| Redemption Threshold: | $20 |
| Survey Pay Range: | $1.12 to $22.40 |
| App: | Android and Apple iOS |
| Australian Based: | Yes |
| Referral Program: | Yes |
| Join: | Join using the Octopus Group login here |
What Makes Octopus Australia The Highest Paying Survey Site In Australia?
When I take surveys online, I'm only interested in sites that compensate me fairly for my time and effort. That means, I only sign up for survey sites that offer a high cash return for the little time that I put in.

Octopus Group is one of the fastest-growing online survey panels for Australian consumers. But here's the thing: It boldly claims to pay out more than any other online survey site, compensating users generously for doing surveys.

So does this claim really stack up?

Yes! For every minute you spend doing surveys, Octopus Group pays out an average of 28 cents. This works out to be over $16 AUD per hour.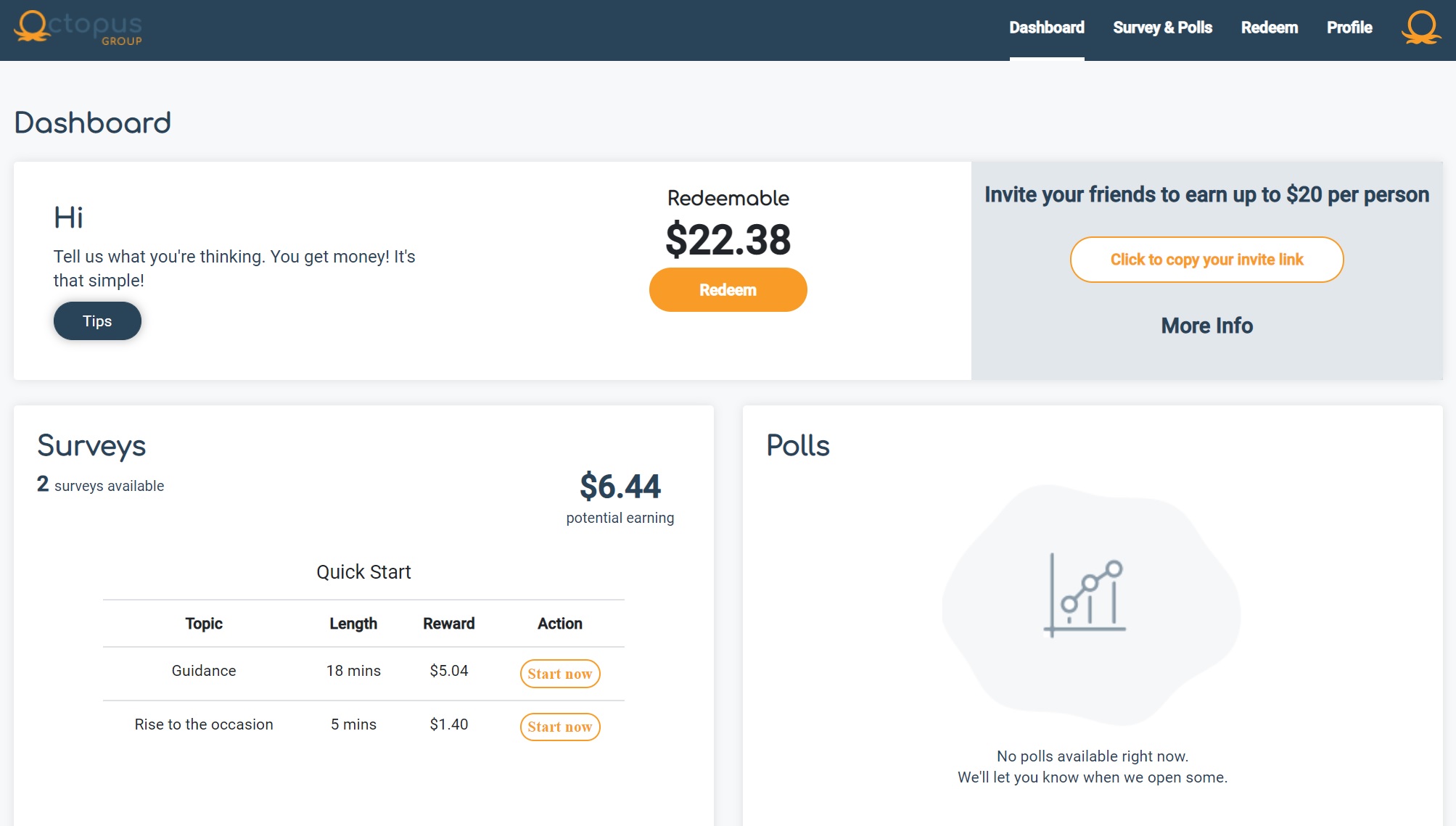 If you were to compare this with other sites (think Survey Junkie, Swagbucks, and Toluna) it's fair to say that Octopus Group payout rates really are substantially higher than what you can expect to find elsewhere. That means, when you complete surveys via octopusgroup.com.au, you'll receive fair compensation for your time.
On average, we are offering between 80% to 400% more cash rewards than any other panel company in Australia and New Zealand. That's right, getting paid more cash for your time and opinions than anywhere else.

https://octopusgroup.com.au/EarnMore.cshtml
You might ask why does Octopus Group pay more to its members and keep less of the profit for itself? Essentially, this approach is the competitive advantage that it's used to successfully carve out growth in the online panel space in Australia. It does this by choosing to put it's marketing budget towards incentivizing frequent users.
How Does Octopus Work?
So how does the process to complete online surveys via Octopus Group work? In simple terms, organisations (usually market research companies, but also trusted brands) pay Octopus Group a fee to collect responses to their surveys. In the case of Octopus Group, a large percentage of that money is passed back to you, the respondent.

All you need to do is join the Octopus Group and start completing online questionnaires. Simply qualify for a survey, complete the survey accurately, and receive payment for your time. Here are the key facts to know:
Join Octopus Group (free, of course)
Receive notifications to complete a survey
Undertake surveys
Collect cash for opinions
Once you've joined, confirmed your information, and answered the profiling questions, you're ready to start taking surveys.

New surveys will always show up on your dashboard and in the mobile Octopus Group app. If you choose to receive notifications, you can get updates from your phone or via email when a new opportunity arises. Responding to surveys quickly will make it more likely you'll qualify before each demographic quota group is filled.

Most survey opportunities are served Monday through Friday. Once you get selected for a survey, you may have to answer a few more questions to ensure you qualify.

If you do qualify, you can take the survey. The average survey completion time and the amount you'll get paid for the survey will be listed on the dashboard. Once Octopus Group's client approves your survey response, you'll be credited the money to your account.

You won't always meet all the requirements to complete a specific survey. This can happen because you don't meet the qualifying demographics, or it might occur when a quota group has already been filled. This may seem frustrating, but it's common to all online survey sites. When it happens, you'll still be compensated a small token fee for attempting the survey.
Australian site paying cash!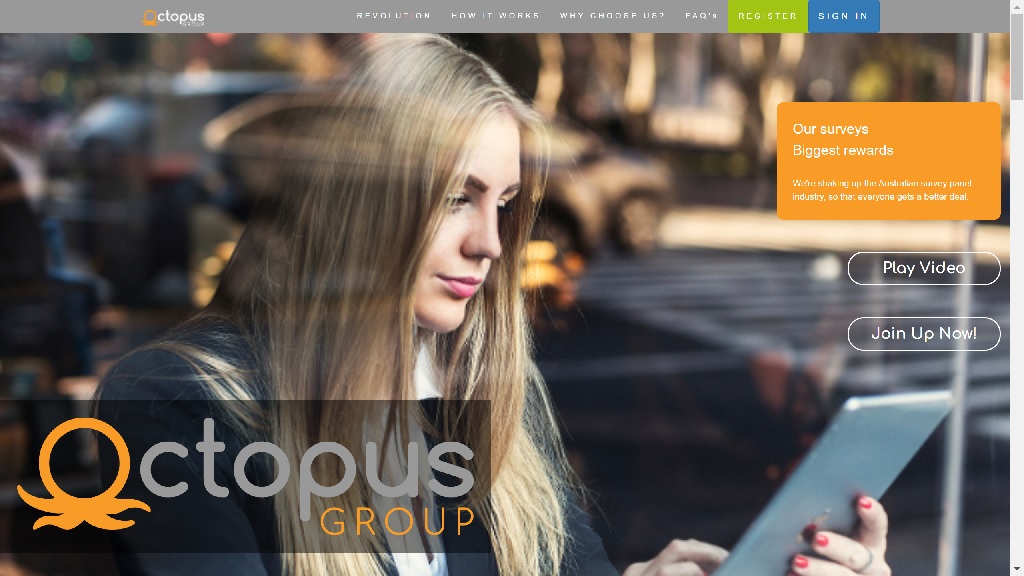 Octopus Group Australia
On Australia's highest paying survey site you can earn the equivalent of $16/hour when you join Octopus Group Australia.
Is Octopus Legitimate?
Yes, Octopus Group is a proven, legit, and trustworthy site. The company is registered in Australia and has over five years of history of paying out to survey takers – at last count, it was $4.3m to members. Here are other ways we can tell it's legit:

They look after members: Octopus Group's payment practices are fair and decent. Not only do they offer the highest online survey payments in Australia, but they also pay users for screenouts and even reading the monthly newsletter! Management respects its members and clearly intends to build up a quality online panel over the long haul.

Octopus Group abides by industry guidelines: The company is ISO certified (ISO 20252:2019 Market, Opinion and Social Research), and is a member of Australia's industry research body, The Research Society (formerly AMSRS). These accreditations hold them to industry codes of conduct, which means they work to greater accountability thresholds when compared with many other online survey sites.

Privacy legislation is taken seriously: Octopus Group undertakes to abide by the Australian Privacy Act, which is essential for handling sensitive data.

Verified payouts: When it comes to cashing out rewards, Octopus Group delivers each and every time, just as they say they will. I can vouch for this, but don't just take my word for it – check out the numerous Octopus Group reviews around the web.

Multiple layers of site security: Mobile number registration and regular validations may seem painful, but this functionality helps to secure your Octopus Group account and protect your account from unauthorized activity.

So to answer the question: Is Octopus legitimate? Yes, all of this indicates that Octopus Group is a safe and legitimate site to use for online surveys. We have also used Octopus surveys for years without complaint.
How To Join Octopus Group
Joining Octopus surveys is quick and easy – it won't cost you a cent.

To sign up you'll need to provide an email and a mobile number. Your number needs to be registered in Australia or New Zealand.

You will need to register your email and phone number by clicking on links and entering validation codes. This functionality delivers a layer of security to your account.

After you've signed up to the platform, read the terms of service and privacy policy. Then, you are ready to start working on completing your profile.
Is There An Octopus Group App?
Yes, however, the reviews on the apps for both Android and apple are very negative, so we advise you use the desktop based platform wherever possible.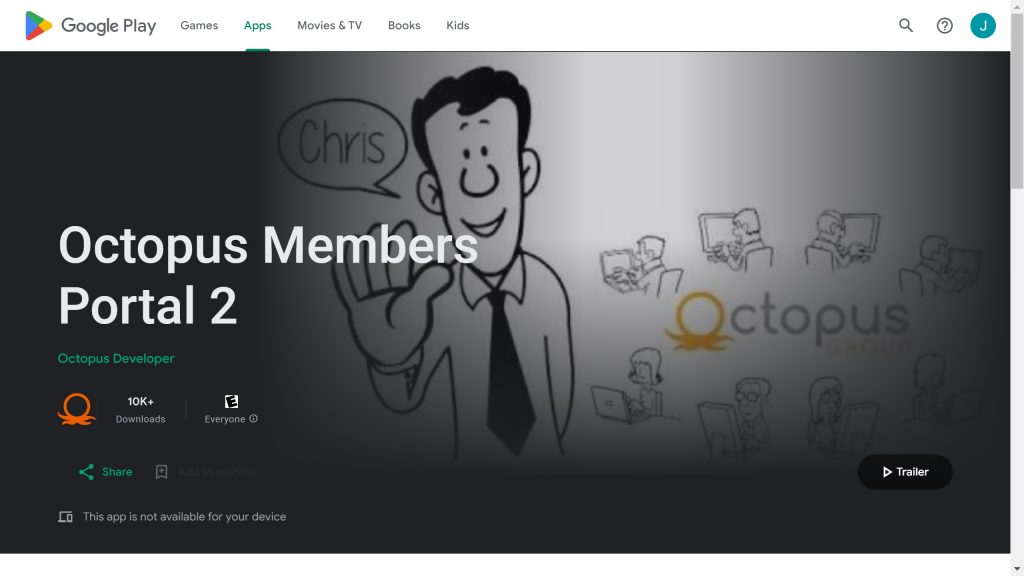 If only app-based surveys are for you, checkout our Best Survey Apps page here.
Fill Out Your Profile For More Opportunities
Once you create an account, you'll need to fill out your profile by answering questions about yourself.

Having your profile information complete and keeping it current helps increase the chances of receiving surveys, especially surveys that are relevant to you. It also ensures that you can cash in on maximum rewards for your demographic by earning more cash faster.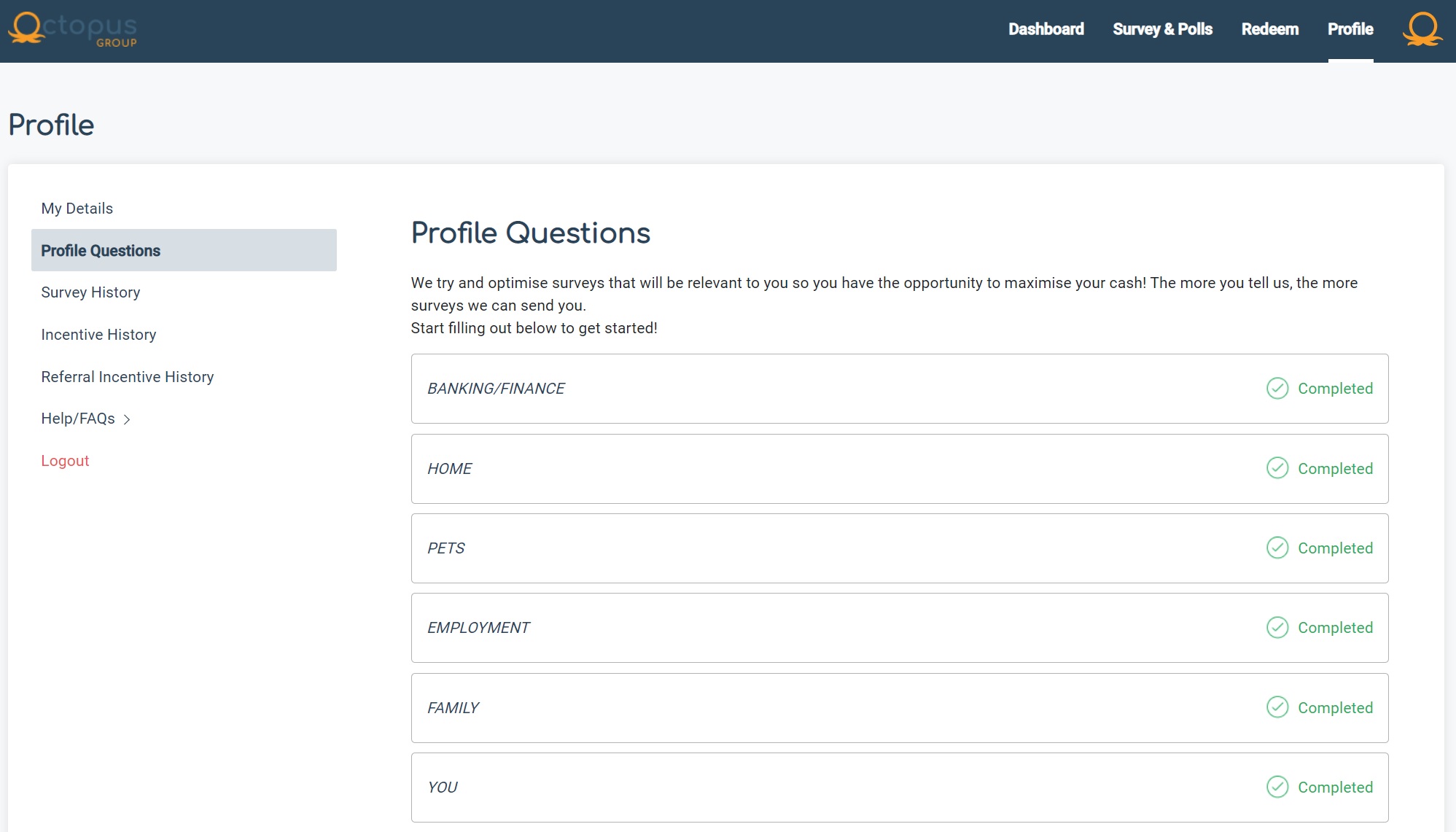 Profiling information is used by the company to match you with appropriate surveys and to minimise the number of likely screenouts. You can find out more about how Octopus Group safeguards this data in its privacy policy.
How To Make Money With Octopus Australia
I've been taking paid online surveys with Octopus Group for many years, so I've had time to consider where it really stands out. Let's take a look at those ways it stands head and shoulders above other online survey sites:
Make Real Money (yes, actual cash)
When you provide your opinion online, many survey sites reward you with a points-based system. At best, many of these schemes can be questionable in value, if not a scam. That's because there's not a great deal of certainty around the equivalent cash rate.

But, it's not the case with Octopus Group, where your balance tallies up as real cash. Simply earn money, then opt to have the cash transferred directly to your Aussie bank account. You can request payment whenever you reach a minimum balance of $20 AUD. There is no limit to how often you can request a payout.

Alternatively, you can choose to redeem your rewards for discounted gift cards. Most major Australian brands and retailers are supported by the Octopus Group rewards platform, including Bunnings, David Jones, Woolworths, Myer, and more.
Get Plenty Of Online Survey Invites
Even with an excellent pay rate, you'll never get ahead if you don't get offered many surveys to complete. As one of Australia's leading online panels, Octopus Group works with plenty of brands, giving users access to many chances to have a say. Frequent online survey offerings allow Octopus Group users can rack up earnings fast.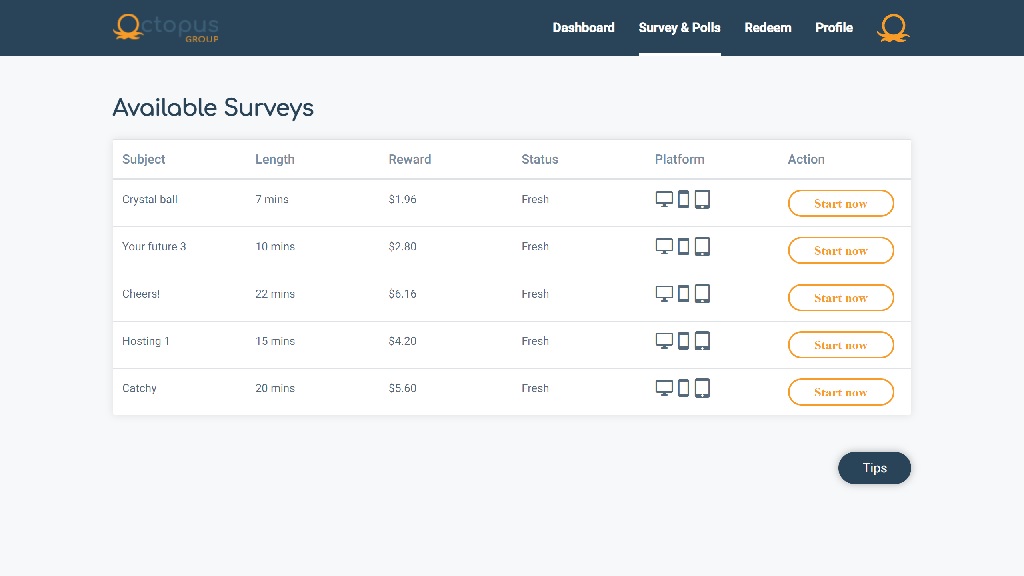 It doesn't mean Octopus Group gets access to every online survey opportunity for Aussie consumers; especially for global survey companies who might only release survey opportunities via their own portals. So, even though Octopus Group puts the hard word on members to stay exclusive, many users – including myself – discover value in joining multiple sites.

You'll receive notification about any new surveys as soon as they come up via the Octopus survey app or via email. You can complete each on your laptop, desktop, or use the dedicated Octopus Group app on your Android or Apple device to take online surveys 'on-the-go'.
Get Paid When You Screen Out
If you're a veteran of other survey companies, you'll know that you will usually need to complete pre-questionnaire screeners. These screeners can be extremely annoying. After all, they take a lot of time and you typically don't get compensated on most sites. With Octopus Group, you do receive a token payment for your time, even when you don't qualify for the survey.

This payment is 5 cents. Even though it's a token gesture, it is still more than what you receive on other sites. Just another way that Octopus Group values its members.
Octopus Group Referral Program
A great way to earn more cash rewards is to refer friends to Octopus Group.
How To Refer Friends
The refer-a-friend process can work in two ways. First, enter a friend's email on the mobile app and allow them to sign up from the message they receive. Or second, copy the 'Tell a Friend' link from your account dashboard to send a link manually via email or social media.
What You Get For Every Friend
Earn $2 AUD for each friend that signs up and completes two surveys, and then $1 per survey for the next twenty three surveys your friend completes, for a total of $25 possible per referral.

If you're worried about the risk of this being a Multi-level marketing plan, we can assure you it's not. Your survey rates are never impacted by referrals. You'll earn the same price per survey and get the same surveys no matter how few referrals you have. It's simply a nice bonus.

It goes without saying that you'll want to refer people that are motivated to sign up and complete surveys to earn the most out of the program. Win-win!
How Much Can You Earn With Octopus Surveys?
Octopus Group pays out up to five times what you can earn on many other survey sites. As an example, they pay much higher than global survey sites such as Survey Junkie and Swagbucks. While Australian panels like Toluna, OpinionWorld, and YouGov pay quite well, they don't match the rates you'll find available with Octopus Group.

The Octopus Group payment model rewards users for each minute spent providing their opinion. Survey respondents receive a flat fee of 28 cents AUD per minute, multiplied by the estimated survey completion time. For example, if you complete a 10-minute survey, you'll earn $2.80. How about an hour of Octopus surveys… earn up to $16.80. Although it's not the Australian minimum rate of pay, it's decent compensation for a side hustle that can be undertaken in your spare time.
Set Rate
In addition to paying the highest survey rates, Octopus Group offers one thing that other survey sites lack – a set, minimum payout rate per minute for all surveys.

At the time of writing, surveys are guaranteed at a minimum rate of 28 cents per minute. In real terms, if you complete an hour of surveys, you can make $16.80. Some surveys offer even more per minute, so you can start making real money to provide your opinion.

The set rate helps you know how much you can make for every survey you take. It is an excellent way to guarantee that you will earn a decent amount of money for your efforts.
Average Payout Per Survey
Speaking from experience, survey times can vary, but you'll make 28 cents or more per minute for any survey you choose. That means if you take a 30-minute survey, you will make a minimum of $8.40. If the survey only takes two minutes (which is rare), you will earn a minimum of 56 cents.

The time each survey takes to complete is based on an average time determined by Octopus Group and its client. Sometimes you finish quicker and sometimes slower.

If you spend significantly longer completing a survey than expected, (this has happened to me several times), get in touch with customer support to let them know.

Typically users agree that the estimated survey duration is pretty accurate, and therefore a fair price. Pay depends on how many surveys you complete, so there will be a lot of variation in your overall earnings.
Australian site paying cash!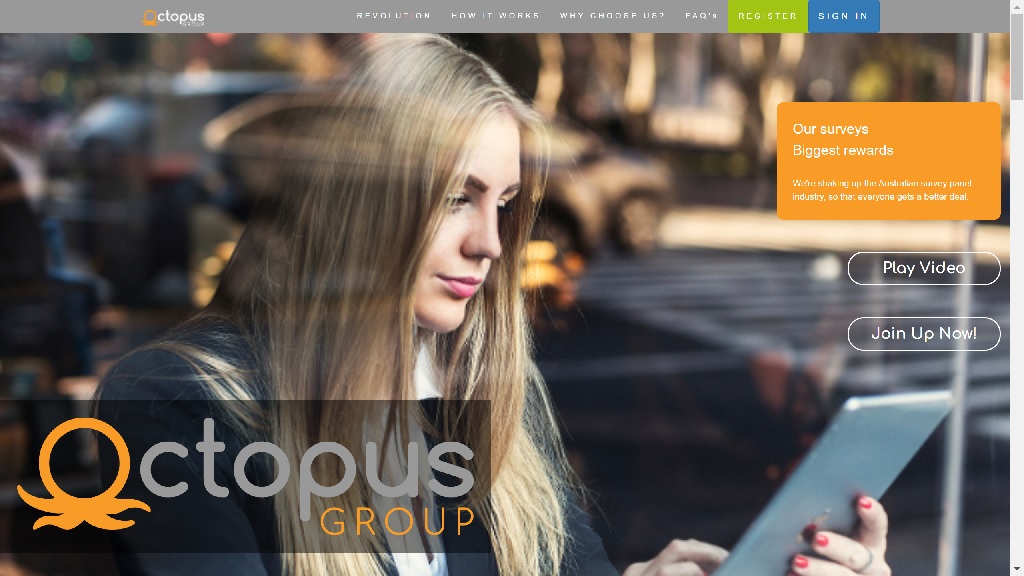 Octopus Group Australia
On Australia's highest paying survey site you can earn the equivalent of $16/hour when you join Octopus Group Australia.
Octopus Australia Redemptions
Octopus offers a straightforward rewards system, with no questionable points system redemption options. At the heart of the platform is the ability to earn cold hard cash rewards direct to your bank account, but users also have the choice of discounted gift cards and a charity option.
What Is The Minimum Amount You Can Redeem?
Once you have earned at least $20 AUD, you can request a cash payout direct to your Australian bank account. Octopus requires you to send a validation approval from your registered mobile phone number via SMS.

The SMS response protects you a level of protection from unauthorized activity, which is especially important given that Octopus Group group pays cash to your bank account. It is very important to keep your mobile number updated.
How Long Does It Take To Get Money?
A payment run occurs each Monday, and Octopus surveys payout within a week of any redemption request. Your bank can take longer to clear payment, especially during holidays. Gift card redemptions are instant.
Redeeming For eGift Cards
If you prefer, you can redeem discounted eGift cards from your account. Gift card denominations start at $5 and range up to a maximum of $100 in gift cards redeemable per day.

A broad range of brands are available, including Bunnings, Myer, Priceline, Woolworths, Catch, Harvey Norman, and other popular retailers.

All you have to do is log into the Octopus surveys website, head to the redemption section, and choose your preferred gift card value. Once you redeem a gift card, it will be emailed to you instantly.

A nice little perk is that Octopus passes on its bulk purchasing discount of 4% meaning that eGift card redemptions can offer additional value of up to $4 per redemption.
| Gift card value | Redemption price |
| --- | --- |
| $20 | $19.20 |
| $40 | $38.40 |
| $60 | $57.60 |
| $80 | $76.80 |
| $100 | $96.00 |
Provided you remain an active Octopus Group member, the cash balance in your account doesn't expire.
Pros And Cons – Octopus Group
Octopus Group offers many ways to make a little extra money. But, like any online survey site, there are a few drawbacks as well. Here are some of the best and worst features of the program:
Pros
Highest online survey payout rates in Australia
Cash payouts to your bank account
Intuitive desktop platform
Screenout payments
Refer a Friend program is generous
Cons
Available in Australia and NZ only
Surveys are popular so answer them fast
Screenouts may occur
Similar Survey Sites To Octopus Australia
A number of survey sites operate like Octopus Group. However, most don't offer the same level of payment.

If you plan to complete online surveys frequently, we always recommend exploring other platforms. Here's how www.octopusgroup.com.au compares to similar sites:
Octopus Group Reviews From The Web
If you're looking for Octopus Group reviews, don't just take our word for it. There's plenty of chatter to be found online via Google reviews, Trust Pilot, Product Review, and further afield.

Overall, Octopus surveys boasts positive reviews on the web, with a majority of users appearing to be satisfied with their experience.
A safe & Trustworthy Survey Site

I've tried a bunch of different sites for online surveys in Australia, and have found this to be the best so far. No- you're not going to make a TON of money- but this isn't a full-time job, you're sitting on your couch answering surveys. They have the best pay rates I've found, will directly transfer to your bank account, and generally, I have no issues (even if it's slightly annoying when I'm screened out, it's not at the fault of the company, and they still pay a few cents for attempting)!

Trustpilot, user Ash
Best survey site – by far!

Been doing surveys with Octopus Group for 3 years. Absolutely superb outfit. Pay better than any other survey site I know of, help desk is quick to respond with any issues you might be having doing a particular survey. You're paid fairly for each survey you complete and payment is never delayed….Paid every Tuesday, if not late Monday. I've been in several other survey sites over the years…..Octopus has way more integrity and professionalism than all of them. By far the best I've seen….highly recommend to anyone interested in doing surveys.

Product Review, user Buckwheat
Octopus Australia management regularly responds to reviews and acknowledges pain points; showing they are committed to continuously improving the user experience.
Australian site paying cash!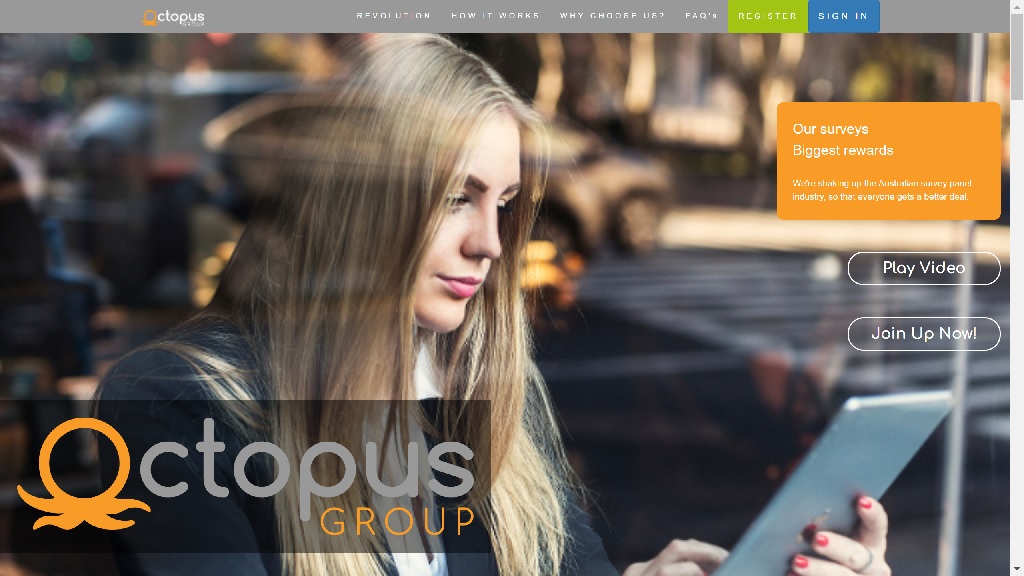 Octopus Group Australia
On Australia's highest paying survey site you can earn the equivalent of $16/hour when you join Octopus Group Australia.
Octopus Group Customer Support
Like any survey website, things can go wrong. If you become an active member of octopusgroup.com.au, chances are that you may need to contact support at some point. There are a number of ways to contact support when you need it.

Check the FAQs: First, browse the extensive FAQ information on the website. Most answers to questions you may have are there, and you can use the search function if you are not sure where to start.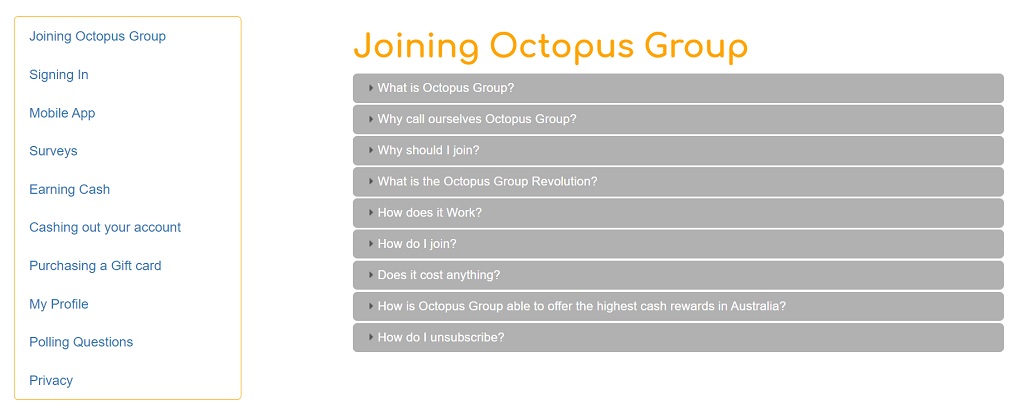 Lodge an online support ticket: Second, if you can't find an answer to your question, lodge a ticket to seek help. The customer care team will respond to the ticket and help you resolve the issue. The Octopus Group email address is [email protected]

Phone Octopus Australia: Third, there is an Octopus surveys customer phone number you can call. The number is Octopus' last option for direct support.

Reach out on social media: For general questions, reach out to the Octopus Group Facebook page on social media.
Conclusion: Octopus Group Review Australia
Octopus Australia

Crunch the numbers and you'll be in no doubt that Octopus is the highest-paying online survey site for Australian and New Zealand consumers.

An average earn rate of over $16 AUD per hour delivers a positive payout for your time invested, – even taking into consideration time lost with screenouts. Given many multi-national survey sites pay peanuts, these pay rates are definitely worth joining up for.

You won't earn a salary when you join Octopus Group, but you will make money online. The positive, user-friendly experience, makes it worth a go.

If you're a resident of Australia or New Zealand, test this online survey site out risk-free.
Thanks for taking the time to read this Octopus review!
FAQ: Octopus Australia
What is the minimum amount you can withdraw from Octopus Group?
The minimum amount in cash to your bank account or e-gift card is $20.
What are the best ways to make money on Octopus Group?
Doing surveys and Refer A Friend are the two ways to make money on Octopus Group.
How much can you earn on Octopus Australia?
Surveys are calculated at 28 cents per minute or over $16 per hour. More can be earnt by referring friends where you can make up to $25 per friend.
Is Octopus Group legitimate?
Octopus Group is 100% legitimate and has been operating in Australia successfully for many years. Join for free right here.
Is there an Octopus Group app?
Yes there is an Octopus Group app for both Android in the Google Play app store as well as an Apple store ioS app. However, the apps are not as good as the desktop based platform.
Who owns Octopus Group?
Australian company Octopus Capital Limited owns Octopus Group.