Toluna Australia – Overall Rating
Online surveys are a great way to earn extra cash as a side hustle while working from home, but choosing which survey sites are worthy of your time can be quite difficult.
Great news! We can tell you that the global survey site Toluna Influencers is a great way to earn cash for your opinion. Simply register for free in just 5 minutes and receive 500 bonus points as a welcome gift right now!
In this Toluna review, you can discover how consumers get their chance to be paid for having their say, what's to love, and how it compares to other similar survey sites in Australia. We'll also step you through creating a free Toluna Influencers account right now.
Top GPT site!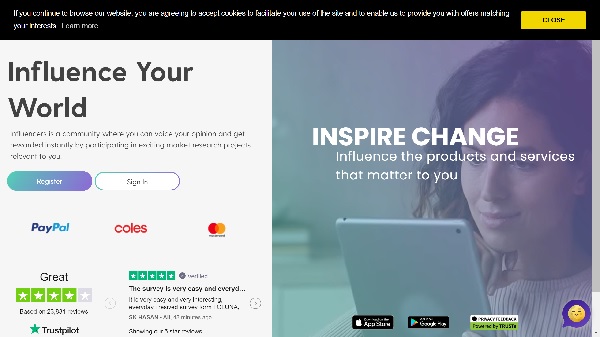 Toluna Influencers Australia
Toluna Influencers is a community where you can voice your opinion and be rewarded by participating in exciting market research projects of relevance to you.
Table of Contents
Toluna Australia Overview
The Toluna Influencers group is one of the largest market research companies in the world. With nearly 40 million members in 70 countries, it generates a staggering 15+ million survey responses each year.
Locally, Toluna Australia and New Zealand have existed for 10 years, and you can be reassured this company is not out to simply harvest your data and sell it to the highest bidder. It is trustworthy and certainly not a scam.
Toluna offers a variety of ways to earn, including surveys, quick polls, community forums, and games, making it more fun to engage with than many other survey sites, all the while earning cash.
Here are my reasons why Toluna Australia is one of my go-to survey panels:
Toluna is a global, trusted brand that pays well for online surveys. It's 100% legitimate.
You can complete surveys across all major platforms and devices.
Toluna has a cash redemption option via PayPal or you can nominate gift cards.
Joining Toluna is a 5-minute exercise and 100% free right here
Toluna has a broad range of activities that gives you more options to earn, dependent on your available time
While all this sounds fun, there is a serious side to the business – you are after all a "Toluna Influencer" and your purpose is to allow companies and brand agencies to improve their products and services. You may also get to have a say to help steer Government policies.
Our clients include market research agencies, large corporations, brands, public organisations, PR agencies and even individuals. Their interests cover all industry sectors, but they are all looking to get honest opinions on their products and services or to understand consumer motivations and habits.

https://www.toluna.com/group/guest/faqs
In return, you'll acquire a steady stream of points for engaging with online surveys and research projects, interacting in the community, and even the games. It's a win-win particularly if you have small amounts of time such as when you're on public transport in Sydney, you can earn points on the go.
| Toluna Australia | |
| --- | --- |
| Redemption Methods: | PayPal + e-Vouchers + Charity + Crypto |
| Redemption Threshold: | PayPal – $10, e-Vouchers – some at $10, most at $20 |
| Survey Pay Range: | $1 – $55 |
| App: | Android + Apple iOS |
| Australian Based: | No |
| Referral Program: | Yes |
| Join: | Join using the Toluna login here |
How Do I Sign Up For Toluna Australia?
It's really simple to start earning extra money with Toluna – in fact, you'll even earn points while signing up. Best of all, it's entirely free to join.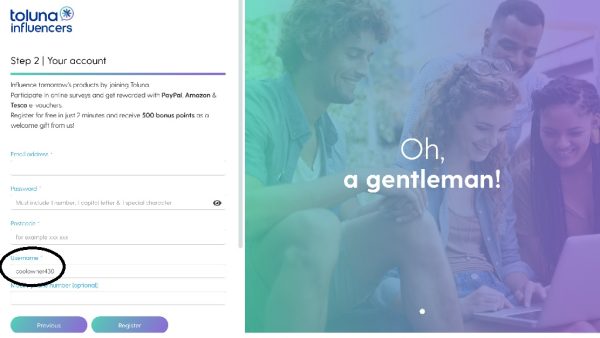 Click here to join, then click on 'Register' button.
Work through two screens called Step 1 and Step 2 – remember to take note of your randomly generated username, you may need it one day.
Return to the Toluna home page in step 1 and log in using your email and password, then take the tour.
Scroll down the home screen until you reach Tasks and proceed to complete your profile surveys – this increases your chances of accessing surveys most relevant to yourself.
Enter your PayPal information if you wish to earn cash rather than gift cards.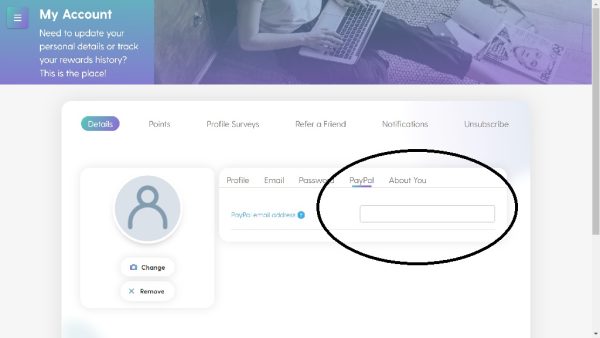 Earning money with Toluna happens during registration and straight away afterward as you complete surveys and tasks. The best thing about it? It's free!
Simply register to create a Toluna login and then complete the demographic profiling and payment details in the Account section for PayPal. Then you can start the real earning process.
You'll start to be notified of survey earning opportunities almost immediately and can always view them through your dashboard as well. In no time, you'll be able to cash out your points for very real rewards.
If you would like to receive surveys on your smartphone, simply enter your mobile phone number on Toluna during your registration or directly on your account page.
Is There A Toluna App?
Yes and the Toluna app is very well rated, making it super easy to answer surveys on the move.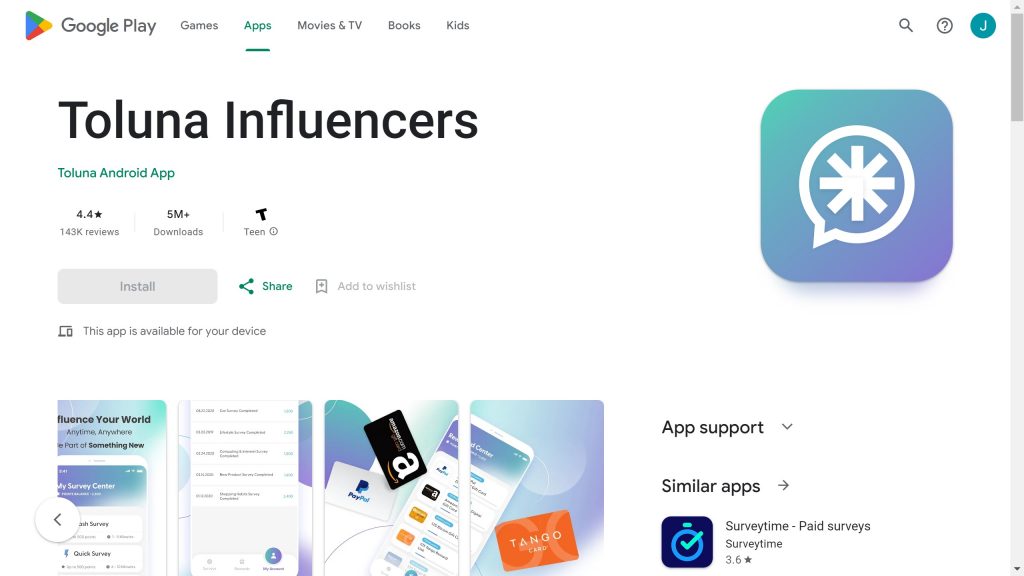 If only app-based surveys are for you, checkout our Best Survey Apps page here.
Is Toluna Legitimate And Is It Safe?
Is Toluna legit and not a scam? The short answer is: if Toluna Australia wasn't legitimate and entirely trustworthy, we wouldn't be reviewing and recommending it.
However, to put your mind at ease, let's look at a number of indicators that a dodgy website would red flag…
Being a global operator, it would be easy to lack accountability for privacy and survey methodology. However, Toluna Influencers is a member of the Australian research industry body, The Research Society (originally AMSRS).
A multitude of reviews across portals such as Product Review and Trustpilot all point to Toluna Australia being a legitimate operator.
Email usernames, strong passwords and email verification are all enforced.
And given that Toluna is free to join, there's actually no risk of losing money – Simply close down your account if you consider it a waste of time.
Toluna is legitimate!
Top GPT site!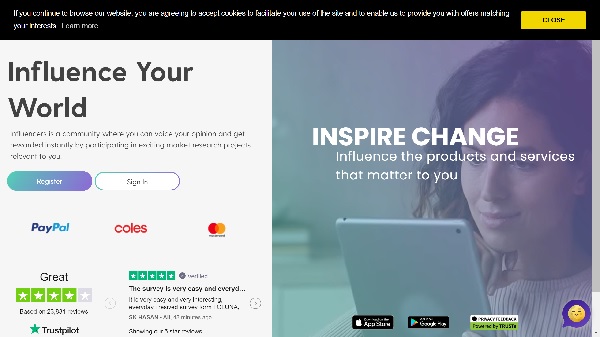 Toluna Influencers Australia
Toluna Influencers is a community where you can voice your opinion and be rewarded by participating in exciting market research projects of relevance to you.
What I love about Toluna Australia
The chance to make real money: If you keep at Toluna, you will earn real money, even though it initially comes in the form of points. There is sufficient clarity within the points system to determine whether a survey is worth your time.
Plenty of survey invites: From the moment you sign up, you'll be notified of survey opportunities via email or on the mobile app, leaving you no doubt that there are surveys waiting for your attention.
User interface: The interface is clean and uncluttered, making it very easy to navigate around.
Learn How To Make Money With Toluna Australia
Like Swagbucks and Survey Junkie, Toluna has a broader range of earning opportunities that puts it in the Get-Paid-To (GPT) category of survey sites.
How Much Can You Earn With Toluna Surveys?
Toluna Influencer is not the highest paying survey site out there. We believe that title is held by Octopus Group.
But, for this type of site, offering surveys as well as other Get-Paid-To (GPT) components, it does stack up very well against global survey sites such as Survey Junkie and Swagbucks.
We believe a range of $5 -$10 per hour invested is a reasonable estimate of earnings possible. So Toluna Influencers is never going to replace a full-time job, even at minimum wages, but it can be a nice little side hustle.
Surveys themselves can range from $1 to $50.
Paid Online Surveys
However, paid surveys are the bread and butter of the site and the main Toluna dashboard makes it very easy to identify the best surveys. You can earn up to 163,100 points on a survey if you have a spare 90 minutes!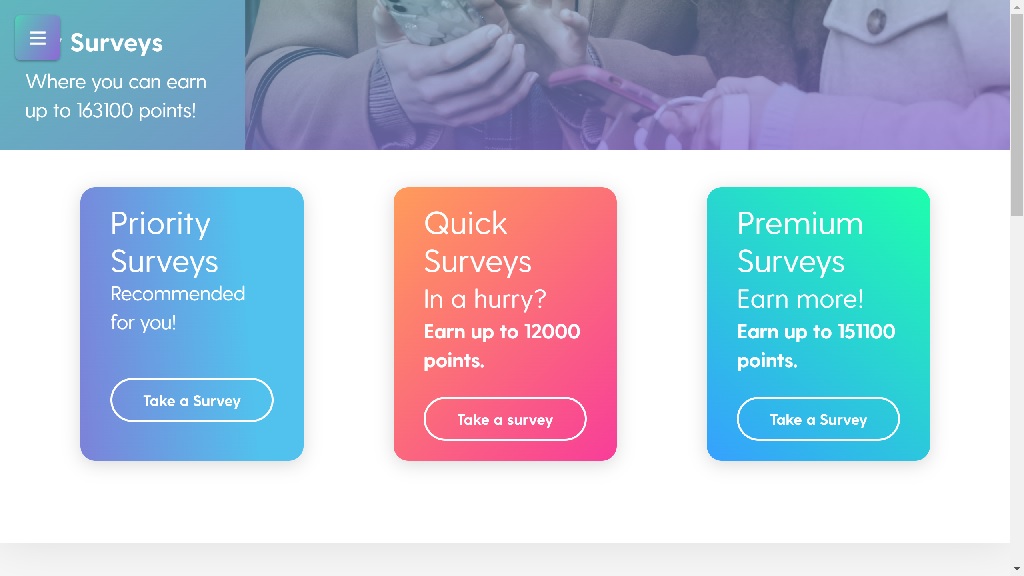 Toluna conveniently separates surveys into 3 categories:
Priority surveys, earning varying amounts, where after a couple of screening questions you head into a survey if you meet the demographic requirements. These may be short or long surveys.
Quick Surveys, earning up to 12,000 points and taking maybe 15 minutes maximum.
Premium surveys, earning up to 163,100 points and expected to take up to 90 minutes.
Occasionally you'll open a survey and commence it, only to be screened out as soon as the software determines you're not the right demographic. Most likely you'll receive a "quota full" message
Quick Votes
For a guaranteed 15 points per vote, answering a one-click poll might just get you over the threshold for your next redemption. These sponsored polls are so quick!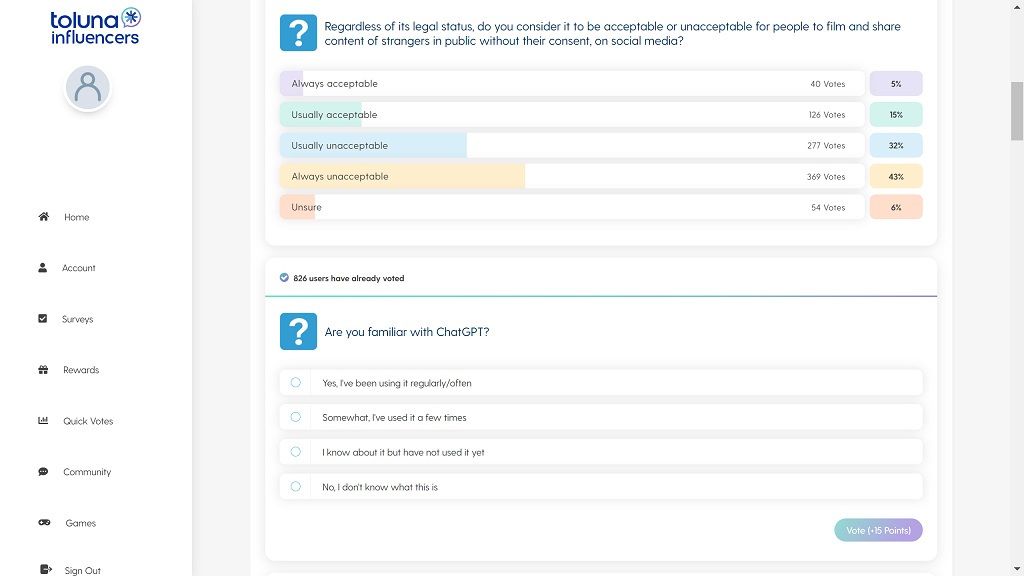 Contests
Within the My Community section, respondents can enter contests – They don't serve much of a purpose, but you can earn points and win contests. Right now, there's a caption contest with a 2,000-point prize.
Games
Be very careful because these games are addictive. Spin the Wheel gives you a daily chance to win prizes, MatchMania just makes time fly and if you're keen enough, try the Super Quiz.
Toluna Australia Referral Program
Referrals can be an easy way to earn more cash. Under the My Account, Refer a Friend section, you'll find a unique referral code to copy and share with your friends.
How To Refer Friends
Simply send your link to friends and once a friend has successfully joined you'll receive a referral bonus. You can refer up to 10 friends per month.
What You Get For Every Friend
You'll receive 500 bonus points for each referral (points limited to 10 new friends per month).
Let us assure you, that this is not a pyramid or ponzi scheme. The availability of surveys and what you'll earn are never impacted by the number of referrals.
Top GPT site!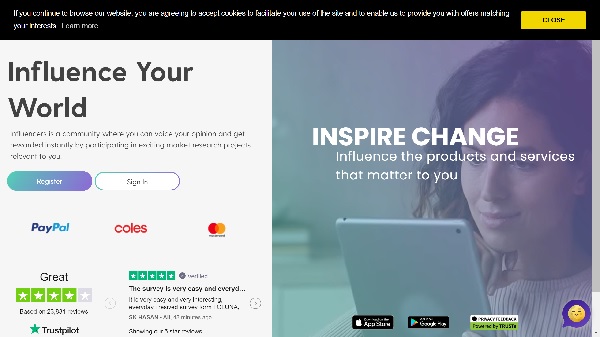 Toluna Influencers Australia
Toluna Influencers is a community where you can voice your opinion and be rewarded by participating in exciting market research projects of relevance to you.
Toluna Australia Rewards System
The Toluna Influencers rewards system is not quite as clear-cut as the Octopus Group Rewards Program.
Toluna awards points for surveys and activities which can be redeemed for charity donations, eGift Cards, and PayPal.
What Is The Minimum Amount You Can Withdraw
Upon earning 30,000 points / $10 AUD, you can cash out for PayPal and by the time you reach 60,000 / $20 AUD, you'll be able to select from a wide range of e-Gift cards.
Redeeming For eGift Cards
A broad range of retailers is available, including Subway, Anaconda, JB HiFi, Spotify, Coles, Ampol, Netflix, BWS, Rebel Sports, Hoyts, The Good Guys, Target, Kmart, Bunnings and Bitcoin.
| Toluna eGift Card | Redemption Points | Points per $ |
| --- | --- | --- |
| Paypal $20 | 61,000 | 3,050 |
| Subway eGift Card $10 | 30,000 | 3,000 |
| Coles eGift Card $10 | 29,500 | 2,950 |
| Rebel eGift Card $25 | 74,000 | 2,960 |
| Bunnings eGift Card $50 | 149,000 | 2,980 |
| Bitcoin eGift Card $30USD ($40AUD) | 120,000 | 3,000 |
It's pretty clear that 3,000 points are the equivalent of $1 in the Toluna Australia rewards ecosystem! You can now use that to work out whether it's worth your time doing a particular survey.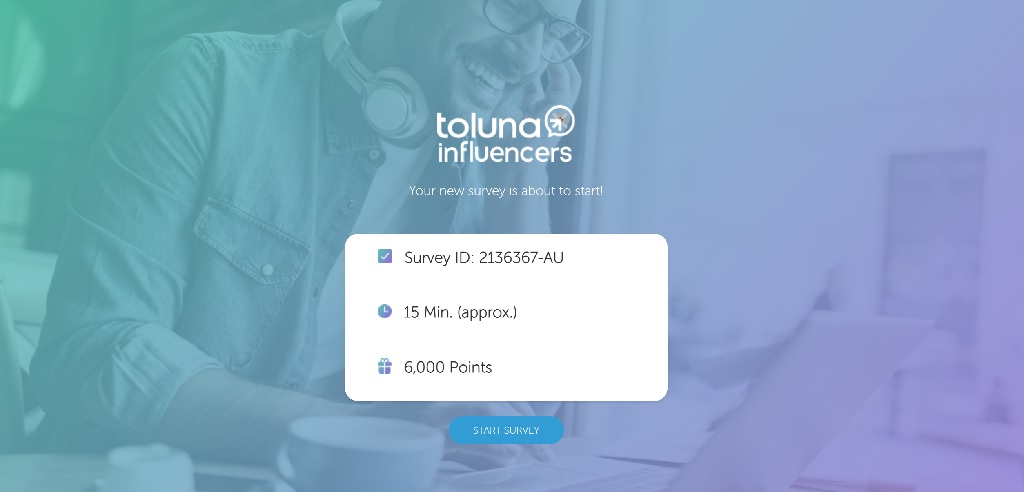 In the case of the survey above – 6,000 points / 3,000 points = $2 and 60 minutes / 15 minutes = 4. Therefore 4 x $2 = $8/hour.
Do Toluna Australia Points Expire?
Yes. When points are credited to your account, they will remain valid for 12 months.
How Long Will It Take To Receive My Reward?
Non-digital eGift cards can take up to 3 weeks for delivery. When you redeem your points for a reward you will be asked to confirm your postal address and email address.
Digital eGift cards such as PayPal will only take a couple of days
How Regular Are Toluna Influencer Survey Offers?
We've used Toluna for years now and receive survey offers daily.
Of course, you won't always fit the criteria for the survey, but the more information filled in on your profile, the more relevant the surveys will be. You earn points just for filling in profile information so it doesn't feel like a waste of time.
Pros And Cons – Toluna Australia
Toluna Australia is a great side hustle but there are also several drawbacks that respondents should know about.
Pros
Accurate time and prices set on surveys
GPT activities to top up survey points
Quality interface
Accessible across all platforms
Low redemptions threshold
Cons
No direct-to-bank payments, only PayPal
Screenouts may occur
Rewards have a limited lifespan
eGift Card delivery is slow
Similar Survey Sites To Toluna Influencers Australia
A number of survey sites operate like Toluna. However, not many rank as highly in our opinion.
We always recommend exploring a number of platforms if you plan to make money from online surveys. Here's our pick of similar sites worth exploring:
Toluna Australia Reviews From The Web
With a well-established and global operation such as Toluna Influencers, there are plenty of positive and negative Toluna reviews on a variety of sites like Trust Pilot, Google reviews, and Product Review.
Toluna actively detects and lockouts scammers with it sometimes catching innocent users. Additionally, there are a number of complaints regarding payment lead times.
Excellent customer service.🤗Serena…

Excellent customer service.🤗Serena your customer service is to be commended. Thanks for your quick response and help with my enquiries. Brilliant rewards. Am surprised about the negative reviews! My experience with Toluna is a good one so far.

Trustpilot user, Lady Viv, 22nd Feb 2023.
Payment Takes 2 – 3 Weeks (and Possibly Up to 7 Weeks)

When attempting to redeem funds through PayPal, Toluna informs you that you may need to wait 2-3 weeks for your funds to be dispersed. It actually took exactly one week for Toluna to deposit $20 into my PayPal account so, in that regard, I am relieved that Toluna does pay out their subscribers. However, the fact remains that the waiting period of a possible 2-3 weeks is way below the industry standard. No other survey provider has made me wait any longer than three days for the payment to be transferred to my PayPal account. If Toluna had a faster payment system, I would have considered giving a 5-star rating.

Trustpilot user, Jim Athans, 25th Feb 2023.
Top GPT site!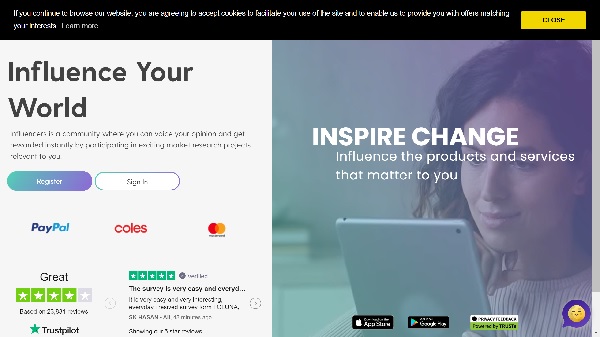 Toluna Influencers Australia
Toluna Influencers is a community where you can voice your opinion and be rewarded by participating in exciting market research projects of relevance to you.
Toluna Australia Customer Support
Things do go wrong on survey sites, screenouts, apps freeze, points not appearing and the like… some survey sites are far better at dealing with these issues than others.
Check the FAQs: First, you'll find virtually all credible sites have an extensive FAQ page and Toluna Influencers is no different. This is your starting point.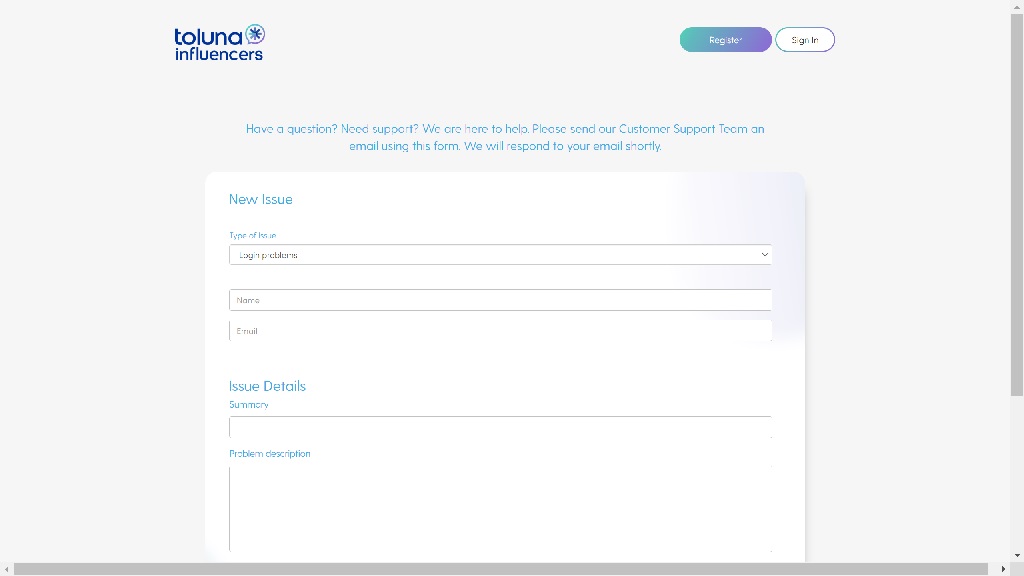 Online support tickets: Second, look to lodge a support request if you're still not making any progress. The support page can be found here.
Reach out on social media: Browse and engage in the Toluna Facebook pages.
TrustPilot: Toluna customer service actively monitors this website so be positive and clear on what your issue is when writing a review and you'll have a good chance they'll respond and try and help you.
What is not clear is whether there is support specific to Aussie respondents.
Conclusion: Toluna Review Australia
Toluna Australia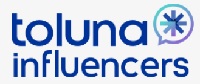 Wondering whether Toluna Australia is worth it?
Hopefully, after this Toluna review, you'll understand that as a survey site, Toluna holds its own against the competition, but combine it with several others and you'll start to make some serious side hustle money.
We consider Toluna to be in the top tier of survey sites that Australians should consider, but we also understand that users can have a mixed experience with it.
Where Toluna excels is in the volume of surveys, availability, and the clean user experience, and in the back-end, you should feel comfortable that your data is being managed safely.
Give Toluna a try today!
Thanks for taking the time to read this Toluna review!
FAQ: Toluna Australia
How much do Toluna surveys pay?
Toluna Australia surveys can range from $1 to $50, but the most common range is approximately $2 to $5.
Does Toluna Australia pay cash?
Toluna does not directly pay cash to bank accounts but it can be redeemed via PayPal to your bank account.
Is Toluna Australia legitimate?
Yes. Toluna Australia is legitimate and adheres to local privacy and data handling principles.
How do I sign up for Toluna?
Who owns Toluna Influencers Australia?
ITWP, a private investment company owns Toluna Influencers, Harris Interactive Europe and KuRunData.