Valued Opinions Australia – Overall Rating
Welcome to our Valued Opinions review, a platform that empowers individuals to share their insights and opinions while earning rewards. In an age where opinions matter more than ever, Valued Opinions provide a unique avenue for individuals to have their voices heard on a wide range of topics, products, and services.

In this review, we'll delve into the key features, benefits, and experiences that make Valued Opinions stand out in the world of online survey platforms. Whether you're looking to make a little extra money, express your viewpoints, or simply enjoy the satisfaction of contributing to market research, Valued Opinions offers an intriguing proposition.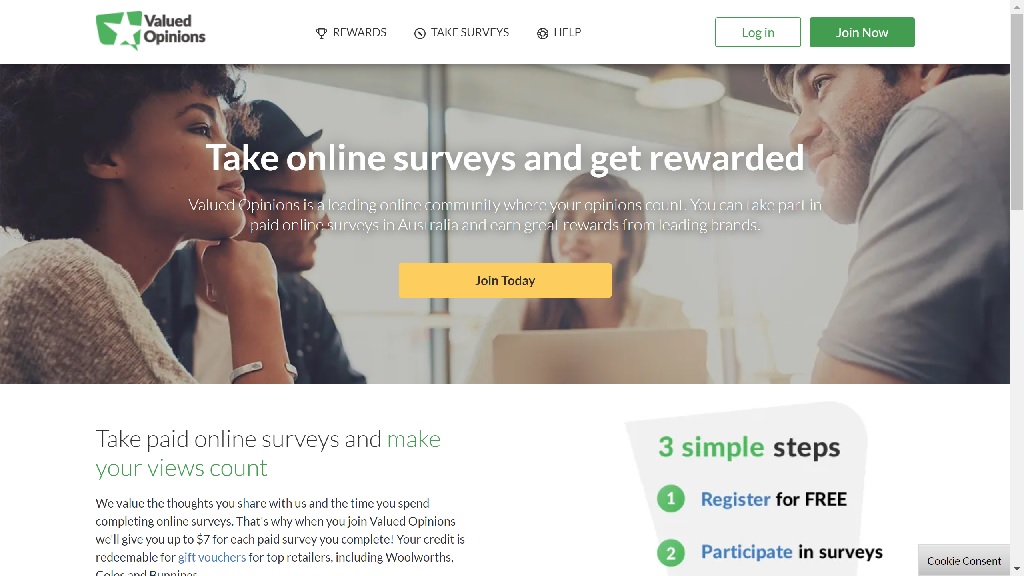 Valued Opinions Australia
Your thoughts are valuable when you share them online.When you join Valued Opinions you'll receive up to $7 for each paid survey completed!
Table of Contents
Is Valued Opinions Legit?
ValuedOpinions.com.au is a long-established market research company owned by Dynata LLC, which also owns online survey sites: OpinionWorld, Opinion Outpost, MyOpinions, and others, with a global reach of 70 million+ people.

Since 2004, Valued Opinions has operated across America, Belgium, Hong Kong, India, Malaysia, Singapore, Indonesia, Japan, South Korea, Australia, and New Zealand.

When investigating a site, we look at a number of factors including:

Reviews and Reputation: We look for reviews and testimonials from other users who have engaged on the Valued Opinions platform for complete surveys. Trustpilot shows a 4.4 out of 5-star rating based on 1373 reviews. A strong result!

Privacy and Data Security: We look at whether the platform has a strongly articulated privacy and data protection policy to safeguard your personal information as well as the general terms and conditions for joining. Valued Opinions as part of Dynata is also a member of a number of international and local research and data protection societies and initiatives.

Contact Information: Legitimate platforms typically provide customer support and contact details and an escalation path, in case you have any questions or concerns.

Frequency and Quality of Surveys: We look at the duration, volume, and payout for surveys and try to assess the likelihood of screenouts.

We can happily confirm that Valued Opinions is legit and not a scam site, being one of the best sites in the Dynata stable of survey panels.
| Valued Opinions Australia | |
| --- | --- |
| Redemption Methods: | Gift Cards / Vouchers + Charity |
| Redemption Threshold: | $20 |
| Survey Pay Range: | $1.00 – $7.00 |
| App: | No |
| Australian Based: | No |
| Referral Program: | No |
| Join: | Join using the Valued Opinions login here |
Who Can Join Valued Opinions Australia?
Applicants over the age of 18 years old and residing in Australia can apply to join.
Who Is Valued Opinions Australia Good For?
If you're the type of person who wants to influence the development and marketing of products and services in the future by sharing your opinion with large companies, then Valued Opinions will suit you.

It's also very good for those looking to establish and maintain a passive income stream by doing surveys, diary studies, and product testing.

However, if you lack patience or are looking for an immediate cash boost, then Valued Opinions is not the right survey site for you.

Valued Opinions is not a deals site, cashback site, GPT site, or shopping-oriented site.
How Is Valued Opinions Different From Other Paid Survey Sites?
Valued Opinions requires users to complete a significant set of profile questionnaires, taking up to 30 minutes. While this seems onerous, it is definitely worthwhile because it matches users to surveys far better and significantly reduces screen outs.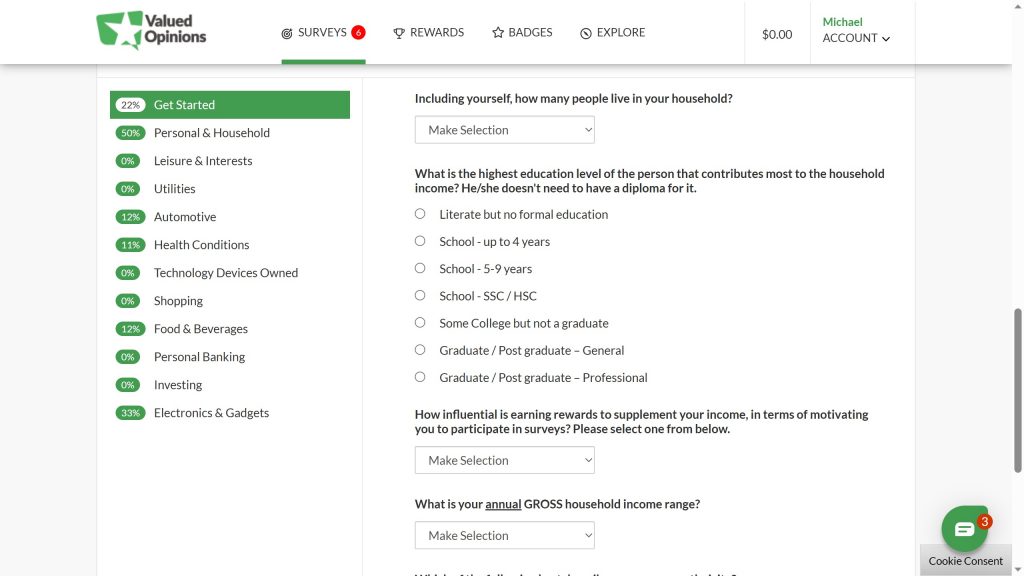 The more surveys you complete also help build up your profile, so regular survey participants are rewarded vs casual participants. This will have a significant impact on your earnings.

Apart from this, we'd consider Valued Opinions to simply be one of the better survey sites you'll come across.
How Do I Sign Up For Valued Opinions Australia?
You can simply follow our link to the Valued Opinions login. Joining only takes several minutes and you'll be completing your profile and answering surveys soon after.
Is There A Valued Opinions App?
Valued Opinions does not have a mobile app, but its website is optimized for mobiles.

If only app-based surveys are for you, check out our Best Survey Apps page here.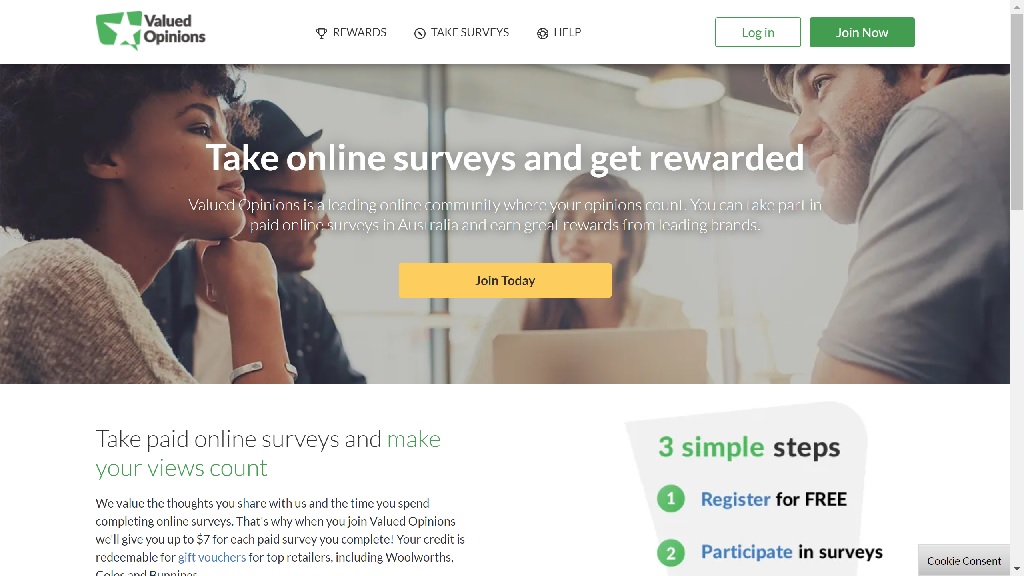 Valued Opinions Australia
Your thoughts are valuable when you share them online.When you join Valued Opinions you'll receive up to $7 for each paid survey completed!
Make Money With Valued Opinions
Valued Opinions is primarily a survey panel site and secondly a product testing site.
How Much Money Can You Make?
We get asked this a lot and it depends on many factors – an averaged hourly rate might see you earning AUD$6-8.
Surveys
On average you'll earn AUD$1.00 per 10 minutes spent on a survey. While this isn't great, your screen-out rates will be lower than average and completion rates much higher, so you have more of a chance of earning money for spending just a moderate amount of time on the site each day.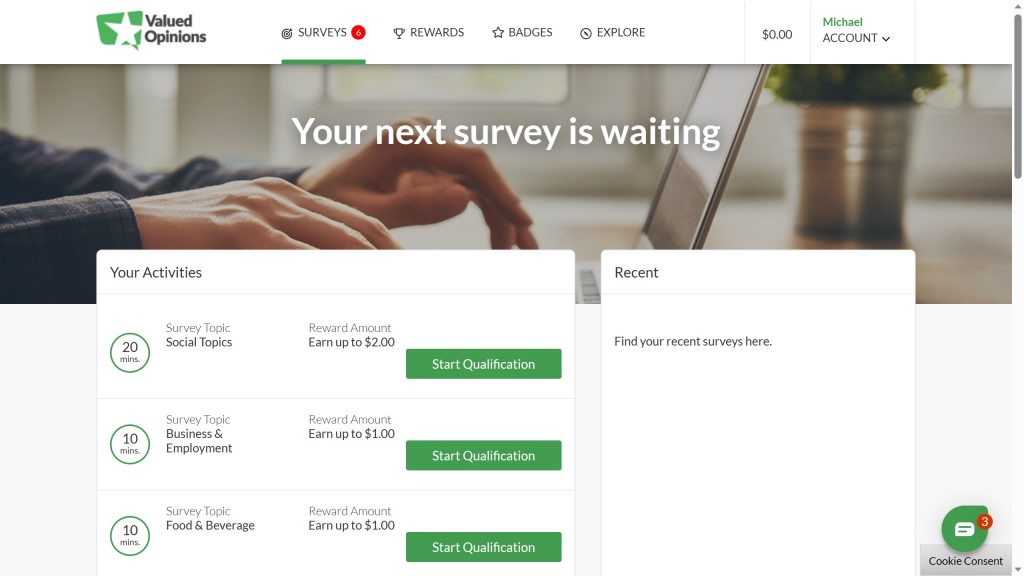 As you progress and develop your history, higher-value survey opportunities are likely to open up for you. Jump on the survey invitations via email as soon as you receive them.
Get more surveys

Want to take more surveys? Want to ensure you earn as much as Valued Opinions currency as possible? Of course you do. Build up your survey profile to receive more surveys.

The more we know about you, the more we can tailor your survey experience, and the more opportunities you'll have to earn. More surveys = more rewards, which is why your survey profile is so important. Make sure you keep it up to date whenever your circumstances change.

https://www.valuedopinions.com.au/auth/explore
Product Testing, Focus Groups & Diary Studies
Product testing is only available to those who match specific criteria and demographics. Those with a proven track record will get access first. Focus groups may involve in-person interviews, group discussions, or online meetings.

Diary studies involve tracking and recording your thoughts and usage of a product or service over a period of time.

These opportunities are not guaranteed but do pay well if you get the chance to participate.
Badges
Badges do contribute to your earnings – they're not just a graphical motivation tool.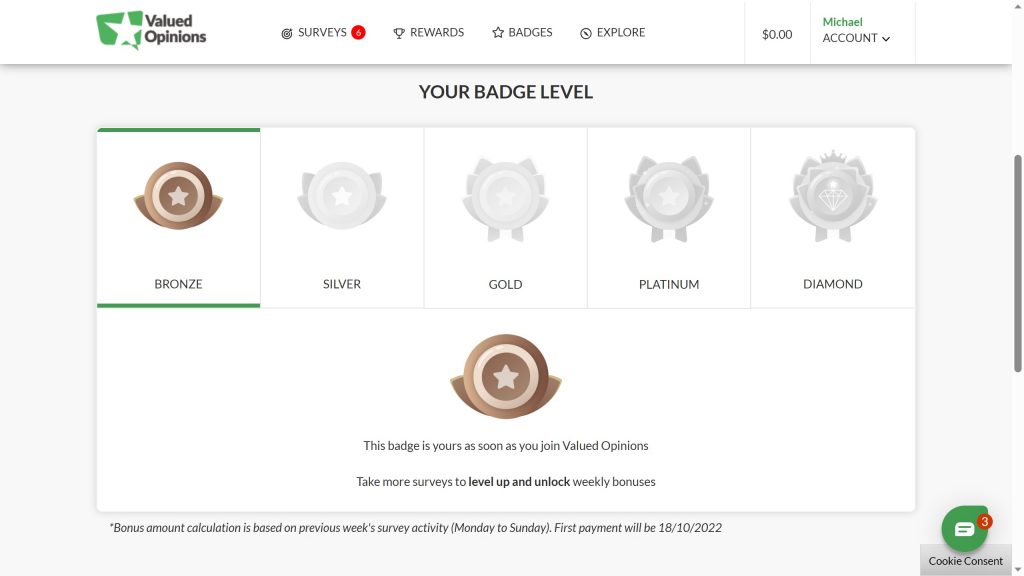 | Badge | Achievement |
| --- | --- |
| Bronze | This badge is yours as soon as you join Valued Opinions |
| Silver | Reach $15 Lifetime Earnings – 5% weekly bonus on surveys completed |
| Gold | Reach $25 Lifetime Earnings – 7.5% weekly bonus on surveys completed |
| Platinum | Reach $50 Lifetime Earnings – 10% weekly bonus on surveys completed |
| Diamond | Reach $100 Lifetime Earnings – 15% weekly bonus on surveys completed |
Referral Program
Valued Opinions Australia does not have a referral program.
Screenouts
You'll earn 2 cents for the first 5 screenouts per 24 hours.
Redeeming Valued Opinions Australia Earnings
There are two issues with Valued Opinions redemptions in Australia:
the choices are limited to gift cards / gift vouchers or charity.
the payout threshold is $20, which is on the upper end of survey company ranges.
There are no direct debit, PayPal, or Amazon options available.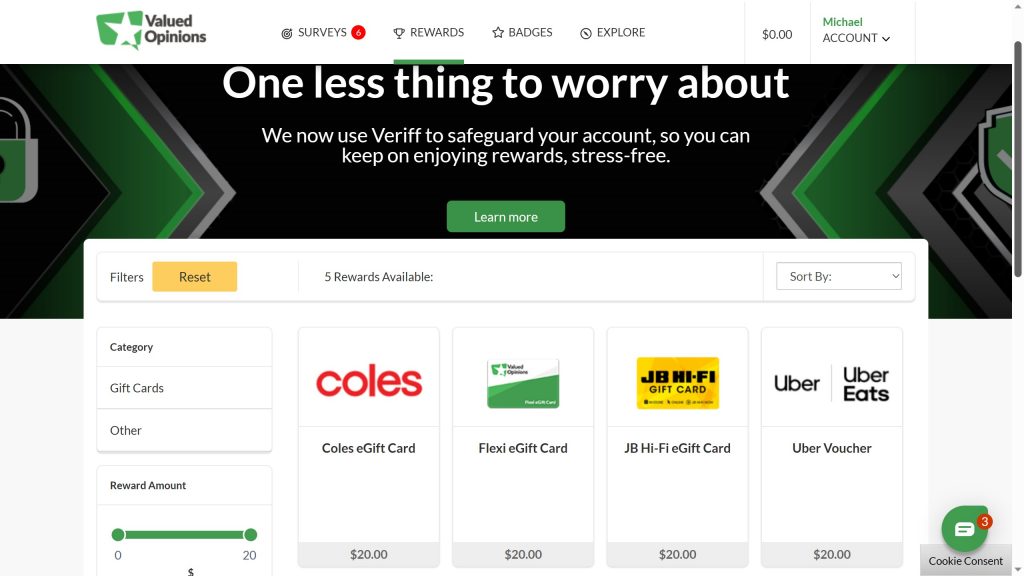 Gift cards and gift vouchers
At present, Coles, JB HiFi eGift Cards, and Uber Vouchers (good for Uber Eats or Rides) stand alongside Valued Opinions Flexi eGift Cards, which are redeemable at Australian retailers such as Bunnings, Myer, SuperCheap Auto, Woolworth's, Domino's Pizza, Caltex, Woolworths, Rebel and much more!
The full range of options can be viewed here.
Charity
If you'd like to feel good and make a difference, then opt for the Unicef $20 donation option.
Pros And Cons – Valued Opinions Australia
Pros
Low screenout rate
User-friendly interface
Pays for screenouts
Chance of higher earning activities
Cons
No referral program
Lengthy profile questions
Limited redemption options
No cash payouts
Similar Sites To Valued Opinions
Valued Opinions Australia Reviews
I've been a member of Valued Opinions…Have enjoyed being able to receive Rewards by giving my opinions on so many things which affect Australians.

I've been a member of Valued Opinions for some considerable time and have enjoyed doing most surveys. The Financial Rewards have let me help friends and Groups who have needed that little bit of care. KF

Kay Finnis, AU, Trustpilot, 14 August 2023
Mostly I love doing surveys with Valued…

However, I wish rewards were able to be collected as more than one at a time. When I request a reward voucher valued at $20, it would be nice to be able to order two or three at the same time, as we were able to do previously. After all, in today's world not much can be bought for only $20. Please rethink this Valued Opinions.

Ms Tania Strachan, AU, Trustpilot, 12 August 2023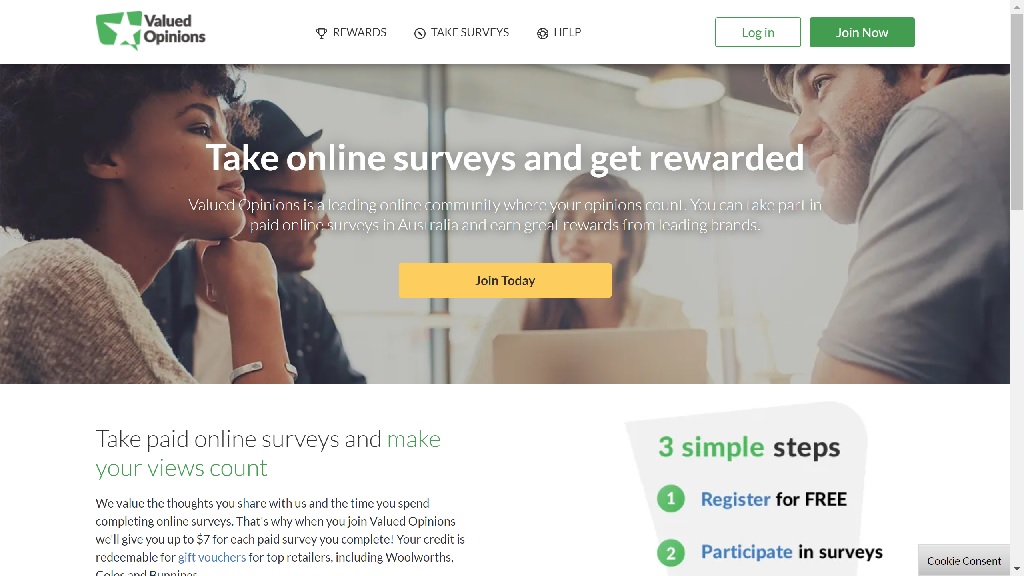 Valued Opinions Australia
Your thoughts are valuable when you share them online.When you join Valued Opinions you'll receive up to $7 for each paid survey completed!
Valued Opinions Customer Support
Most, but not all customer support is needed when arises arise from screenouts, redemption fails and accounts are suspended for suspected fraud. Following these will get you back online sooner…

Check the FAQs: Use the online support assistant.

Lodge an online support ticket: Click on 'Contact Us' at the bottom of the support assistant.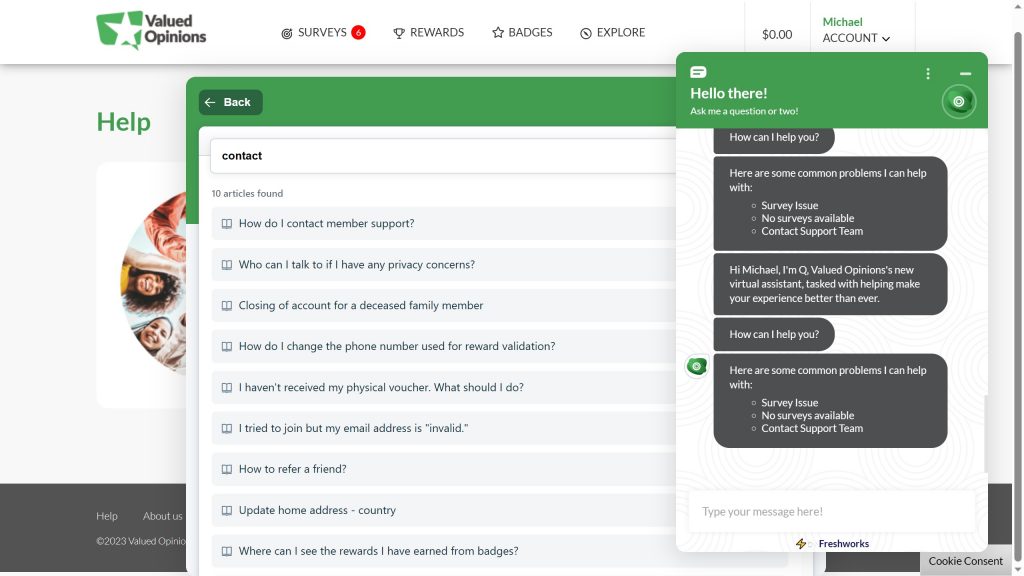 Online chat: Use the new virtual assistant

Phone: None available, unless you wanted to try through the Dynata corporate headquarters.

Reach out on social media: The Facebook page appears to be full of mini quizzes designed to engage, but you can post comments within those posts and Valued Opinions does appear to respond.

Trustpilot: Placing a nicely worded review about your issue may result in contact from Valued Opinions customer support.
Conclusion: Valued Opinions Australia
Valued Opinions Australia

When you write as many reviews as I do, you often find a nagging issue with a particular survey site, but in the case of Valued Opinions, I'm happy to say I didn't.

You should absolutely join this site, complete your profile, and start answering surveys. Who knows, you may even get to do some product testing.

While the earnings aren't the highest around and redemptions are limited, the easy-to-use site, consistent payouts, and focus make up for any other shortcomings. Go ahead and join.

Thanks for taking the time to read this Valued Opinions Australia review!
FAQ: Valued Opinions Australia
Is Valued Opinions legit?
Yes, it is highly rated on Trustpilot and has been in operation for nearly 20 years.
What rewards do Valued Opinions offer?
Valued Opinions Australia offers gift cards / vouchers and charity options, but not direct debit or PayPal options.
How old do I need to be to join Valued Opinions Australia?
You'll need to be 18 years old and a resident of Australia.
How much can I earn with Valued Opinions Australia?
An average of AUD$6-8 per hour is feasible but experiences may vary wildly depending on demographics and profiles.
Who owns Valued Opinions?
Valued Opinions is owned and operated by Dynata, LLC, the same company that owns OpinionWorld, MyOpinions and Opinion Outpost.