SurveyLama Australia – Overall Rating
Visit SurveyLama and a big, bold statement will jump out at you: "Take paid online surveys and earn up to 300$AU per month!". And just for good measure, they also tout: "Earn up to 20$AU per survey from home!"

Those are fairly big claims for any survey company, especially when most go out of their way to state that surveys are a way to make extra cash, not an entire income. Do these claims stack up? Or is this just a case of marketing hype?

Read our SurveyLama review, to discover what's to love, how it compares to other similar survey sites in Australia, and whether it can deliver what it claims.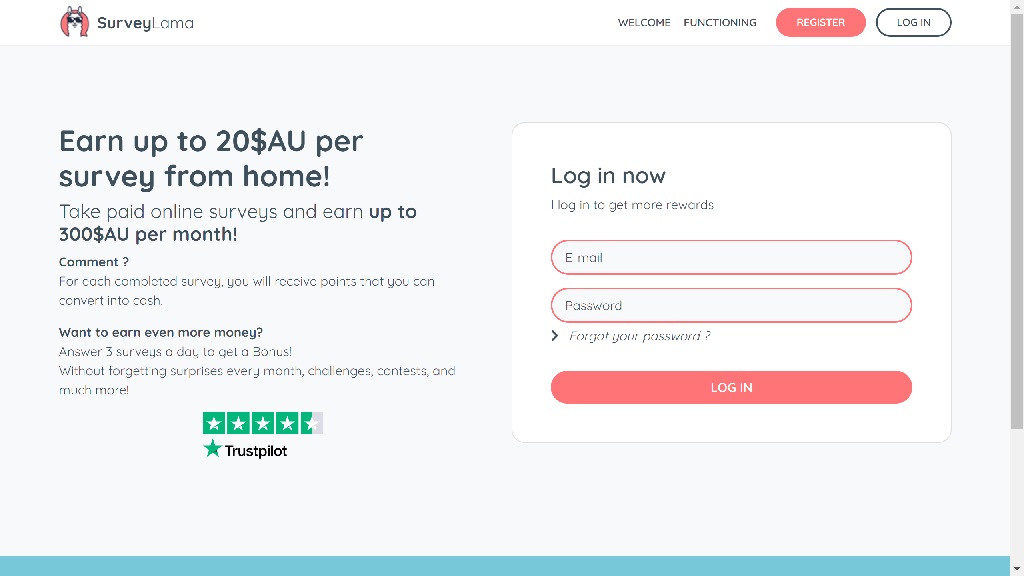 SurveyLama
Middle-of-the-road SurveyLama has reasonable quality surveys and earnings to be made if you have the patience.
Table of Contents
Is Surveylama Australia Legit?
While SurveyLama is relatively new to Australian shores, this French-based company is not new to the survey scene and is well-established in other countries including Germany, Italy, Belgium, Mexico, the USA, and the UK.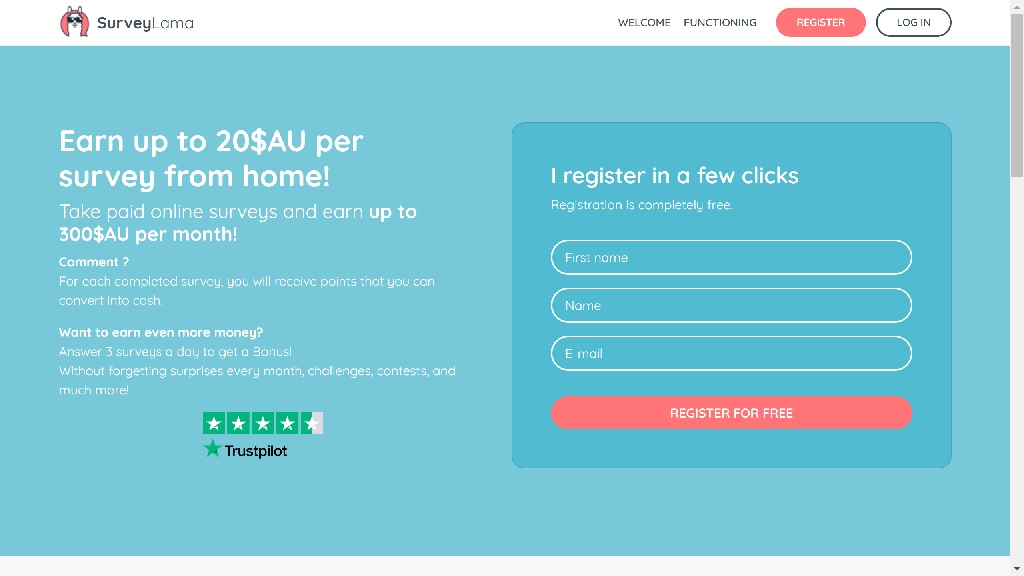 We understand that users may be nervous when considering joining an unknown company that requires a degree of personal information. To help you decide, we look at a number of indicators as to whether a company is legitimate:

Terms and conditions: The site carries a comprehensive suite of terms, disclosures and privacy policies on its site.

Trustpilot: The Australian Trustpilot site doesn't carry any ratings, but the international Trustpilot site rates SurveyLama.com a very 'handy' 4.3 out of 5, based on 3,633 reviews at the time of writing, although large numbers of the reviews are spam/scams.

Size and global reach: As we've mentioned, SurveyLama is not altogether a small operation.

Frequency and payout of surveys: SurveyLama Australia makes big claims, and this could well factor against it.

Nonetheless, we've maintained an account to monitor and review for a while now and have determined that SurveyLama is legit.
| SurveyLama Australia | |
| --- | --- |
| Redemption Methods: | PayPal + Amazon Gift Voucher |
| Redemption Threshold: | $20.00 |
| Survey Pay Range: | $0.50 – $3.00 |
| App: | No |
| Australian Based: | No |
| Referral Program: | No |
| Join: | Join using the SurveyLama login here |
Who Can Join SurveyLama Australia?
Anyone over the age of 18 can join SurveyLama Australia.
Who Is SurveyLama Australia Good For?
SurveyLama offers a bonus for 3 survey completions per day. On this basis, we'd suggest that those with a bit more time than usual on their hands might find the site appealing.

SurveyLama also makes a big point of saying: "Earn up to 20$AU per survey from home!"

Nonetheless, students, retirees, or commuters may all enjoy logging on regularly to answer surveys and earn extra income.

However, if you enjoy the variety of games, activities, polls, and community engagement, then this site is probably not for you. Consider heading to our GPT page or product testing page.

First and foremost it is a survey site, similar to other survey websites such as Surveoo, Prime Opinion, Mobrog and Survey Roundtable.
How Is SurveyLama Different From Other Paid Survey Sites?
There is nothing overly different about SurveyLama, apart from the bold claims it makes regarding earnings.
How Do I Sign Up For SurveyLama?
Simply head to the homepage by following this link. Signing up is quick and easy. Supply your name, and email, and then verify it to log in.

Then proceed to fill in the required demographics surveys, which hopefully should direct you to the most-suited surveys.
Is There A SurveyLama App?
There is neither an Apple iOS nor Google Android app available at present for mobile devices. Having said this, the survey platform is well-optimised for mobile usage.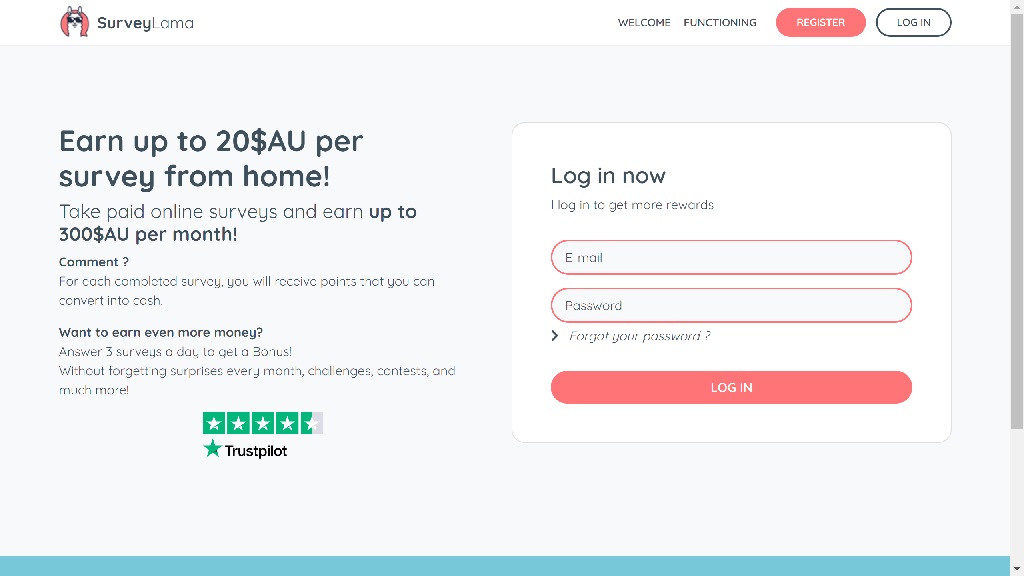 SurveyLama
Middle-of-the-road SurveyLama has reasonable quality surveys and earnings to be made if you have the patience.
Make Money With SurveyLama
It should be no surprise that SurveyLama is a dedicated survey platform and answering surveys is really the only way to make money online.
How Much Money Can You Make With SurveyLama Surveys?
Earning rewards will require more effort than a GPT site and I believe that it is realistic to expect to earn AUD $5 per day or AUD $150/month, rather than $300.
Profile
Complete the profile questions to make several easy dollars.
Surveys
Typically, you may see 3-6 earning opportunities when logged into the Australian website.

AUD $0.50 to $3.00 appears to be the average survey pay range. Don't forget you won't qualify for all surveys, so you'd have to be very conscientious and visit regularly to earn $20/day for 3 completed surveys.

Don't go expecting AUD $10.00 surveys on a daily basis, if ever.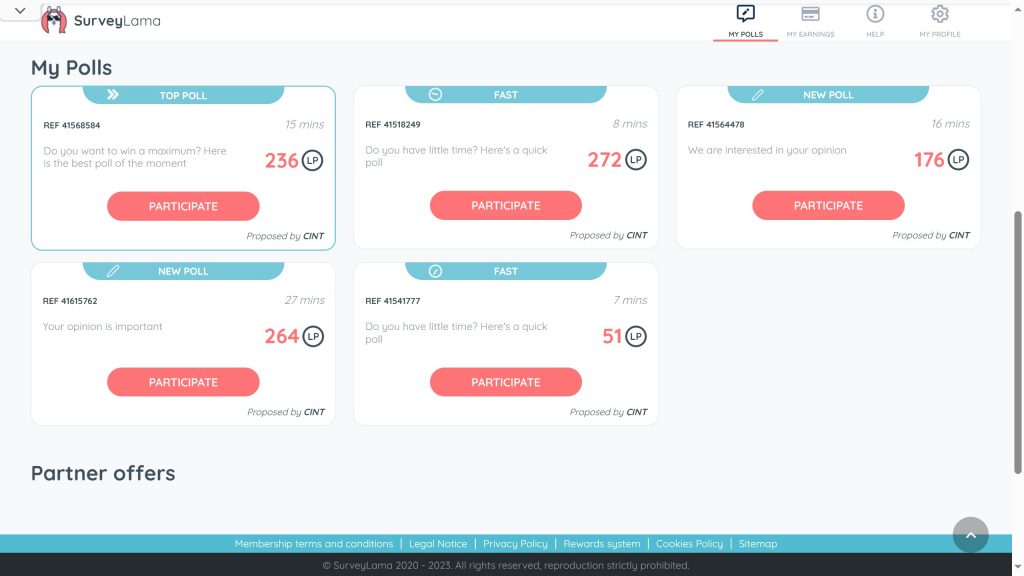 Survey Partner Offers
Stay away from these – they're either sister companies, pay-per-click, or survey sites where you can earn more for the same survey by joining directly. This is the component that comes closest to being a 'scam'.
Daily Bonus
Answer 3 surveys a day to get a Bonus! You'll receive 20 Lamapoints (LP), or 20 cents.
Challenges and Contests
Another bold claim – no sign of either. Maybe more so for the US and UK markets.
Referral Program
At present, there is no referral program.
Redeeming Earnings
The redemption element of the website is basic but functional. In Australia, two payout options are presented.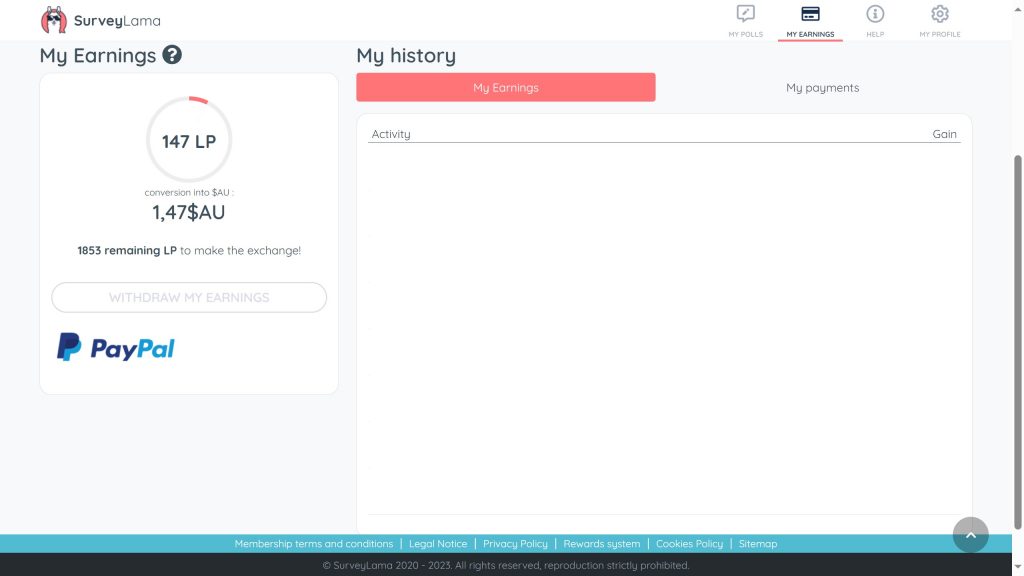 PayPal
First, you'll need a PayPal account if you don't already possess one.

To make your first PayPal payment, you'll need to amass 2,000 LPs before PayPal transfers are possible.
Amazon Gift Cards
Almost as good as cash these days, Amazon Gift Cards can also be redeemed from $20.00 or 2,000 LPs onwards.
Pros And Cons – SurveyLama Australia
Pros
User-friendly interface
Middle-of-road earnings
PayPal and Amazon redemptions
Cons
Limited payment options
Ads littered throughout the site
Overhyped marketing claims
Points reward system
No challenges and contests
Similar Survey Sites To SurveyLama Australia
Our experience suggests that SurveyLama Australia sits squarely within the middle range of market research companies in Australia. It will never knock Octopus Group off the top rung, nor will it scrape the bottom of the barrel.
SurveyLama Reviews
So far so good with Survey…

So far so good with Survey Lana…😇😁😉😅😆👏👍 update. I just got my first payment and it matches the best survey sites 🤠👍🤟✌️😇

David Priol, AU, 6 September 2023, Trustpilot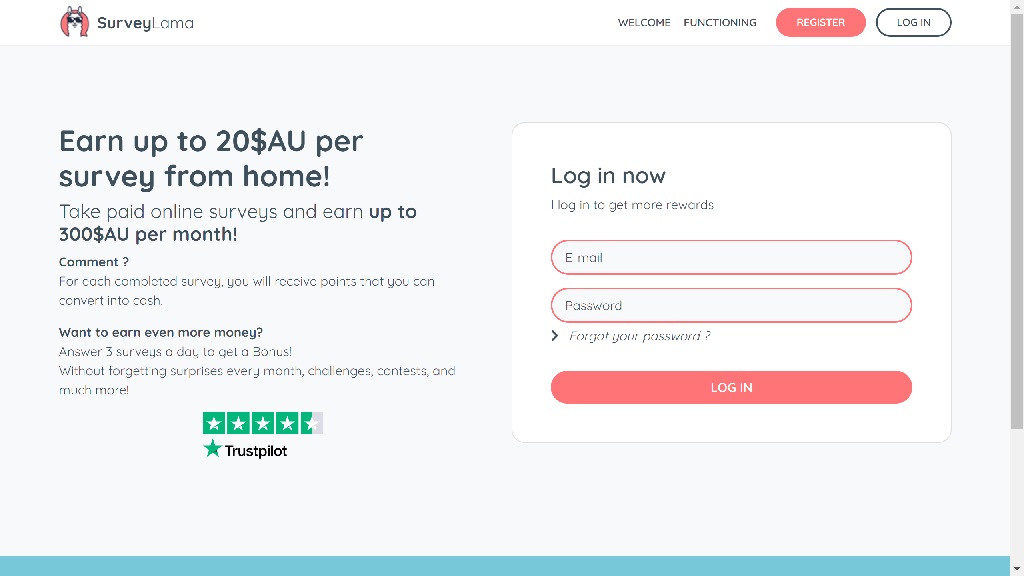 SurveyLama
Middle-of-the-road SurveyLama has reasonable quality surveys and earnings to be made if you have the patience.
SurveyLama Customer Support
Even if you're doing everything right, sometimes things go wrong. Luckily there are a number of ways to contact support when you need it.

Check the FAQs: A very good FAQ section is available.

Lodge an online support ticket: Although a bit hard to find, you can submit online help tickets.

Phone: Not available.

Reach out on social media: SurveyLama does not appear to have any active social media particularly relevant to Australia.

Trustpilot: Don't bother – their page is saturated with spam comments
Conclusion: SurveyLama Australia
SurveyLama Australia

SurveyLama is a mid-tier survey company that is focused and presents a reasonable way to earn extra cash.

Do the claims stack up? Well, certainly not for Australia anyhow. But that doesn't mean that SurveyLama isn't worth your time, it simply means they need to revisit their marketing approach.

Try and ignore the big claims and focus on answering 3 surveys a day, to make a reasonable side income.

Thanks for taking the time to read this SurveyLama review!
FAQ: SurveyLama Australia
How much is 1 SurveyLama LamaPoint worth?
In Australia, 1 LamaPoint (LP) is worth AUD$ 0.01, or 1 cent.
What redemption options does SurveyLama offer?
PayPal and Amazon Gift Cards are the two options provided.
How much can I make with SurveyLama daily?
You could expect to make approximately AUD $5.00 on a daily basis by answering several surveys.