YouGov Australia – Overall Rating
Almost all online survey websites offer payment in some form for feedback on products and services or for your opinion. But YouGov is something else again…. it helps us understand the society and world in which we live.
How? The responses you give to YouGov Australia help shape policies and social development at all levels of Government.

In our YouGov review you'll get the chance to learn how you can earn significant rewards for your opinion with one of the leading market and social research companies in the world, and in Australia.

Read on to discover all you need to know and learn why you should join now (for free, of course)….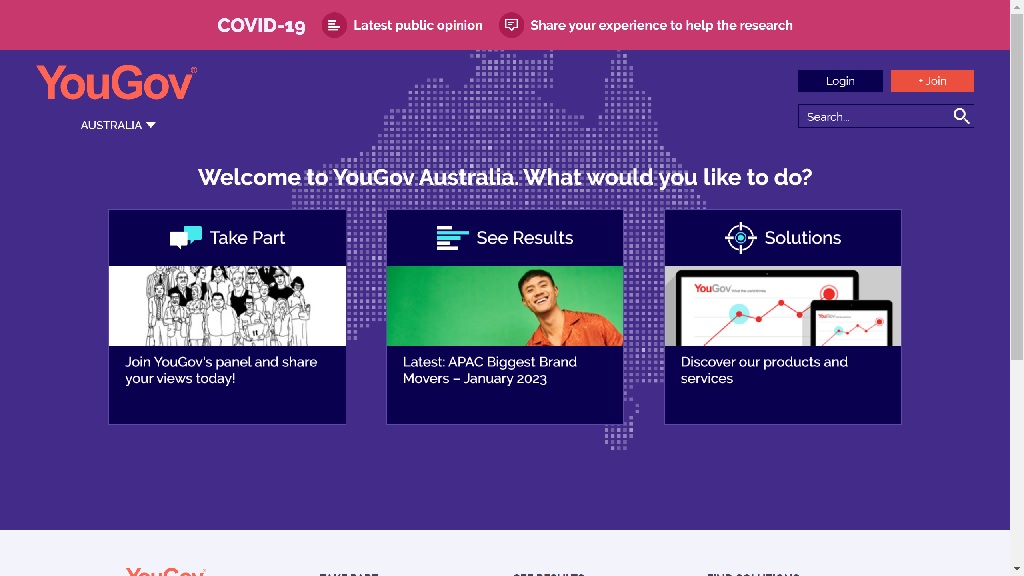 YouGov Australia
If you're socially minded and want to make a difference...Right now, YouGov Australia is looking for 18+ yo males for their opinions on issues that affect our society. Is that you?
Table of Contents
What is YouGov Australia?
YouGov Plc is one of the world's leading international Internet-based market research and data analytics firms. Founded in the United Kingdom in 2000, it boasts more than 10 million members worldwide. It also has operations in Malaysia, New Zealand, Singapore, Thailand, Philippines, Vietnam, and India; just in the Asia-Pacific area alone.

Locally, YouGov Australia is responsible for publishing a number of highly valued, high-profile, syndicated reports. The research that comes from your surveys also features in media news across Australia and the broader Asia-Pacific region.

YouGov is a social research specialist, setting it apart from many survey websites, especially Get-Paid-To sites that tend to act as survey routers. YouGov will conduct survey work and data analytics insights with large businesses, the Australian Government at all levels, Non-Government Organisations, and Charities.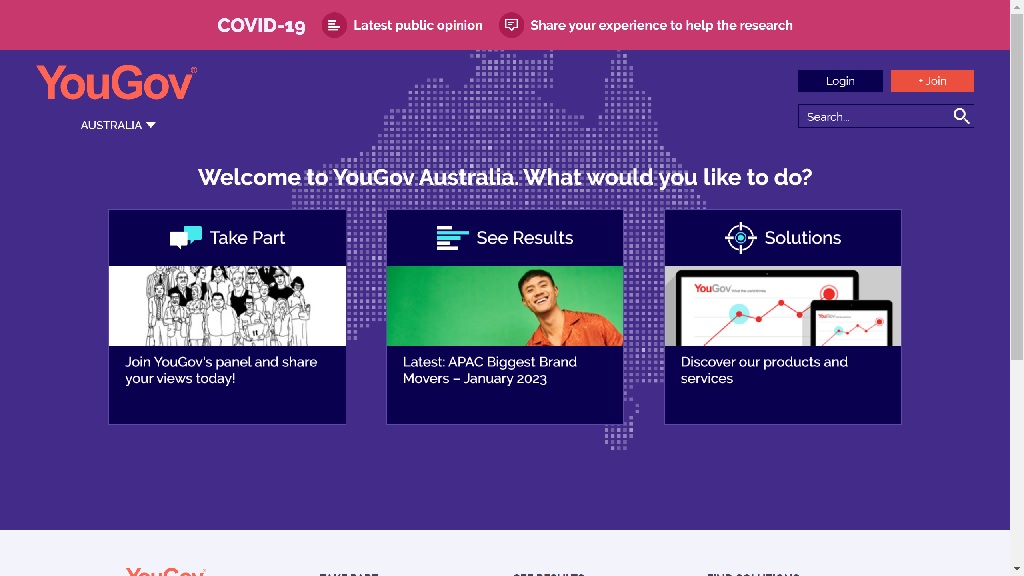 Central to its mission is its data collection methodologies for topics, such as consumer services and products, political and social issues, finance, motoring, IT, and banking.

The polling undertaken with Aussies via YouGov.com online surveys varies in length from 5 minutes to nearer an hour and the amount of points rewarded is tied directly to the time taken.
| YouGov Australia | |
| --- | --- |
| Redemption Methods: | PayPal + Flexi E-Gift Card + Charity |
| Redemption Threshold: | PayPal – $25 (5,000 points), eVouchers – $20 (5,000 points) |
| Pay Range: | $0.40 – $3.00 |
| App: | Yes |
| Australian Based: | No |
| Referral Program: | No |
| Join: | Join using the YouGov login here |
Is YouGov Legit Or A Scam?
As an Australian consumer, you can be assured that YouGov is a legit, reputable, and reliable site to use.

YouGov Plc is a world-leading market research company, with much of its research undertaken for ASX-200 and Government Departments. The point to remember is that Federal and State Governments subject their research partners to vigorous procurement processes, so if YouGov is good enough for them, it's fair to say they're good enough for you.

As for your personal information, YouGov takes a number of steps to ensure it is kept safe. Further details can be found on the privacy page and in their terms and conditions.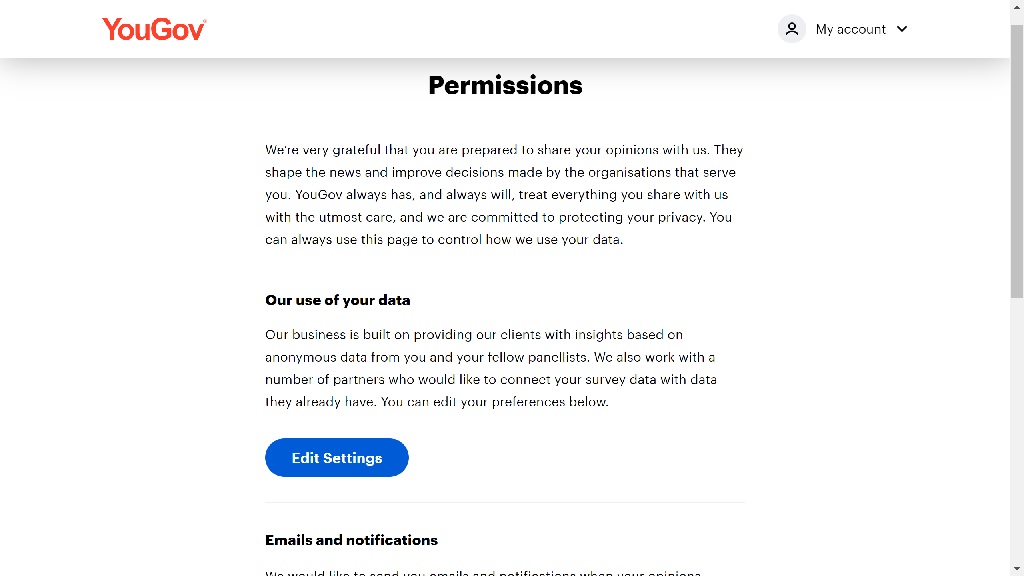 YouGov is also a member of the Australian Data Insights Association, the company adheres to Australian Privacy Legislation, and is a full member of The Research Society.

With 11,200 reviews on Trustpilot, YouGov (parent company) is rated 4.5 stars out of 5. This is a very high score for a survey company.
YouGov is a legitimate site!
Why Should I Join YouGov?
First, when you answer a YouGov survey direct, you're helping provide your public opinion to the likes of the Australian Government, consultancies, and large companies, on anything from pandemic responses to health care and wellness, rather than via a 3rd Party.

Second, YouGov financially rewards its members well and we tend to consider it one of the top-tier survey companies in Australia.

Third, The more you participate, the more questionnaires you answer, earning points, and the more will open up.
Who Should Join YouGov?
YouGov Australia is open to anyone who is interested in sharing their opinions and providing feedback on a variety of topics. However, certain groups of people may find YouGov to be particularly beneficial:
Australians who want to have their voices heard – a platform for Australians to share their opinions, behaviours, and feedback on a wide range of topics, including politics, current events, and consumer products.
People who enjoy taking surveys – if you enjoy taking surveys and sharing your thoughts, you'll get regular opportunities to do so.
Individuals looking to earn rewards – earn points for completing surveys, which can be redeemed for rewards such as gift cards or cash.
Researchers and businesses – provide valuable insights and data to researchers and businesses who are looking to understand the opinions and behaviors of Australians.
Overall, YouGov Australia is a platform for anyone who wants to make their voice heard and contribute to market research in Australia.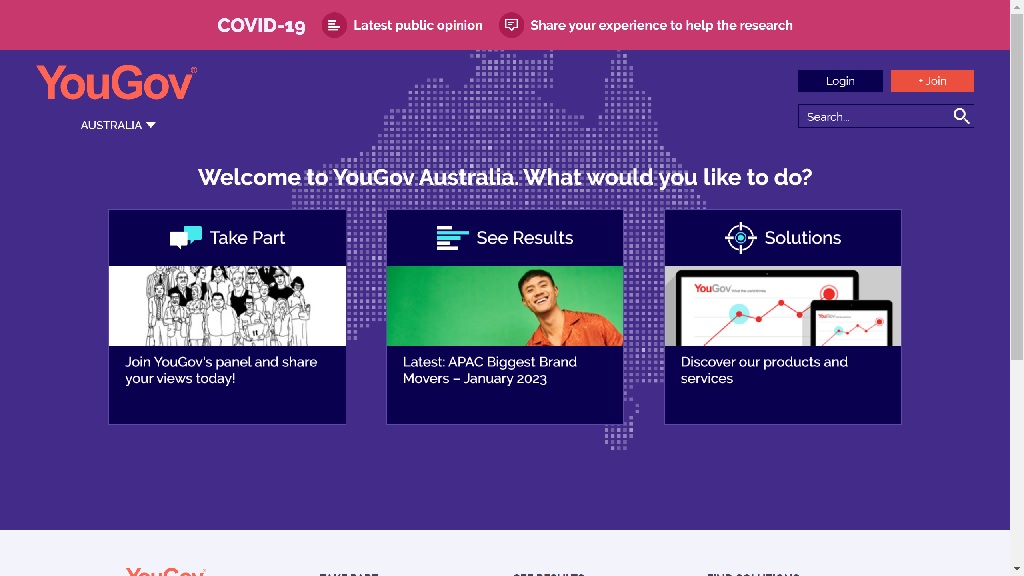 YouGov Australia
If you're socially minded and want to make a difference...Right now, YouGov Australia is looking for 18+ yo males for their opinions on issues that affect our society. Is that you?
How To Join YouGov Australia
To join YouGov Australia and become a member of their online community, follow these steps:
Go to the YouGov login
Click on the "Join Now" button in the top right corner of the homepage.
Fill out the registration form with your personal information, including your name, email address, and date of birth.
Create a username and password for your account.
Agree to the terms and conditions and privacy policy.
Click the "Join YouGov" button to complete the registration process.
YouGov will ask you to verify your email address.

Once you're on the platform, YouGov will run you through a range of profile questions. While the process might seem tedious, the demographic information you provide is very important as YouGov will use it to match you to surveys. More accuracy will equate to less annoying screenouts.

Once done, you should start receiving a steady stream of online survey opportunities.
Who Can Become A YouGov Member?
If you're an Australian resident over the age of 16, you'll be able to create a YouGov account. Under 18-year-olds need to have the permission of a legal guardian.
Is there a YouGov App?
YouGov sure won't win any awards for a beautiful app, but it is functional and very simple, which is not necessarily a bad thing when trying to navigate survey websites.

Here's what you can expect to see…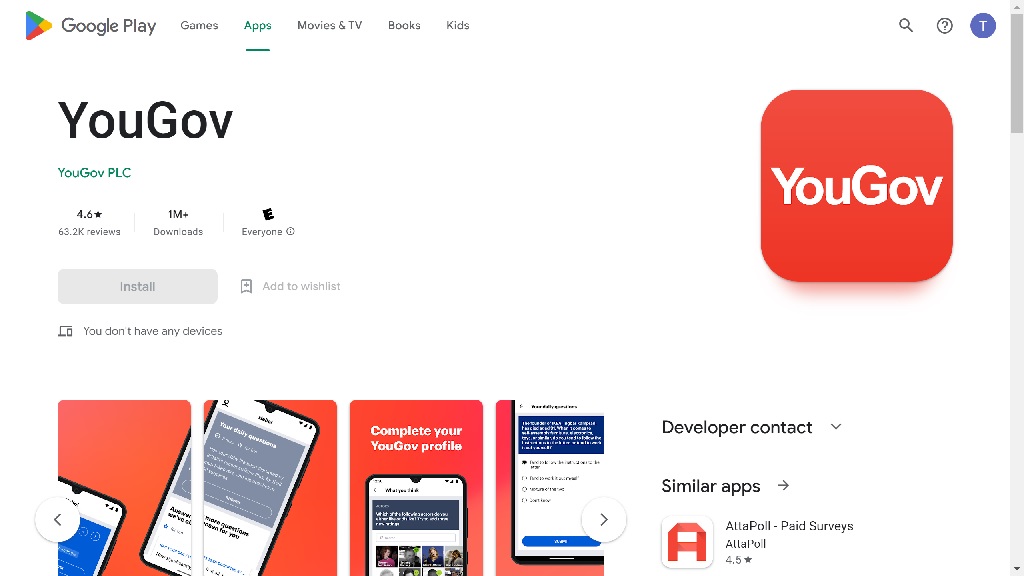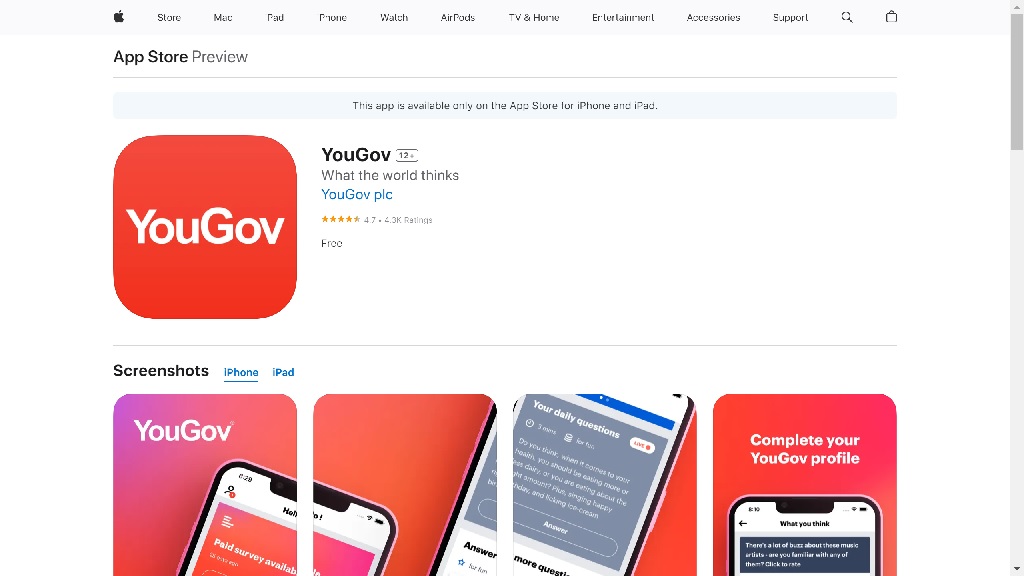 If only app-based surveys are for you, checkout our Best Survey Apps page here.
How Does YouGov Work?
After joining YouGov Australia, you will receive survey invitations via email. These invitations will include information about the topic of the survey, the estimated time it will take to complete it, and the rewards you can earn for participating.

TIP: Our tip is to attempt a new survey as soon as possible. That's because popular surveys can fill out fast, leading to a screenout when a quota is filled.

The surveys will typically ask for your opinions on a variety of topics, such as current events, politics, or consumer products.

YouGov Australia rewards its respondents with points for completing surveys. The number of points you earn will depend on the length and complexity of the survey. Once you have accumulated enough points, you can redeem them for a variety of rewards, such as gift cards or cash.
How To Make Money With YouGov
YouGov Australia is not a Get-Paid-To (GPT) site, so it has fewer ways to make money, but it does have a higher pay rate for your time. We rate YouGov as a top-tier survey provider.

It goes without saying that surveys are the main game. You should ensure you participate regularly to maximize your earnings.

Overall, making money with YouGov is easy and straightforward.
Does YouGov Australia Offer A Referral Program?
Aha! If you've read somewhere that it does, then you're probably reading foreign-produced content or content generically created by artificial intelligence!

In some countries, YouGov does operate a referral program where you can invite your friends to join the site. But… this is not available to Australian users.
How Frequent Are Online Survey Invites?
YouGov is a leading survey panel so it has plenty of clients – and this equates to more survey opportunities for respondents.

A well-profiled and reliable participant should expect approximately 5 or more survey invites in any standard week, though there can be significant seasonal variations.
What Is A Typical Survey Duration?
We've found that YouGov Australia surveys are not as exhaustive as some. Expect 20 to 30 short questions in total, needing 10 minutes to answer.

Longer surveys tend to be more complex, but even then, most won't take more than 20 minutes.
How Much Do YouGov Surveys Pay?
Survey earnings (YouGov points) are dependent on the length of the survey. Respondents can expect to earn up to 400 points for completing a 10-15 minute survey. Payouts for your time and effort are lower than that of high-paying Australian survey sites like Octopus Group.

What's more, there is no guarantee of a consistent income stream with YouGov. Be realistic about how much you can expect to earn – YouGov Australia is worthwhile, but it's still a side hustle, not a full-time job.
YouGov Redemptions
With a little effort and regular responses to email survey invites, it will not be long before you're able to cash out your points.

In order to redeem your YouGov points, you'll need a minimum threshold of 5,000 points. Points are easily trackable from the YouGov website account dashboard.
YouGov Rewards Options
YouGov Australia offers a reasonable range of redemption options, making it more flexible than some competitors. You can":
Cash-out to your PayPal account via PayPal Transfer
Redeem for YouGov Flexi E-Gift Voucher/Cards (including Woolworths, Myer and Bunnings)
Offer your points up as charity donations
Overseas you can cash up for mobile credit or collect Air Asia credit.

The best thing about the YouGov interface is that it is so clear to see and track your progress all via one screen.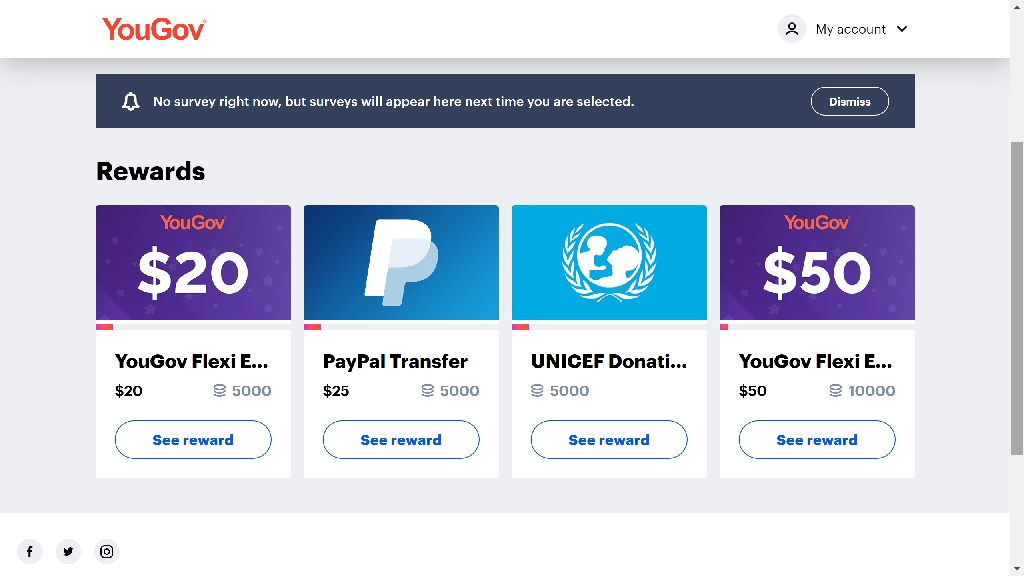 Redeeming YouGov Points For PayPal
To redeem YouGov Australia points for PayPal cash, you'll need a current PayPal account. Simply select PayPal as your preferred redemption and your earnings will be credited to your PayPal account within 10 business days of YouGov receiving the request.
Redeeming YouGov Points For Flexi E-Gift Cards
While PayPal cash is king, a YouGov flexible gift card has the potential to offer flexibility as well.

There are two YouGov Flexi E-Gift Card denominations of $20 and $50. Note how these stack against PayPal (which offers better value at the 5,000 point mark).
| Product | Value | YouGov Points |
| --- | --- | --- |
| YouGov Flexi E-Gift Card | $20 | 5,000 |
| PayPal | $25 | 5,000 |
| YouGov Flexi E-Gift Card | $50 | 10,000 |
| PayPal x 2 | $50 | 10,000 |
Redeeming YouGov Points For Charity
If you donate your YouGov points to UNICEF, 5,000 points can be redeemed for an 8-week treatment package of emergency nutrients for 1 malnourished child.
Pros and Cons – YouGov Australia
Like any product, there are pros and cons of YouGov, but on the whole, we think it is a positive survey website.
Being a leading market research company, you'll have continual access to surveys of major brands and the Australian Government at all levels.

You'll also get to have a say on social topics; more so than with many other major survey companies. If you're socially minded, then this company is one you must join. along with Toluna Influencers.

Because YouGov is heavily vetted on a regular basis by Governments, you can rest assured that your user data is well protected.

If there are a few gripes, we'd suggest that revisiting pay rates for surveys to bring itself more on par with Octopus Group, OpinionWorld and Ipsos iSay would serve it well.

As well as that, the rewards system that uses points unnecessarily complicates things, becoming a frustration to users everywhere.
Pros
Relatively higher payout than GPT and some other survey sites.
Most simple user-interface you'll ever see
Redemption flexibility
Handles your data with care
Cons
Points system
No referral system for AUS.
Pays lower than Octopus Group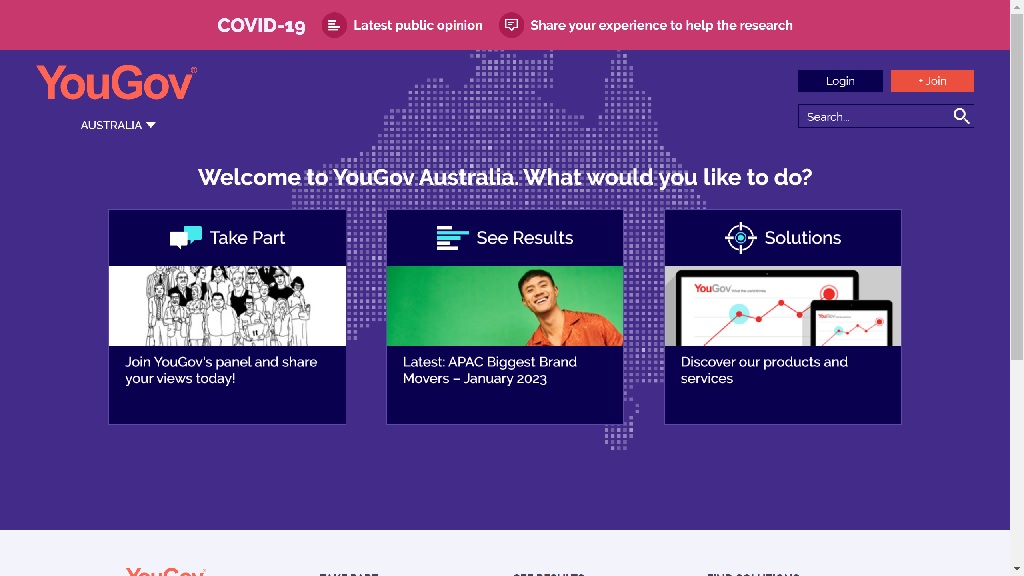 YouGov Australia
If you're socially minded and want to make a difference...Right now, YouGov Australia is looking for 18+ yo males for their opinions on issues that affect our society. Is that you?
YouGov Australia Reviews From Others
Here are some YouGov reviews from customers who use the site:
An awesome opportunity to express my views

The opportunity to express my sincere opinion/ on views made my experience a great one. YouGov is doing well by presenting salient issues gaining currency in Australia for people's opinion and with freedom of expression.

Tunji, 18/4/2023, TrustPilot
Similar Sites To YouGov Australia
As mentioned earlier, we consider YouGov Australia to be in the top tier of survey companies accessible to Australians. Here are the other similar companies that you need to be considering.

We always recommend joining at least three and answering surveys with them for a week, before deciding which will suit you better in the long run.
YouGov Australia Customer Support
While YouGov does have a local survey focus, support is not in-country and you can expect it to be patchy at best. However, given the simplicity of the website and its redemption options, most users should not expect to need customer support.

Check the FAQs: First, browse the extensive FAQ information that YouGov Australia has compiled on the website. You can use the search function if you are not sure where to start and chances are you'll find what you need.

Lodge an online support ticket: Second, if you can't find an answer to your question, lodge a ticket to seek help.
Phone: There does not appear to be telephone support for YouGov Australia.

Reach out on social media: The YouGov Facebook page has 373k followers but it appears to be one-way traffic with little genuine engagement beyond offering polls of interest and news… and very global, rather than country-by-country focused.

TrustPilot: YouGov appears to actively monitor and respond to complaints regarding service and reaches out where necessary in the hope of fixing the problem to receive an improved rating.
Conclusion: YouGov Review Australia
YouGov Australia

YouGov Australia is a legitimate, quality-driven website for soliciting opinions on all areas of society. If you're looking to earn extra cash on the side with paid surveys, it is well worth joining.

Interesting research topics, a simple and distinctively user-friendly website, and solid earning options make YouGov a real player when it comes to the top-tier Australian survey sites that we review.

With joining YouGov being entirely free, you don't have much to lose if you give it a try. Provided you're not looking to get rich quick, it could be worth trying YouGov to see if you can make this paid survey site work for you.
Thanks for taking the time to read this YouGov review!
FAQ: YouGov Australia Review
Is YouGov legit?
Yes. YouGov is a legit and reputable survey company that takes the protection of user data seriously.
How can I join YouGov Australia?
You can use the YouGov login here to join in as few as several minutes, supplying only basic data.
How old do I need to be to join YouGov Australia?
You can join at the age of 18 or 16, if you have parental permission.
How much per survey can I make per survey with YouGov Australia?
A typical survey might net you $0.40 – $3.00, but there are significant variances based on the length and complexity of surveys.
Who owns YouGov?
YouGov PLC, based in London, UK, owns YouGov.