Rewardia Australia – Overall Rating
In the Get-Paid-To (GPT) space, there are plenty of sites competing for your attention. And while many don't see the light of day here in Australia, that's not the case for Rewardia.

Rewardia is a homegrown Australian GPT site headquartered in Bondi Junction, NSW. It has since expanded into the USA, Canada and New Zealand.

Rewardia is a popular site for Australians to make money online, earning cash and gift cards for everyday activities such as watching videos, playing games, and surveys.

With a low payout threshold of $5 for gift cards, Rewardia is a site that competes with PrizeRebel for your attention, but is it worth the effort?

Read on for our full Rewardia review here.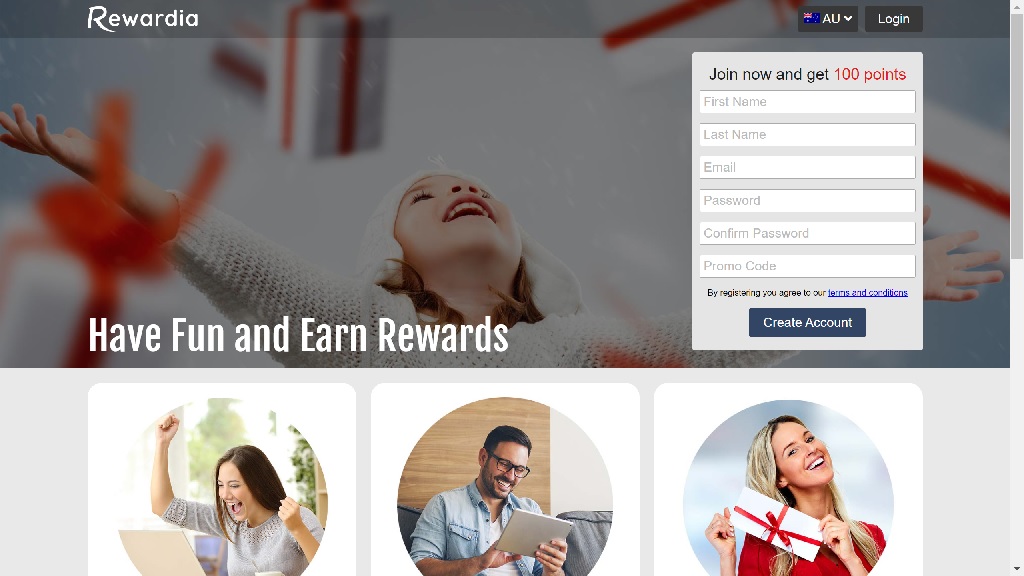 Rewardia Australia
Play games, complete surveys and enjoy your rewards with Rewardia Australia.
Table of Contents
Is Rewardia Legit?
Rewardia is a legitimate platform that has been operating in Australia for years.

To reassure ourselves of the legitimacy and credibility of Rewardia we've researched and considered the following:

Reviews: There are many reviews and sites full of feedback for Rewardia. You can use this to gauge user experiences and determine if the platform meets their expectations. We've included some further down in the review.

Terms and conditions: Rewardia lays out clear terms and conditions, as well as a privacy policy for Australian users.

Customer support: Rewardia has a strong Help section and provides a way to reach its customer support.

TrustPilot: – Rewardia Australia has a 3.2 out of 5 Trustpilot rating after 412 reviews have been submitted.

Additionally, we've maintained an account and used it over the years and can vouch that Rewardia is legitimate and not a scam.
| Rewardia Australia | |
| --- | --- |
| Redemption Methods: | Gift Cards + Bank Transfers |
| Redemption Threshold: | Gift Cards – $5, Bank Transfer – $50 |
| Survey Pay Range: | $0.05 to $3.00 (mostly) |
| App: | No |
| Australian Based: | Yes |
| Referral Program: | Yes |
| Join: | Join using the Rewardia login here |
Who Can Join Rewardia Australia?
Anyone over the age of 18 can join Rewardia.com.au. Those under 18 years of age must obtain a parent or guardian's consent before accessing and using the Site. You can access the Rewardia login here.

Those outside of Australia wishing to join Rewardia can use the following links: Rewardia USA, Rewardia Canada and Rewardia New Zealand.

Plus, you may be able to receive a sign-up bonus of 100 points ($0.10).
Who Is Rewardia Australia Good For?
Rewardia Australia is a platform that can be beneficial for a variety of individuals. Here are a few groups of people who may find Rewardia Australia useful:

Online shoppers may discover that Rewardia can be a way to earn rewards for your purchases. By using the platform's affiliated links or shopping through their retailer partner stores, you can accumulate points that can be redeemed for various rewards.

If you enjoy sharing your opinions and participating in market research as much as we do, Rewardia often offers paid surveys that allow you to earn points for your input. It can be a way to voice your thoughts while earning rewards in return.

Rewardia will appeal to game enthusiasts with interactive activities that allow users to earn points. If you enjoy playing games online, you may be surprised to learn you have access to solitaire, sudoku, and trivia.

Those seeking discounts and deals will be pleased to learn that Rewardia often offers discounts, vouchers, or exclusive deals on products and services through their partner brands.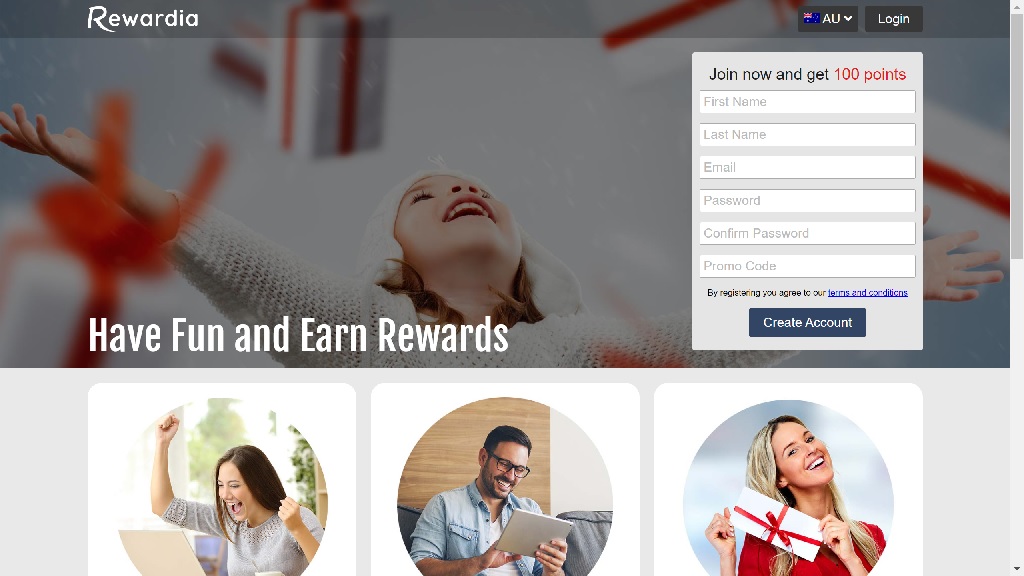 Rewardia Australia
Play games, complete surveys and enjoy your rewards with Rewardia Australia.
How Is Rewardia Australia Different From Other Paid Survey Sites?
The main feature of GPT sites is that there are far more ways to make money than a traditional survey website.

On the flip side, surveys on GPT sites don't pay as much as they tend to take a cut from the originating survey company on the way through to you. However, this can somewhat be offset by access to far more surveys being available or more ways to earn extra money.

While there are similarities between Rewardia and other paid survey sites such as Toluna, Swagbucks, and PrizeRebel, there are a few factors that may set Rewardia apart:
Multiple earning opportunities: Rewardia provides a range of activities beyond just paid surveys. Users can also earn rewards through online shopping, playing games, and completing offers. This diversification of earning opportunities gives users more options to accumulate points and redeem rewards.
Partner network: Rewardia has partnerships with various brands and advertisers, which provides users with a broader range of activities and opportunities to earn rewards. This can include exclusive deals, promo codes, discounts, or special offers from partner brands.
Community features: Rewardia offers a Forum Board where users can interact with each other, participate in competitions, and earn additional rewards. This social element can enhance the overall user experience and provide a sense of community engagement.
How Do I Sign Up For Rewardia Australia?
Like all survey sites, Rewardia Australia is straightforward to join. Simply head to the homepage to start the sign-up process. Enter your name, email, and chosen password.

You'll then need to verify your email to get your Rewardia login for the website. Then you'll need to head to the profile page to fill in a maximum of 25 questions about yourself. This only takes a few minutes but helps identify you for relevant and targeted surveys.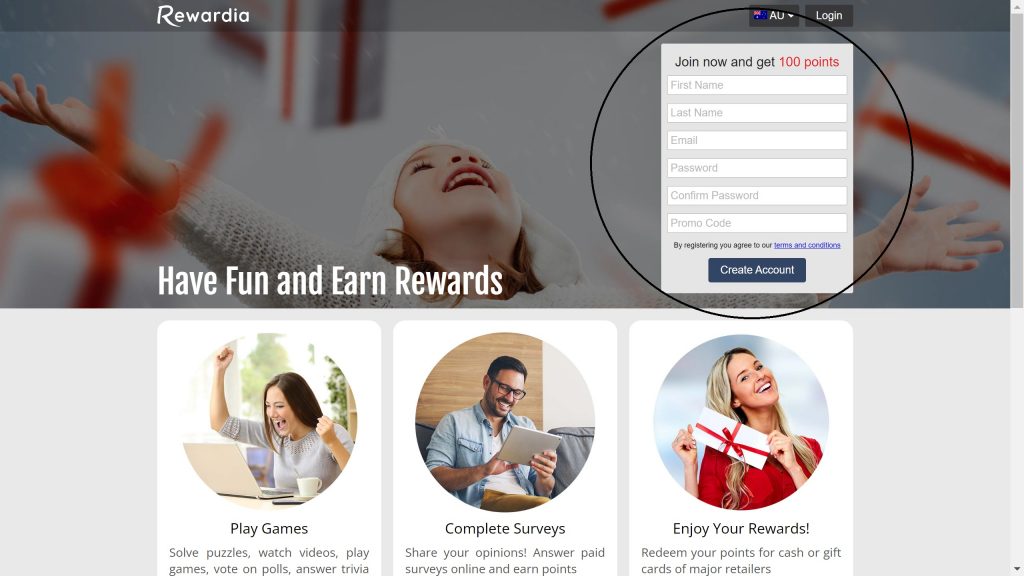 Is There A Rewardia App?
Rewardia doesn't have apps available for your mobile devices. However, the actual website is very simple and loads well on mobiles without the need for iOS or Android-specific applications.

If only app-based surveys are for you, check out our Best Survey Apps page here.
Make Money With Rewardia Australia
With Rewardia Australia being a GPT site, the chance to play games, complete surveys, and score promo codes all compete for your attention.
How Much Money Can You Make With Rewardia Surveys?
Surveys pay in points with 1000 points equivalent to $1. Rewardia has a whole range of surveys paying different rates, and entry into the higher paying ones is rare in our experience – but after a month you may be able to make a redemption.

The majority of Rewardia surveys fall within the $0.05 to $3.00 pay range – the Rewardia Points system makes it harder to navigate the surveys section than need be.

Expect a lot of screen-outs on the way.
Earn money by completing surveys in the 'Survey Centre'
On any given day there are dozens of Rewardia surveys to complete. Users can sort by time, points, rank, or survey type.

While screenouts do happen after you've answered a few questions on many surveys, chances are you'll find plenty of surveys that you'll qualify for.

A word of caution: The majority of the surveys are hosted on 3rd Party sites that you'll be redirected to. You're sharing your information with a Party other than Rewardia. Additionally, you can earn more for each of these surveys if you've joined a number of top survey websites and go direct to the source, rather than GPT sites, which tend to act as survey routers/middlemen.

While there is a large volume of surveys, the pay per hour can be miserly – we regularly see 20 to 30-minute surveys paying $0.50. If you want extra cash from surveys, you might want to consider our Top 6 surveys as a good starting point.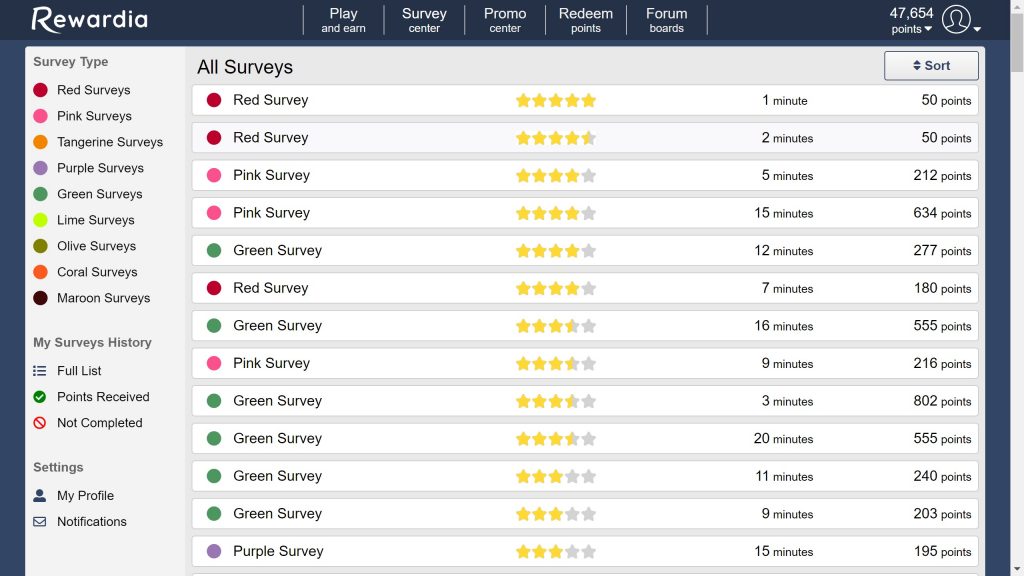 Hang Out In The 'Play and Earn' Area
There are numerous ways to make money and earn bonus points in this section. It's particularly useful if you need only a few points to tip you over the next redemption threshold and you want to have fun doing it.

However, this section comes with several warnings;
Casino-style slot games and other mini-gambling/addictive-style games appear regularly.
Your time spent in this section is very poorly rewarded with points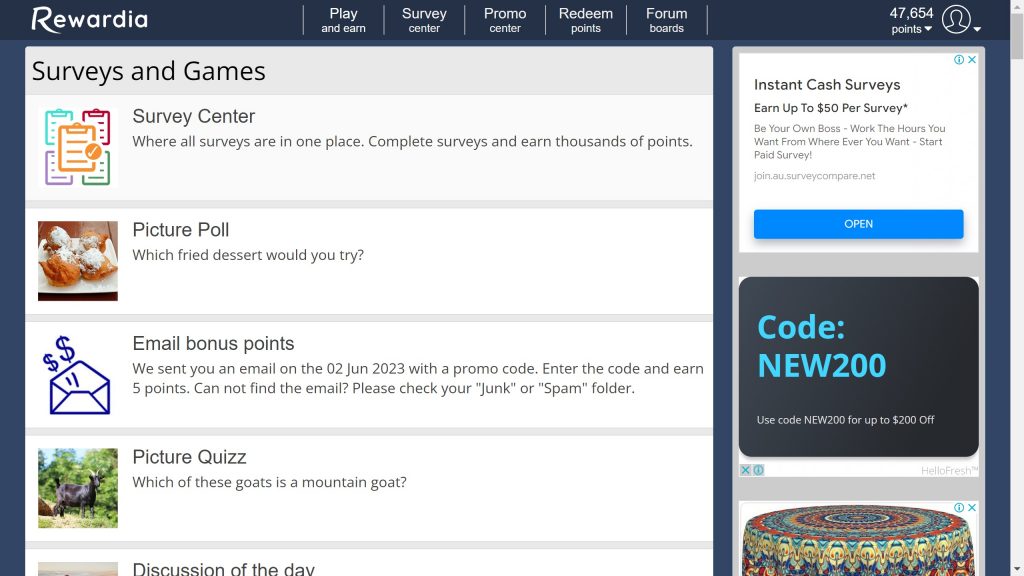 Promo Center
Some Promos offer 5 Points (that's $0.005 – half a cent) for your effort. Don't waste your time! You might consider activating a Promo for 150 Points, but that's still only $0.15.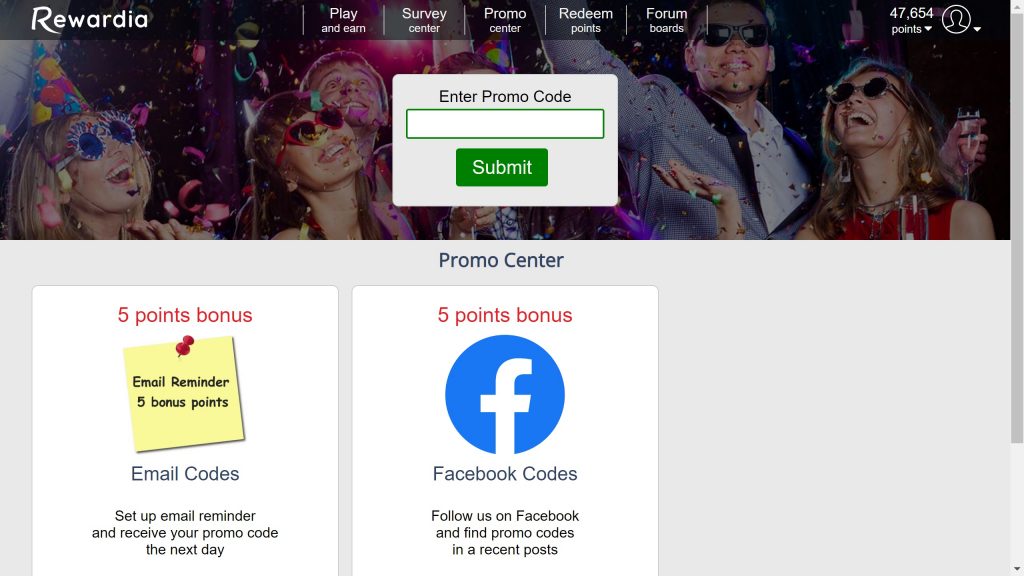 Referral Program
Often overlooked, referring like-minded friends to survey websites can be lucrative. But be warned – it's easy to lose friends when they're bombarded with survey site emails. Maybe don't invite your closest friends or relatives!

Getting your referral link in Rewardia Australia is easy – simply head to the Account section, accessed from the top right side of the website. You can share your referral link in social media with a URL or directly as a promo code.

You will earn 10% of your friend's earnings on Surveys and Games for life.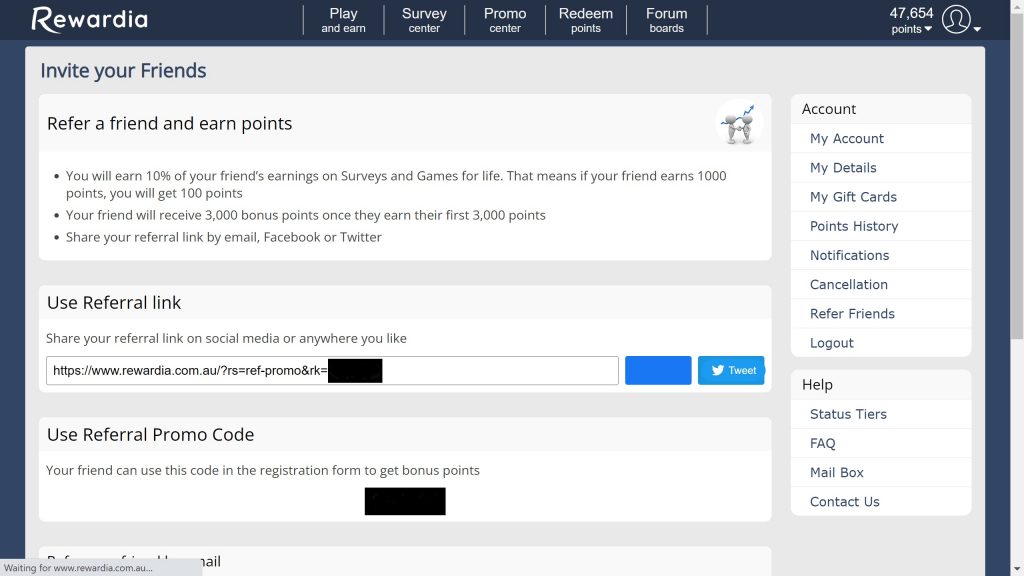 Status Tiers
Just like Frequent Flyer programs, Rewardia has a status tiers program that rewards you for more activity.

You'll start at Bronze upon joining and at the beginning of each month, you'll be reassessed:
| Status | Requirement |
| --- | --- |
| Bronze | This is the default membership status when members join Rewardia. |
| Silver | Earn at least 1,000 points each month for 2 consecutive months |
| Gold | Earn at least 10,000 points each month for 3 consecutive months |
| Platinum | Earn at least 30,000 points each month for 3 consecutive months |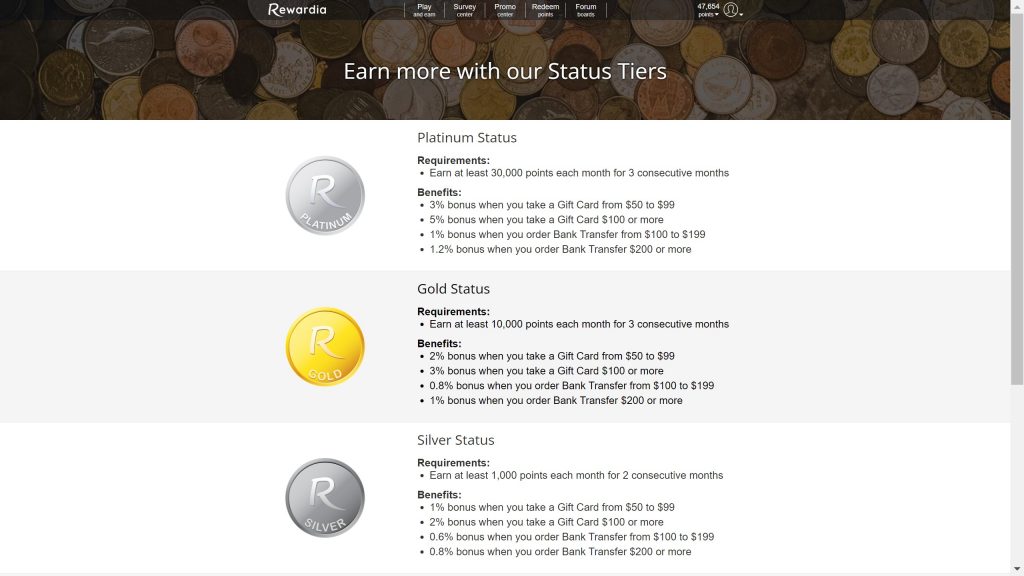 Redeeming Rewardia Australia Points
Rewardia's reward centre is quite good. Flexi eGift Card redemptions start from just $5. But beware that a voucher/gift card must be used within 30 days of the date of issue of the voucher, after which time it will expire.

If you're looking for cash, you'll be waiting much longer for your first redemption. The cash withdrawal rate is $50 via a bank transfer.

Rewardia does not offer Amazon or PayPal options.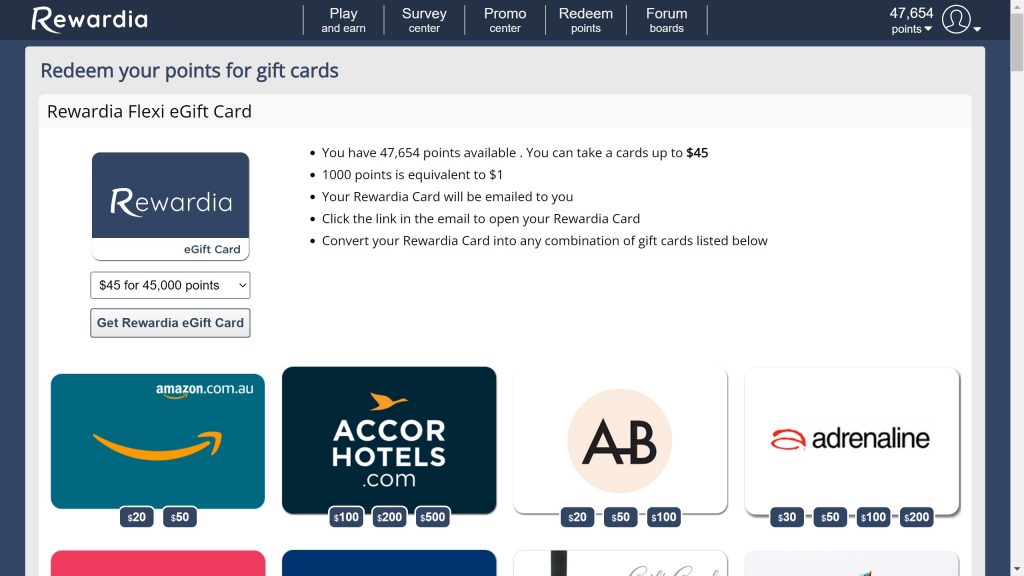 Pros And Cons – Rewardia Australia
There are several niggling issues we've identified with Rewardia Australia.
Pros
Low redemption threshold
Large volume of surveys
Many points 'top-up' activities
Simple intuitive interface
Referral program
Cons
Points system hard to navigate
Low earnings
Many low-value, questionable activities
Many screenouts
Rewardia is not a good site for matching appropriate surveys to the user. There seems to be almost no way to find Rewardia surveys that are suitable for you until you actually enter the survey and start the process.

Additionally, the Points system is outdated and frustrating – converting 1000 points to the $ is an annoyance factor that hardcore survey fans will find frustrating.

However, the large volume of surveys available and the low reward threshold of just $5 may just suit many people.
Similar Sites To Rewardia Australia
Rewardia Australia Reviews
A visit to TrustPilot reveals a very mixed bag of reviews. A 3.2 out of 5 TrustPilot rating after 412 reviews is on the low end of acceptability in our opinion.

However, GPT sites are often hit with many attempts of user fraud and multiple accounts and those same people will maliciously review a site in the hope of having their account reopened and activated for the purpose of cashing out.

Here are a few of the representative sentiments on TrustPilot:
Screened out too often

I'm screened out of 90% of surveys – a far too high a ratio. Almost isn't worth it for accumulating points. Some of the surveys go 10 questions deep before screening me out. It's almost as though Rewardia (and its partners) only want the answers they want- not how respondents feel.

Scott Duvall, 28/11/2020
It's good to play games to earn points

It's good to play games to earn points, Not much consistency how points are awarded. Alot of surveys break at the end after spending 20 odd minutes which can be frustrating, rewardia gives some of the points if you can prove it. other than it a great way to spend time relaxing and playing games

Linda, 13/3/2021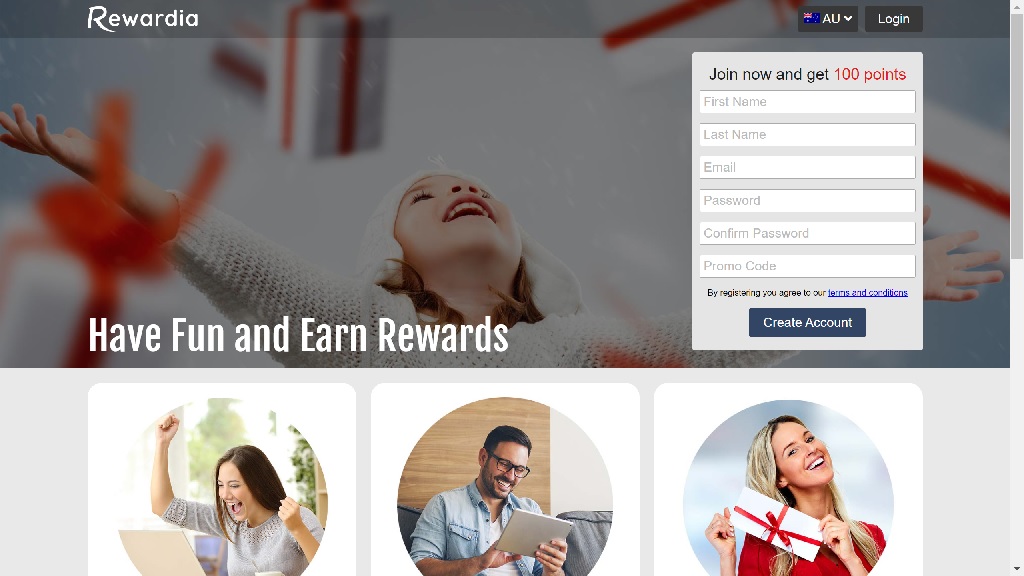 Rewardia Australia
Play games, complete surveys and enjoy your rewards with Rewardia Australia.
Rewardia Australia Customer Support
Many complaints directed at Rewardia and its support, tend to be for issues out of its control. Survey screenouts are a common complaint as well as issues with gift card redemptions and validations.

Check the Help Page: The Rewardia Help page doesn't answer a lot of questions but start here anyhow.

Online support tickets: Failing that – create a support request by heading to the 'Contact Us' page.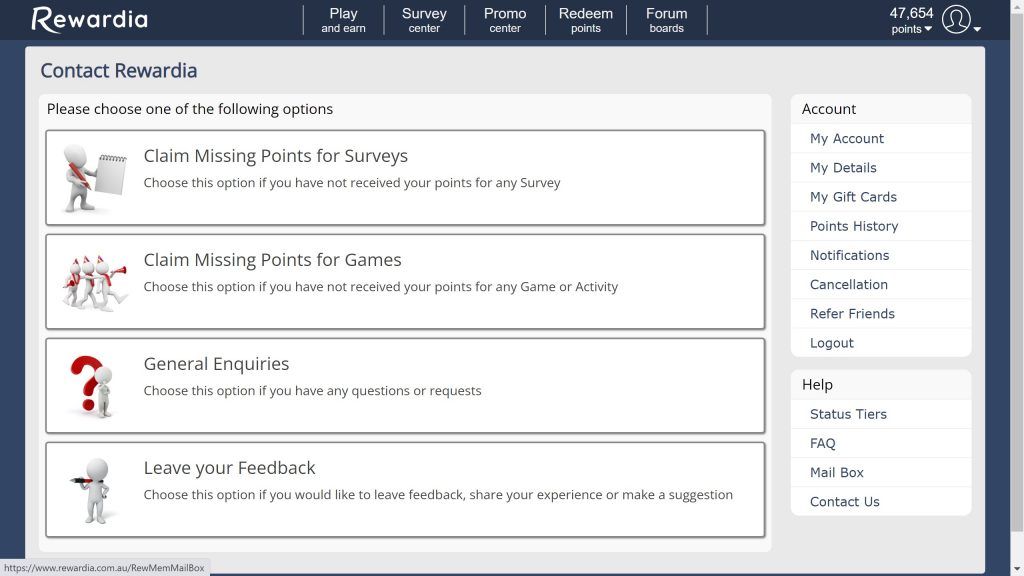 Reach out on social media: The Rewardia Australia Facebook page appears to be active but tends to be one-way push information only.

TrustPilot: Rewardia appears to value its TrustPilot profile with customer service responses to complaints addressed in this forum.
Conclusion: Rewardia Review Australia
Rewardia Australia

Being Australian, and reviewing an Australian website, I desperately want this site to be better than it is. But, like all sites, it suffers from a level of screenouts that may frustrate some users.

Rewardia is a solid site with plenty to offer if you can live with the points system and lower, but more consistent returns that GPT type sites deliver. This makes Rewardia a good site to visit regularly to keep your dollars ticking up.

In the end, users will need to make a conscious decision as to whether or not they want a GPT (Get-Paid-To) site or a survey site, and that's what dictates whether Rewardia is worth your time.

Thanks for taking the time to read this Rewardia review!
FAQ: Rewardia Australia Review
What is Rewardia?
Rewardia is an Australian-based 'Get-Paid-To' (GPT) site with games, surveys and promos. It has expanded to include USA, NZ, and Canada. You can join by getting a Rewardia login here.
How does Rewardia work?
Users earn points that can be used for redemptions of cash or flexi eGift cards, by doing surveys, quizzes, games, and promos.
Is Rewardia legit?
Yes, Rewardia is legit and has a TrustPilot rating of 3.2 out of 5.
How much can I earn from Rewardia Australia?
Rewardia is not the highest-paying survey site, but users who are diligent could easily make $20/month.
Who owns Rewardia?
MyShopping Australia Pty Ltd owns Rewardia.