PrizeRebel Australia – Overall Rating
When it comes to making extra money online, many Get-Paid-To sites are jostling for your time. One of the most popular is PrizeRebel Australia.

PrizeRebel Australia allows members to earn rewards from the comfort of the couch. But is this a site worth joining, or could it be a waste of your time?

Well, the answer is that with a low cash-out threshold and the ability to get paid in cash, this legitimate site can be worth your while, but you'll need to put in the time, and maybe a bit too much at that.

But there are some reasons to join PrizeRebel Australia now:
One of the world's largest GPT sites, boasting nearly 14 million members worldwide
Over $28 million dollars in earnings paid out
Low cashout threshold, with the ability to convert rewards to real money via your PayPal account
Quick, easy, and free sign up via email or your Facebook account
In this PrizeRebel review, we'll look at the different ways to make money, and we'll provide a detailed assessment of everything PrizeRebel Australia has to offer including how reliable the company is as a whole.
Cryptocurrency payouts now available!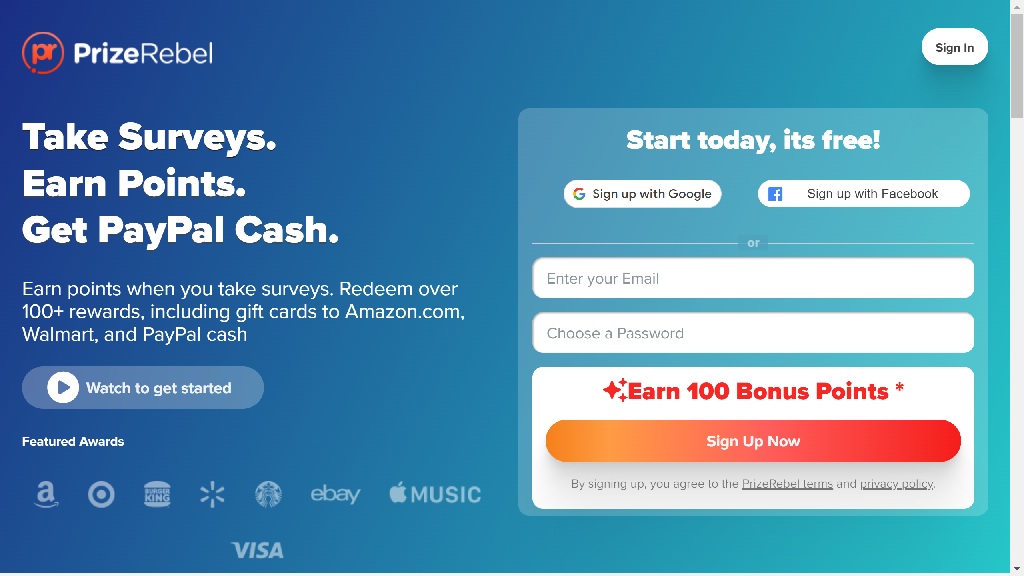 PrizeRebel Australia
Complete your profile and score 100 easy points, redeemable in Cryptocurrency, PayPal or Coles, Myer, JB HiFi, and Amazon gift cards.
Table of Contents
What Is PrizeRebel Australia And How Does It Work?
PrizeRebel is a GPT rewards site that pays its members for completing surveys and completing other actions. In a nutshell, PrizeRebel Australia members can earn rewards without much effort by doing easy tasks for advertisers.

PrizeRebel is a leading online rewards program for consumers, operating in the USA, the United Kingdom, Australia, and beyond.

Online surveys are the main game here, with PrizeRebel boasting partnerships with thousands of brands, advertisers, and marketing firms. The data collected via online surveys are used by companies to improve products and services offered to consumers.

PrizeRebel's intuitive website, payout options, and prize selections are likely to have much to do with its growing success among competitors.

While PrizeRebel doesn't have a mobile app, the intuitive user interface makes the site easy for members to use on the go.
| PrizeRebel Australia | |
| --- | --- |
| Redemption Methods: | PayPal + Giftcards + Games Credit + Amazon |
| Redemption Threshold: | PayPal – $5, Gift Cards – $2, Games Credit – $10, Amazon – $2 |
| Survey Pay Range: | $0.10 to $2.00 |
| App: | No |
| Australian Based: | No |
| Referral Program: | Yes |
| Join: | Join using the PrizeRebel login here |
Is PrizeRebel Australia Worth My Time?
There is no simple answer to this question! PrizeRebel pays you for doing things that you might already do for free. After all, most of us regularly browse the web and watch videos.

PrizeRebel compensates its members and participants for time spent, so it's a no-brainer, but is it adequate? Watching videos and completing surveys take very little time, so you might say "why not make a few dollars along the way…?".
Is PrizeRebel Legit Or A Scam?
Yes. There are a lot of factors to assess when marking a survey site as legitimate, and PrizeRebel has them in spades.
TrustPilot Australia delivers a rating of 3.9 from 5 stars across 439 surveys.

Like many survey sites, individuals have mixed experiences, though reviews are generally positive. You can find out more about PrizeRebel reviews further down in this article.

You can find the PrizeRebel Terms and Conditions and Privacy policies by following our links.
PrizeRebel is a legitimate site!
Who Can Join PrizeRebel Australia?
PrizeRebel Australia is suitable for anyone who is interested in making extra money and has spare time to spend completing surveys, entering contests, and watching videos.

PrizeRebel operates across many countries. The best earning opportunities are for residents of the USA, UK, Canada, Australia and New Zealand.

PrizeRebel is open to people around the world who are 18 years of age or older. You can join PrizeRebel from the age of 13, but you will need consent and supervision from your parents or guardians if you are aged between 13 and 18 years of age.
How To Sign Up For PrizeRebel
Joining Prize Rebel is easy, and a free account will only take a few minutes of your time. All you need to do to sign up for PrizeRebel is go to prizerebel.com and fill out the signup form.

Either join using your Facebook account or provide your email and answer a few quick questions. It's completely free to join PrizeRebel and the information you need to provide is minimal.
Is There a PrizeRebel App?
No, if only app-based surveys are for you, checkout our Best Survey Apps page here.
How To Make Money With PrizeRebel Australia
In this section, we will discuss the different ways you can make money with PrizeRebel along with the amount of money you can expect to earn throughout the process.

Once you are logged into PrizeRebel, go to the "Earn" tab. You'll then see a list of collaborating survey providers where you can take surveys or complete other tasks.
Surveys
There are a lot of surveys on PrizeRebel so the opportunities to participate in daily surveys can be quite high.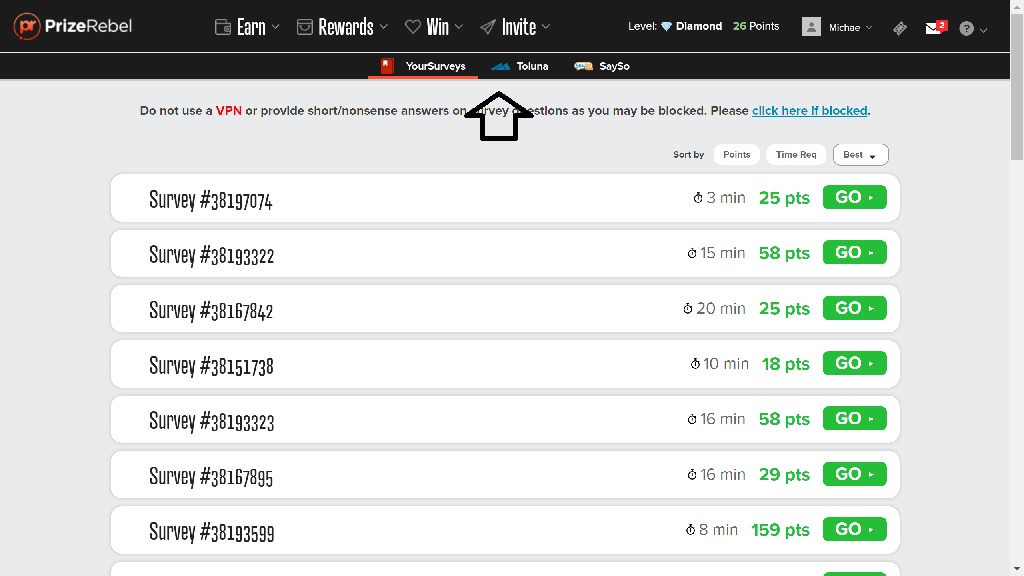 At the top of the Surveys section, you'll see three companies and their logos – YourSurveys, Toluna, and SaySo. PrizeRebel acts as a survey router to these three companies, which have varying degrees of trust and quality. Let's have a look:
| Company | Trustpilot rating |
| --- | --- |
| YourSurveys | 1.3 (USA) |
| Toluna | 4 (Global) |
| SaySo | 4.5 (AUS) |
It's fair to say that based on TrustPilot ratings, we'd only ever suggest doing the surveys of 2 out of the 3 survey companies listed above.

When you complete surveys for the first time, before you answer any questions, PrizeRebel Australia will ask a few profiling questions to ensure that all future and new surveys are the best matches possible.

As discussed above, the primary use for these surveys is to help market research companies gather data for credible brands, companies, and products that partner with PrizeRebel. Naturally, most of the surveys are therefore designed to help marketers determine your likes and dislikes along with your daily habits and patterns of behavior.

The surveys themselves can reveal a lot about you. You will need to be comfortable disclosing many of your daily habits and ideas. Some common questions also focus on the brands that you use and your opinions on them, or about the advertisements you see and how that makes you feel about the product being advertised.

New surveys can take anywhere from a few minutes to an hour to complete.

Completed surveys are only considered finished once you reach the end card and submit the survey in its entirety. The points you receive then take an additional 24 business hours to transfer to your PrizeRebel account.
How Much Money Can You Make With PrizeRebel Surveys?
Whilst not the best-paying survey company, PrizeRebel Australia offers both a reward and a constant stream of earning opportunities that many other online survey sites struggle to deliver. And it is transparent about how much you can expect to earn.

Before taking a survey, you will be able to see the reward that will be earned. This is an estimate of how much time you should spend on each new survey. It's just an estimate and varies depending on your reading and completion speed.
Company
Typical
5 minute survey
Typical
15 minute survey
YourSurveys
15-22 points
20-30 points
Toluna
70-90 points
80-120 points
SaySo
30-50 points
46-60 points
Treat your time as a valuable resource and pick the best paying surveys… (the shorter Toluna surveys)…! Think – $0.70 to $0.90 for 5 minutes is better than $0.80 to $1.20 for 15 minutes!

BUT… If you're considering doing Toluna surveys, why do them via a 3rd Party – go and do them directly by joining Toluna here!
Cryptocurrency payouts now available!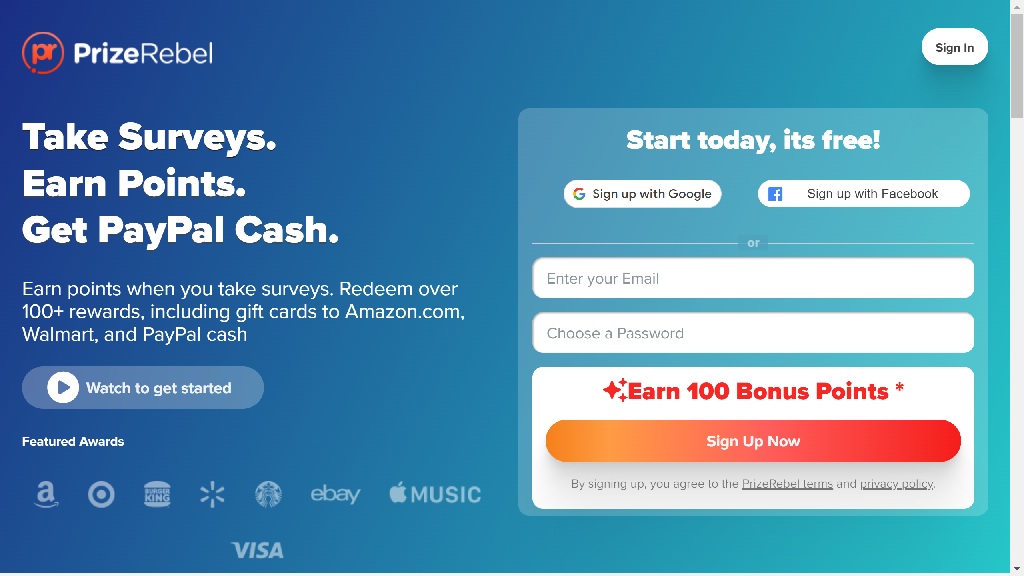 PrizeRebel Australia
Complete your profile and score 100 easy points, redeemable in Cryptocurrency, PayPal or Coles, Myer, JB HiFi, and Amazon gift cards.
Offer Walls
Surveys are not the only thing you can do to earn money with PrizeRebel. Like many other "Get-Paid-To" (GPT) sites, watching videos and signing up to websites through links provided in the "Earn" menu, under "Offer Walls" are other ways to rack up points.

The Offer Wall is a way to make extra cash through PrizeRebel instead of with them. The partners and associates that PrizeRebel cooperates with – the ones they sell the online questionnaires to – post earning opportunities that refresh daily.

You'll find a selection of 3rd Party offers from eyeT Studios, Lootably, AdGate, Adscend, RevenueUniverse, OfferToro and AdGem.

The tab takes you to a list of offers posted by the partner advertisers of PrizeRebel and a member can fill the offer from there by completing the instructions therein. Usually, these instructions revolve around creating accounts and subscribing to newsletters.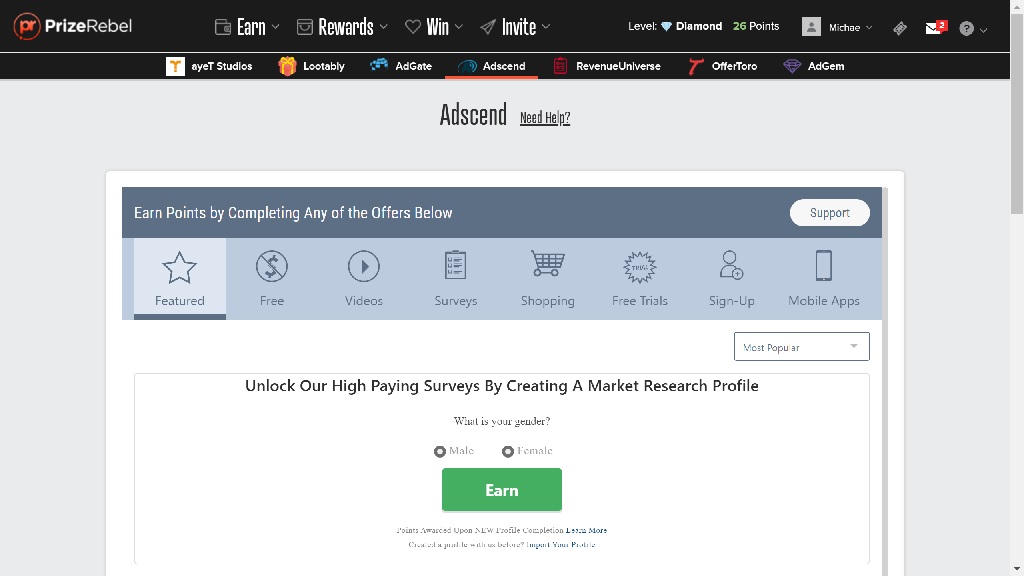 Should you use these offers to earn PrizeRebel points? Our answer is qualified – if you don't supply any confidential data to them, or email details, then they may be ok. However, if you can join a quality website direct, (which you can with many of these), then why not do it direct and maintain control of your data, closer to the source? You'll also need to check out our reviews of those sites as we post them!
Win
While this is an integral part of many GPT sites, we won't dwell on it for too long. Why? There is an element of gambling involved, which we prefer not to highlight. We'd also caution parents when allowing children access to this website.

Raffles, Lucky Numbers, and Contests all feature on this menu. However, the likelihood is that rather than earn, you're more likely to lose your survey points here, so be aware.
PrizeRebel Australia Promo Codes
From time to time, PrizeRebel offers promo codes for members. These can provide a saving when cashing out rewards, or earn you additional points. Promo codes may be advertised on PrizeRebel's social media accounts (including Facebook) or sent via email notifications to targeted members.
Refer Friends
A particularly lucrative way PrizeRebel Australia earns you money is via the referral program. Anyone can earn a small fee just for inviting a friend. It's worth the effort since your referred friend will earn money in return.

As your referrals earn by completing surveys, you will earn a 30% bonus based on their earnings! E.g., If they earn 1000 points ($10), you will earn 300 points ($3.00). There are no limits to how much you can earn!

How does this work? PrizeRebel members get access to a referral link. If someone who joins is referred through this link, you will earn referral commissions every time they earn.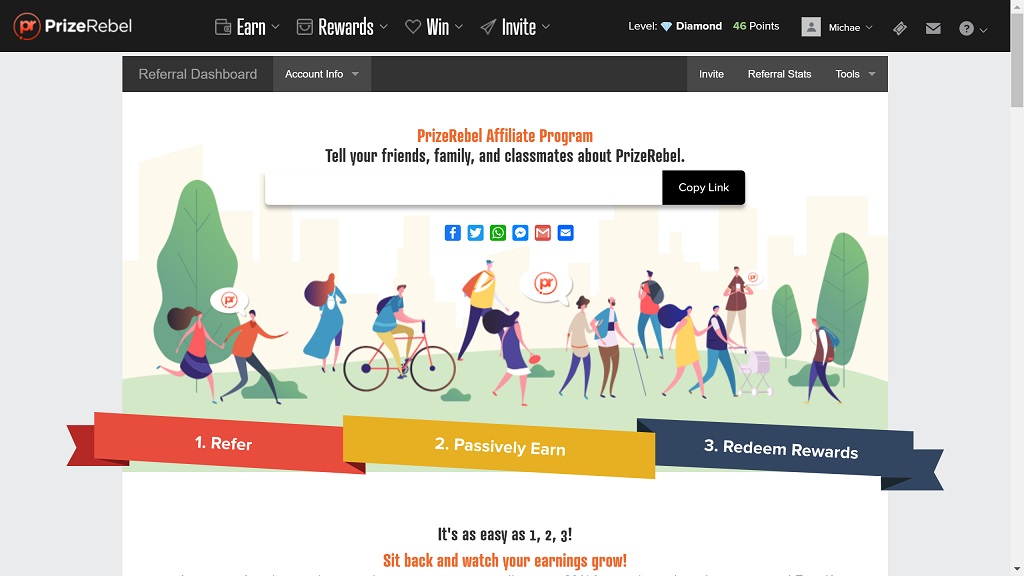 It's important to note that you'll earn extra referral rewards as you progress up the membership levels. For example, Platinum and Diamond members will earn more than Bronze or Silver members.

Therefore, if you know lots of people who might be interested in using PrizeRebel actively on a regular basis and you have worked your way up the PrizeRebel membership levels, this can be a way for both people to make extra income.
How PrizeRebel Points Work
Like most GPT and online survey sites, PrizeRebel rewards are linked to a points-based system. PrizeRebel rewards members with points for every eligible action, which can be exchanged for cash. In simple terms, 100 points are the equivalent of $1 USD.

First and foremost, members have the option of getting paid through their PayPal accounts or via Visa Gift Cards – this is great for people who like to get paid cash. Some members can also receive funds through Dwolla, which deposits funds straight into your bank account.

You can also exchange your hard-earned points for other free Gift Cards (PrizeRebel boasts a catalog of over 500 Gift Card partners), online games, and other rewards. Gift cards are usually sent to you digitally and are then yours to do with as you will.
Cryptocurrency payouts now available!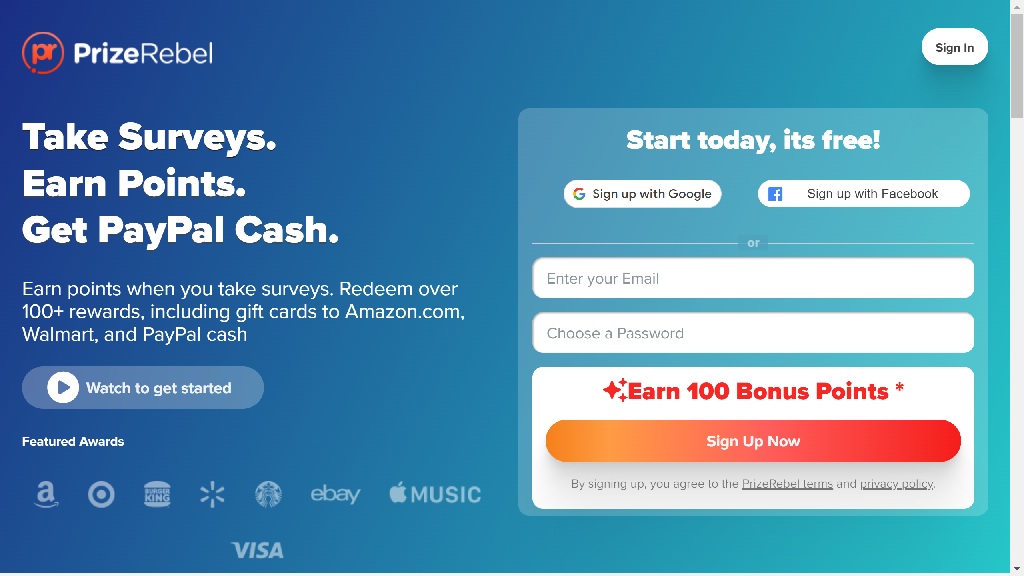 PrizeRebel Australia
Complete your profile and score 100 easy points, redeemable in Cryptocurrency, PayPal or Coles, Myer, JB HiFi, and Amazon gift cards.
PrizeRebel Account Levels
PrizeRebel has a range of membership account levels (call it a loyalty program if you will), and these can have a significant impact on how much you can earn through daily surveys and other activities on the site.

Not all members are equal in the eyes of PrizeRebel. As you complete activities and earn extra points, you may move up the level. Each level brings with it more benefits, namely increased rewards and a better user experience.

When you join PrizeRebel, you will automatically start at the bronze level. When you earn 1,000 points, you will move up to the silver level. Thereafter, it's a sizeable jump to obtain gold level and above, as we highlight in the table below:
| Account Level | Points Required |
| --- | --- |
| Bronze | – |
| Silver | 1,000 |
| Gold | 4,500 |
| Platinum | 10,000 |
| Diamond | 16,000 |
If you put in some effort, it is possible to quickly reach the Diamond level on PrizeRebel. Diamond offers an array of benefits, and it could help turn your PrizeRebel side hustle into a more lucrative endeavor.

Tip: You can view your PrizeRebel account level at any time. This is located on the top bar of your account dashboard through the PrizeRebel website.
How To Redeem PrizeRebel Australia Points
Now that you have a working knowledge of points and how to acquire them, it is time to move on to what you do with those points once you have them. Points need to be redeemed so that you can use them. Once you have reached your payout threshold, your points can be used to purchase various gift cards as alluded to in the previous section.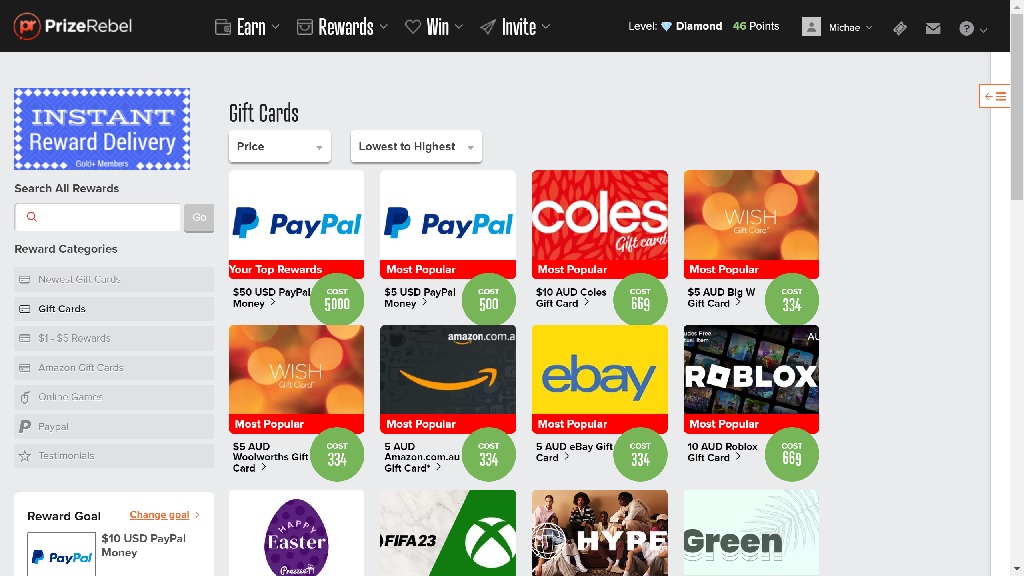 After you complete your surveys for PrizeRebel, a certain number of points are awarded to you. These points take a full 24 hours to appear on your account, but once they do they are available to redeem for cold, hard cash, or spending on whatever prizes strike your fancy. Here's how you can cashout:
Cryptocurrency
PrizeRebel just got hotter with enhanced cryptocurrency payouts available as of December 2023. Answer surveys to then invest in some of your favourite currencies via Bitpay with Bitcoin, Litecoin, Ethereum, other alt coins, tokens, and stablecoins all available.
Redeeming via PayPal
Once you have earned PrizeRebel points for questionnaires and competitions, you can redeem your balance for a cash payment via your PayPal account.

At PrizeRebel Australia you can cash out to PayPal with the equivalent of a $5 reward. This is reached when you earn 500 points. Some websites force members to wait for a significantly higher payout threshold, so this is an attractive feature.
Redeeming for Gift Cards
PrizeRebel Australia is one of the leading websites for gift card rewards. Over 500 different types of gift cards are available via prizerebel.com, and the catalog of options continues to grow; including games credits. Every so often, the site runs discounts on specific gift cards, helping you to maximize your rewards when you cash out. These promotions will be advertised at the top of your dashboard.

You can cash out for a $2 Amazon.com Gift Card with just 200 points – one of the lowest payout redemption options we've seen. However, it should be noted that these gift cards are often out of stock (which is odd for a digital format), so this can't be taken for granted.

Note: Gift cards for Amazon appear in both USD and AUD, with Australian gift cards discounted by approximately one-third. PayPal only appears in USD.
Reward Processing Time
Rewards processing is completed within 24 hours for Bronze and Silver members. Gold status members and above receive their rewards immediately after requesting them.

Members can check the status of their reward claim through prizerebel.com if they wish, but ultimately the process works as described above for almost everyone. If someone cancels and then reclaims a reward, the 24-hour processing time resets.
Pros And Cons – PrizeRebel Australia
Pros
Low redemption threshold
Huge gift card redemptions range
Many ways to earn points
Generous referral system
Loyalty program
Cryptocurrency payouts
Cons
Limited survey range
Lower paying than directly with Surveys
Loss of control over your data
High screenouts
Similar Sites To PrizeRebel Australia
A number of survey sites operate like PrizeRebel Australia. However, there are subtle differences in quality, redemptions and ease of use.

If you plan to complete online surveys frequently, we always recommend exploring other platforms. Here's how www.prizerebel.com compares to similar sites:
PrizeRebel Australia Reviews
Reviews On The Web
Users praise the quality of prizerebel.com as a whole and appreciate the presence of the offer walls. They also mention that there are multiple countries where neither PrizeRebel nor the cards they give as prizes are recognized, meaning that the site cannot cater to everyone.

The critical reviews, on the other hand, are universally 1-star reviews and many of them talk about issues cashing out and experiences with poor customer service.
Reviews Of PrizeRebel On Reddit
When it comes to finding honest feedback about a company, Reddit can be a great place to start.

PrizeRebel maintains a Reddit page. That is to say, PrizeRebel monitors a Reddit page about themselves and posts content about success stories surrounding people who made decent amounts of money in short periods. Interestingly, there is not a single negative review on the Reddit page that PrizeRebel owns and maintains.

The site also crops up on r/beermoney, but the only comments on posts about PrizeRebel are from PrizeRebel themselves.
Reviews From Sitejabber
PrizeRebel has a rating of 3.09 stars from 126 reviews, indicating that most customers are generally satisfied with their purchases. Reviewers satisfied with PrizeRebel most frequently mention gift cards, and survey sites. PrizeRebel ranks 17th among Survey sites.

https://au.sitejabber.com/reviews/prizerebel.com
Cryptocurrency payouts now available!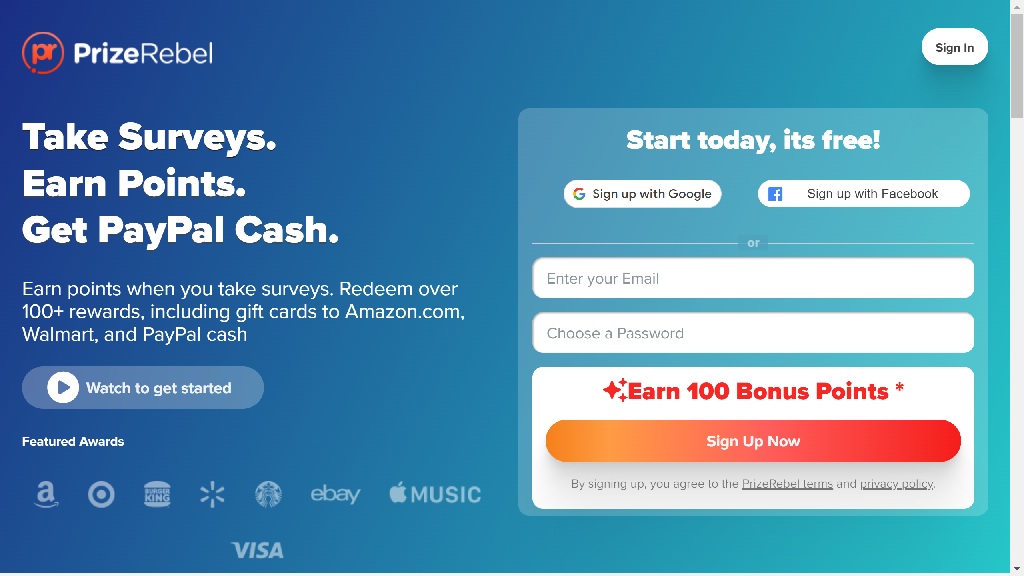 PrizeRebel Australia
Complete your profile and score 100 easy points, redeemable in Cryptocurrency, PayPal or Coles, Myer, JB HiFi, and Amazon gift cards.
PrizeRebel Australia Customer Support
PrizeRebel experiences most of its issues around surveys not completing and redemptions, which is pretty common among survey companies, especially those trying to game them.

You'll find help under the "?" on the right-hand side of your main menu.

Check the FAQs: The PrizeRebel FAQ page is extensive – one of the best we've seen.

Online support tickets: Head into the "Get Help" section and the system will attempt to step you through your issues. If you can't resolve there, you have the option of establishing contacting via email customer support. But don't expect telephone assistance.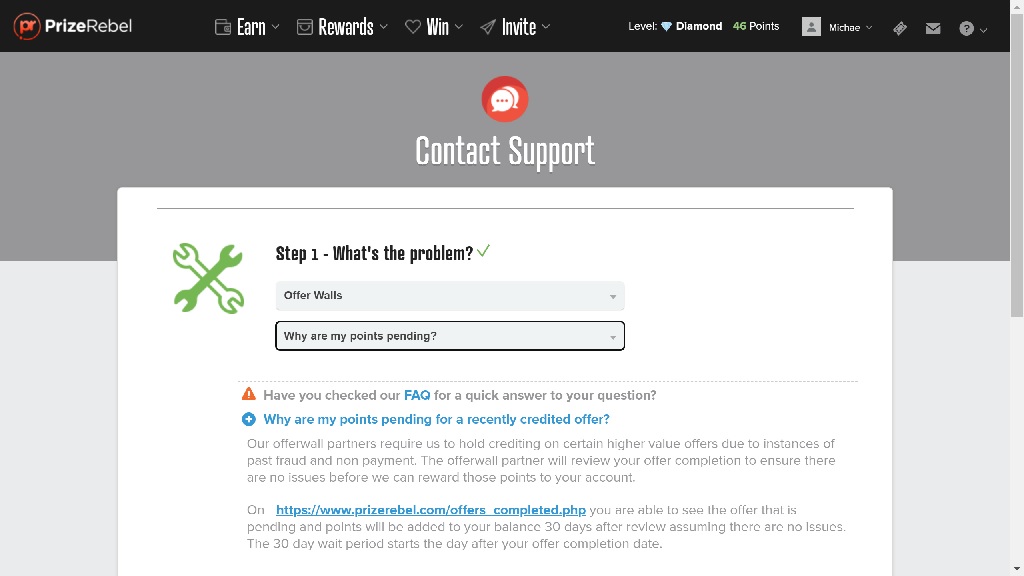 Help Videos: We love this option and can't think why more companies don't provide it!

Reach out on social media: The PrizeRebel Facebook page appears to be active with nearly 250k users. You could consider reaching out politely there.

TrustPilot: You could write a review including your issue and may be contacted by PrizeRebel. If they fix your issue, be sure to amend the review.
Conclusion: PrizeRebel Review
PrizeRebel Australia

If you're a frequent reader of this site, then chances are you're tempted by the idea of completing paid questionnaires online. After all, they provide an opportunity to earn some extra money and have your viewpoints heard.

The fact is, PrizeRebel is one of the largest and most trusted Get-Paid-To (GPT) sites around, and it can be a good way to earn extra money. That said, making money with PrizeRebel can be challenging, and it requires a bit more context to understand fully and properly.

As with any online survey site, it is important to remember that you cannot make a full-time income providing your income. You may make some extra money with PrizeRebel, but it won't make you rich.

Thanks for taking the time to read this PrizeRebel review!
FAQ: PrizeRebel Australia Review
Is PrizeRebel legit?
Boasting a low cash out threshold and the ability to get paid in cash, this legitimate site is absolutely worth your while.
How much can you make on PrizeRebel?
Whilst not the best paying surveys, PrizeRebel offers higher rewards than many other online survey sites and it is transparent about how much you can expect to earn. Before taking a survey, you will be able to see the reward that will be earned.
Where is PrizeRebel available?
PrizeRebel operates across many countries. The best earning opportunities are for residents of the USA, UK, Canada, and Australia.
What is the minimum redemption amount on PrizeRebel?
Amazon gift cards can be cashed out for as little as $2 when available. Paypal redemptions start at $5.
Who owns PrizeRebel?
iAngelic, Inc owns PrizeRebel.