Univox Community Australia – Overall Rating
Univox Community is an interesting survey panel to review.

When you've written as many reviews as we have you'll learn that many, many sites feature the same elements and do things equally well, but what stands out is when things are handled badly.

In the case of Univox Community Australia, it appears all is well when you join and commence surveys, but a quick read through Trustpilot suggests some issues that are not immediately apparent. Account management, survey screenouts, and redemption functions seem to create frustration for users.

So, while we have never experienced these issues, we do offer a word of caution as you continue with our Univox Community review to discover whether it is worth your time and effort…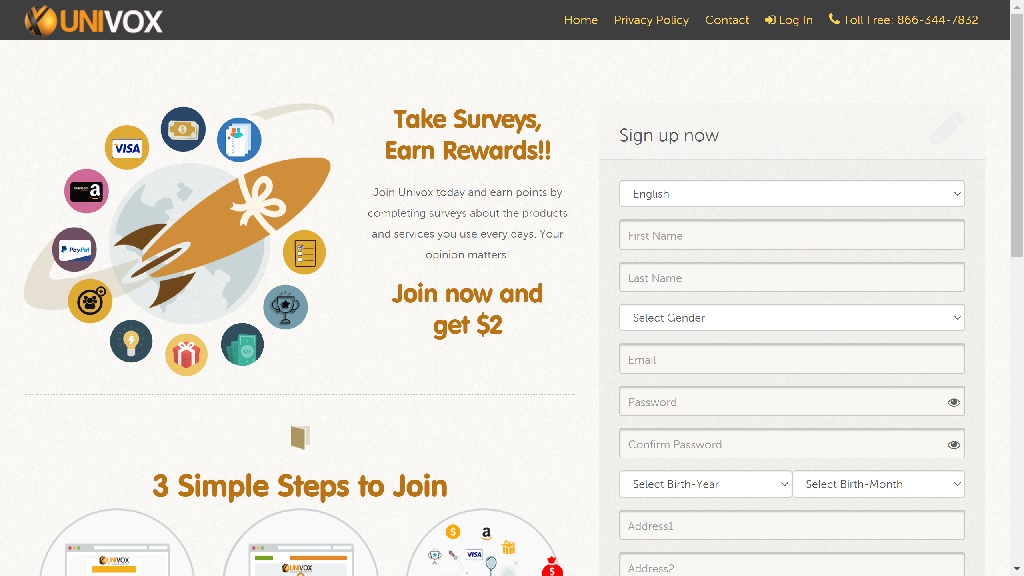 Univox Community Australia
You can earn e-Gift Cards or Virtual Visa credit by completing surveys about the products and services you use every day.
Table of Contents
Is Univox Legit?
Univox is an online survey community, with global reach, and is operated by the Schlesinger Group.

Reviews: As mentioned above, Univox appears to have attracted a small but vocal dissatisfied user base globally and this continues through 2023.

Terms and conditions: A quirk is that the Privacy page also includes the Terms and Conditions.

Customer support: Univox does list a toll-free number to contact, which is a bonus given some of the issues users have outlined.

Trustpilot: Globally, Trustpilot is showing a 1.4 out of 5 stars ranking with 446 reviews. Ouch!

We've maintained an account for a number of years and are confident that Univox is legitimate and not a scam.
| Univox Community Australia | |
| --- | --- |
| Redemption Methods: | Gift Cards, Visa, Amazon |
| Redemption Threshold: | $25 |
| Survey Pay Range: | 30 points to 250 points ($0.30 to $2.50) |
| App: | Apple iOS and Android |
| Australian Based: | No |
| Referral Program: | Yes |
| Join: | Join using the Univox Community login here |
Who Can Join Univox Community Australia?
There are no age restrictions for joining Univox Community.
Who Is Univox Community Australia Good For?
Here are a few groups of people who may find Univox Community Australia useful:
students with time on their hands between lessons
stay at home mums
semi-retired and retired people
If you're looking for a more interactive and varied way of money, then consider heading to our dedicated GPT page.

If you enjoy being engaged in market research, particularly the human interaction elements, Univox Community Australia probably isn't the most rewarding site for you. Product testing or shopping surveys might be more suited to you. Discounts and deal seekers will be disappointed to learn that Univox Community Australia is not for them.

Answering surveys is not a full-time role.
How Is Univox Community Australia Different From Other Paid Survey Sites?
Univox is not overly different from any number of other survey sites for its mobile app, loyalty, referral, or points-based reward system.

Where it differs is at the user experience end of the whole survey process – dissatisfaction from users with access to customer service, redemptions, accounts being locked, and the number of survey screenouts (clearly profile information is not being applied correctly).
How Do I Sign Up For Univox Community Australia?
Simply use our link here to join Univox Community.

Create your username, password, confirm your email and enter a few details and then log in.

Proceed to fill out your Profile information.
Is There A Univox Community App?
Yes, an app is provided for both Apple iOS and Google Android.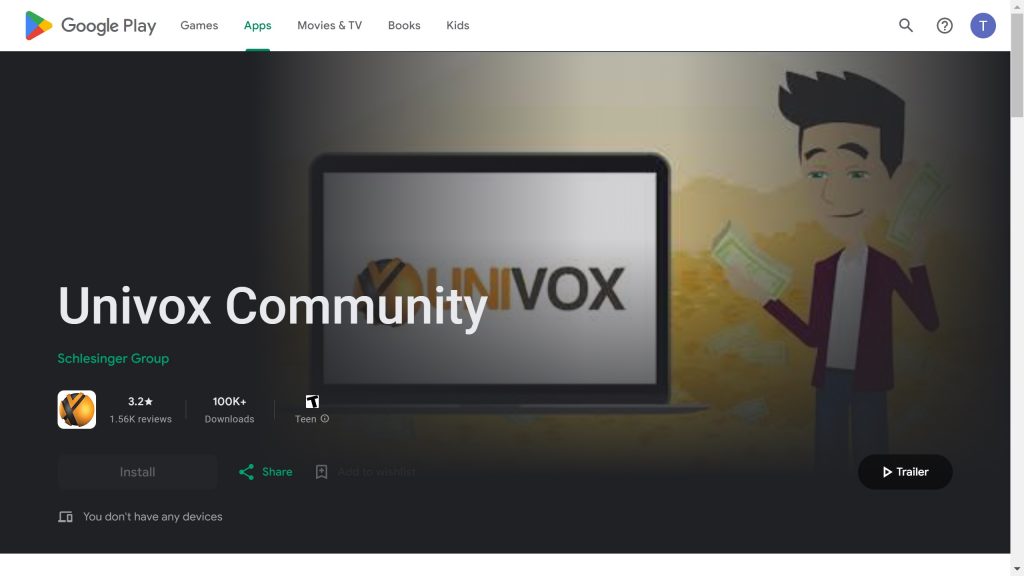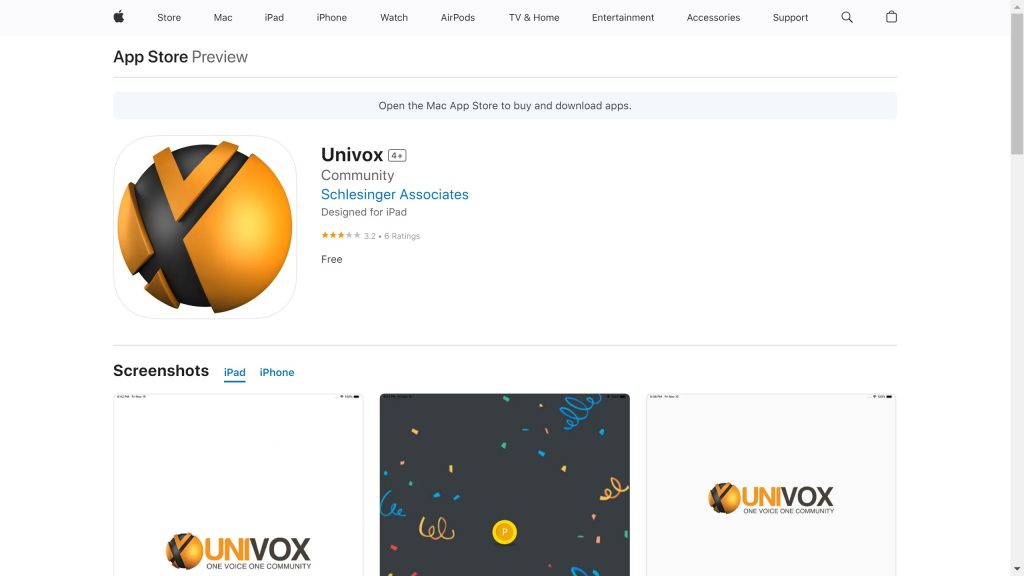 Both apps receive a rating of 3.2/5, indicating more work is needed to smooth the user experience.
If only app-based surveys are for you, check out our Best Survey Apps page here.
Make Money With Univox Community Australia
Univox Community is primarily a survey site so you can't expect to make much, if any, additional income on non-survey activities on a regular basis.

Having said this, there are a few items that may pique your interest other than surveys.
How Much Money Can You Make With Univox Community Surveys?
Online surveys range from 30 points to 250 points for the most part. Typically you'll earn 10 points per minute from the advertised survey ie. 100 points for a 10-minute survey. This equates to $1.00

Earnings like this put Univox in the middle of survey earnings across the Australian market.

What we have noticed is that Univox channels a lot of surveys from other survey companies, which beggars the question – why answer them here for less money instead of going direct via our links?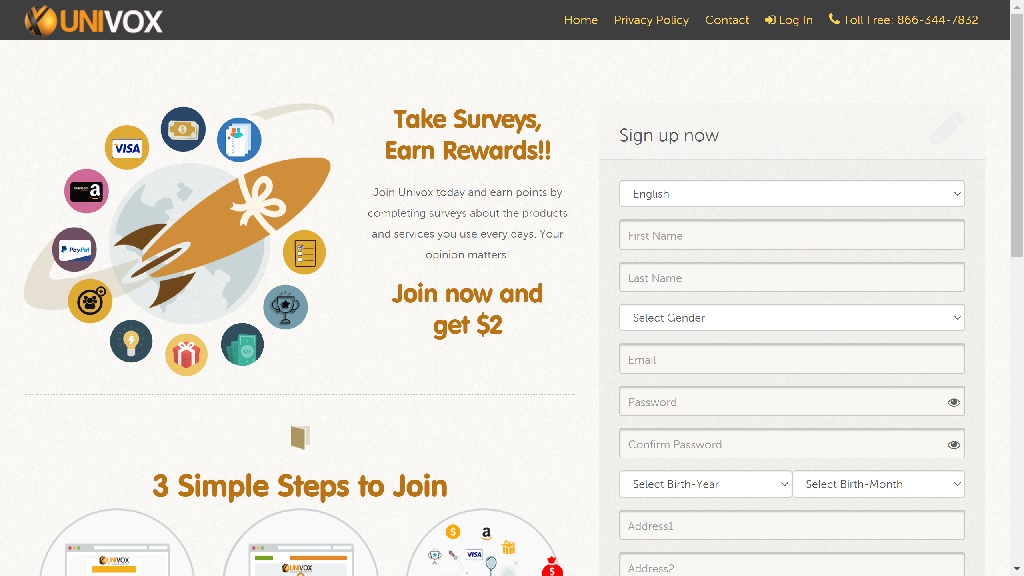 Univox Community Australia
You can earn e-Gift Cards or Virtual Visa credit by completing surveys about the products and services you use every day.
Joining Bonus / Welcome Bonus
By registering and getting verified as a Univox Community member, you'll receive a $2 signup bonus.
Profile Surveys
You'll want your first survey to be the set of 'Profile Surveys' accessible from the main menu. They'll take up to 15 minutes but you'll earn 200 points straight to your account. Plus, these mini-surveys will in theory help steer more accurate survey invites toward your feed and result in fewer disqualifications.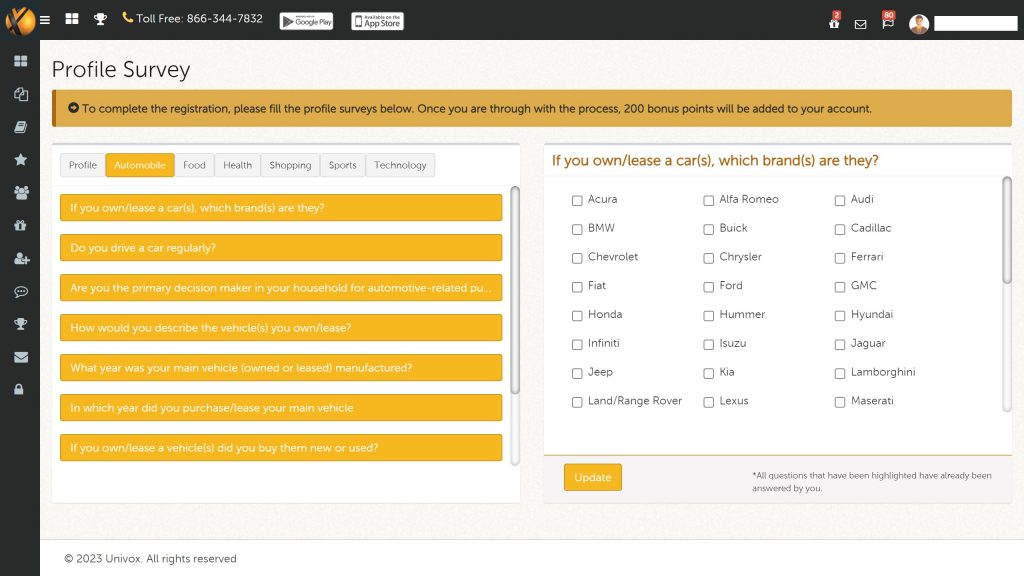 Earn Money In The Surveys Feed
There are 3 categories of Univox surveys in the 'My Surveys' tab;
Priority Surveys – those that are deemed important or with little time left
My Surveys – those best matched to your profile information
Hot Surveys – time-sensitive and paying more (attack these first).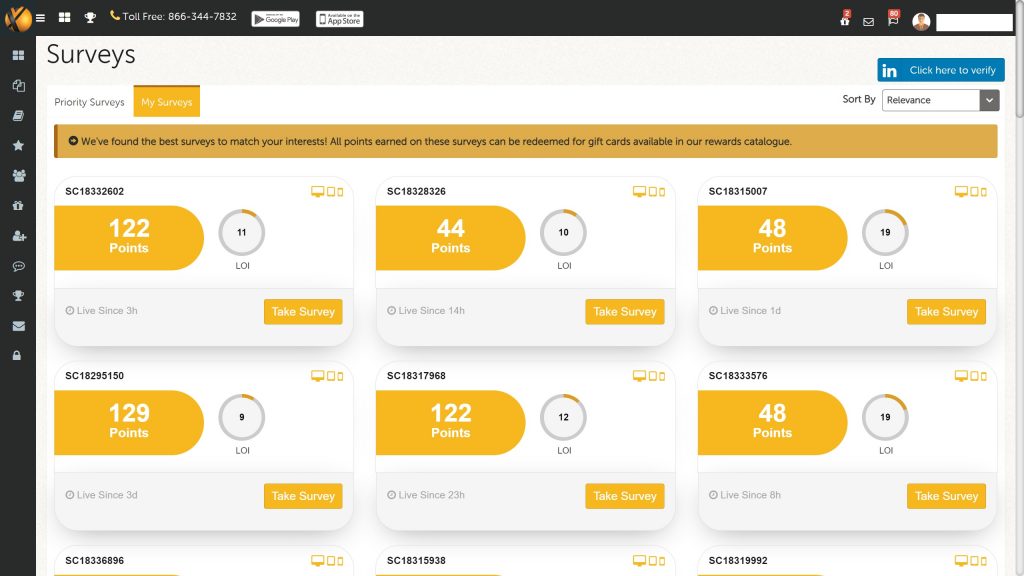 Screenouts
Users will earn several points per screen out.
Wall Of Fame
This page gives you the chance to win some extra cash based on your engagement levels and random draws. A timewaster at worst, and maybe a source of a small amount of points at best.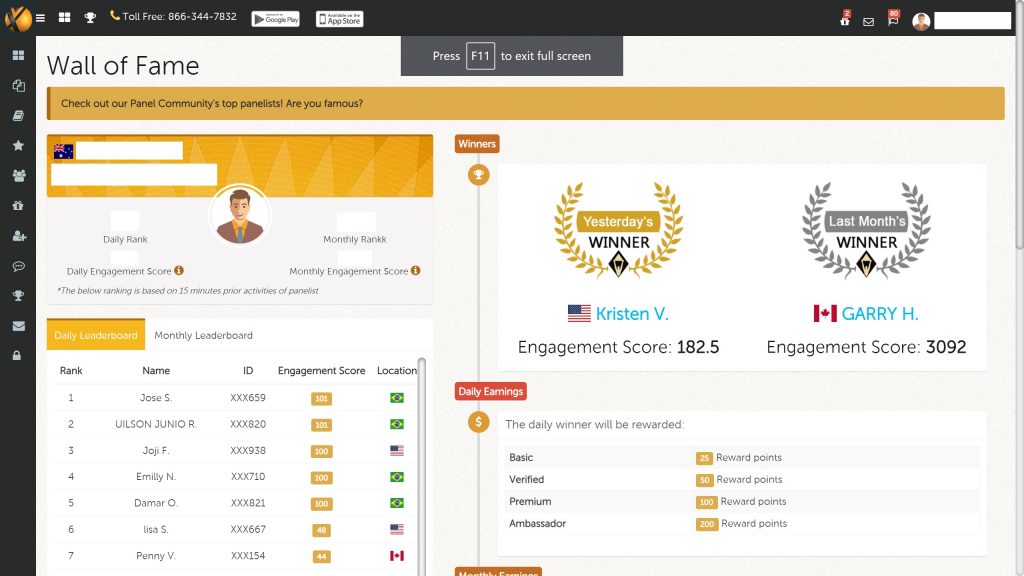 Wheel Of Fortune
This is a tricky little con that Univox Community runs. If you spin the wheel on your 'Dashboard', once per 24 hours, you immediately think you've won, but after reading the terms and conditions, you'll find out that you'll only receive the points if you complete a certain number of surveys following the winnings:
100 Points – To get these points rewarded, you are required to complete 1 survey in the next 24 hours.
250 Points – To get these points rewarded, you are required to complete 2 surveys in the next 24 hours.
500 Points – To get these points rewarded, you are required to complete 5 surveys in the next 24 hours.
1000 Points– To get these points rewarded, you are required to complete 10 surveys in the next 48 hours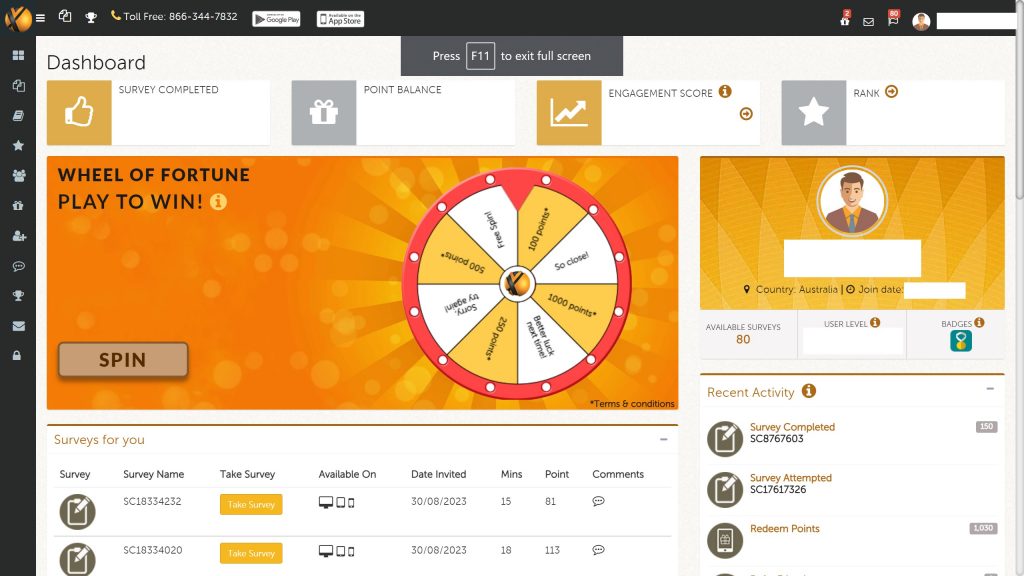 Referral Program
Univox Community maintains a referral program where you can refer friends and earn $1.00 (100 points) per sign-up and 10 points per survey they complete thereafter.

Friends must complete at least one survey to trigger the referral bonus.

Referring friends can be done using a URL or by entering the friends' names and addresses. Think carefully before sending friends links.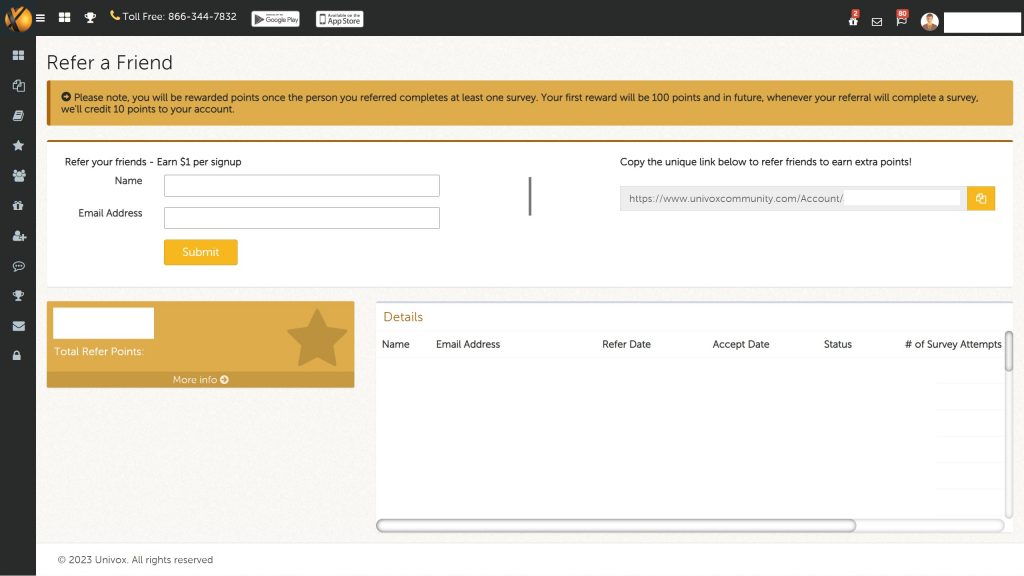 Loyalty Program
Both the Wheel of Fortune and Redemption features use what could be argued to be a loyalty program.

Users will win more and be able to redeem their points earlier, the higher they progress, based on the number of redemptions (which Univox will monitor for quality and fraud issues). While only operational in the US at present, this feature will eventually extend to Australia and other countries, giving users the ability to redeem with a lower cashout threshold.
Redeeming Univox Community Earnings
Unlike the US market, Univox offers a small subset of reward point options that are acceptable but not great.

New members begin as 'basic users', with a minimum payout of 2,500 points ($25), and can eventually get this down to 1,000 points ($10) with a proven track record.

There are no PayPal, Direct debit, Tango Card, Virtual Mastercard, or Bitcoin options for Australia.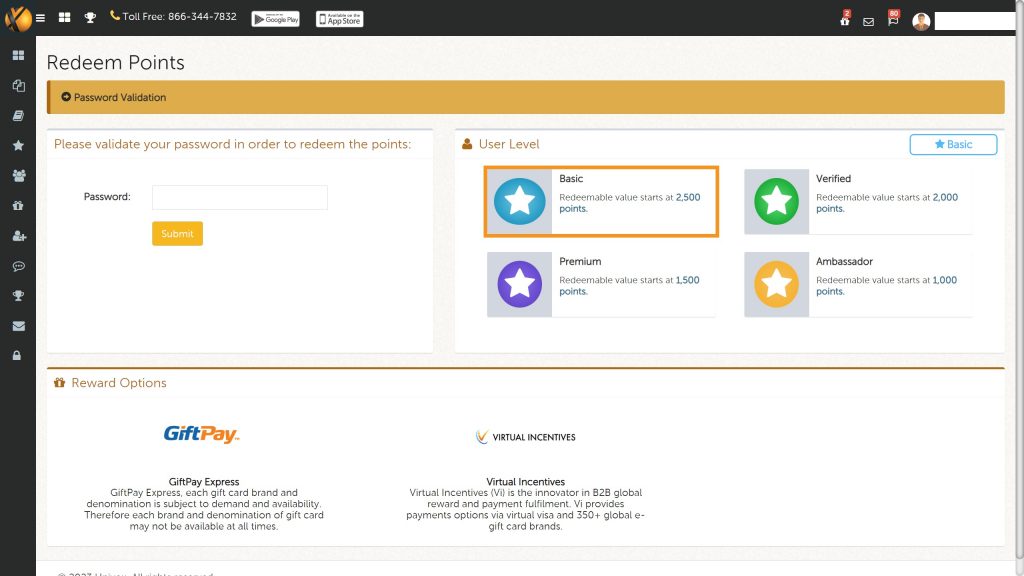 User Level Cashout Thresholds
Level
Criteria
Basic level
You join at Basic Level and Univox observes your account very carefully. To activate your "Redemption Button", you will need to accumulate 2,500 points.
Verified level
Successfully claim two rewards and Univox will review your account for Verified Level. Once you reach "Verified Level", you can request redemption upon accumulating 2,000 points.
Premium level
You join at the Basic Level and Univox observes your account very carefully. To activate your "Redemption Button", you will need to accumulate 2,500 points.
Ambassador level
After verification, your account gets upgraded to "Premium Level". Univox will review your account and when you meet all the parameters of the "Premium" account, you'll be automatically upgraded to "Premium Level".

Once you become a premier user, you can request redemption at 1,500 points in your account.
GiftPay Express
GiftPay Express is one of two reward options.

Each e-gift card brand and denomination is subject to demand and availability. Therefore each brand and denomination of gift card may not be available at all times.

Amazon gift cards are available via this option.
Virtual Incentives
Virtual Incentives provides payment options via virtual visa and 350+ global e-gift card brands.
Pros And Cons – Univox Community Australia
Striking the right balance between our experience and the experiences of others was a difficult task here.
Pros
Survey focused
Referral program
Volume of surveys
Cons
A high volume of screenouts
High minimum redemptions
Limited redemption options
*Possible* account management issues
Points-based system
Similar Sites To Univox Community Australia
Univox Community Reviews
Terrible survey site

Terrible survey site, the worst I've ever encountered. It's hard to get surveys without being screened out, amount for each survey is pitiful and when you do finally get enough to withdraw, they don't pay out – claiming your account is under review for 'quality' purposes. GIve them a wide berth.

Greg Trilby, AU, Trustpilot, 1 August 2023
They are in fact trustworthy, in contrast to all the negative reviews. But average rewards way too low.

Before I join survey sites I always Google whether they are legit/trustworhty, and when it comes to Univox there were plenty of negative reviews on Trustpilot. But since there were also good reviews on the internet (coming from legit verified people) I didn't know what to think.

After reading so much negative reviews I hadn't much hope they would actually pay/cash out. But suprisingly I just received the payment after months of using Univox! So they ARE in fact legit/trustworthy!

Always take in mind that reviews (of companies) are never fully representative since mostly people with a negative experience have the need to leave a review. When you have a good experience, you don't feel the need to leave a review on the internet. As an result, reviews (of whatever company) never fully represent all customurs / can in fact be misrepresentative.

Also, there are in fact lots of people that try to rush to surveys or give false information, but off course they never gonna admit it when they get banned. And also sometimes you can give inconsequent answers without realizing it / without bad intentions.

I'm not sure why, all I know is that they DID pay me, so I can say for a fact that they aren't scammers. Trustpilot doesn't has a option of adding a picture as prove, otherwise I would.

Apart from the reliability, there are relatively much surveys, but the thing I love the most is the Fortune Wheel (which you can spin for free once a day) even though in 90% of cases you don't win anything, in 3 months time (every day spinning the wheel, so in about 90 days) I won about 8 times.

Having that said, do remind though: to get these extra points rewarded, you are required to complete surveys first. When you for instance win 250 extra Points, you are required to complete 2 surveys in the next 24 hours, and when you win 500 extra points, 5 surveys, etc etc.

This isn't always realistic/feasible since there aren't always surveys (that match your profile) available. In one case I won 250 points, but there weren't even surveys available! So I hadn't even had the opportunity to do surveys.

Overall I give them 4 stars because the average rewards are way too low in my opinion. The most days there are only surveys with rewards between 35 á 70 cents. Only once in awhile you find surveys for 90 cents or more. My most points came from Fortune Wheel. And it happens WAY too much that you don't qualify for a survey. Also they stated 'You get 100 points when you download their app' well I did but never received 100 points at all!

But overall since they are in fact legit I thought it was fair to leave a positive review.

Sab, NL, Trustpilot, 25 August 2021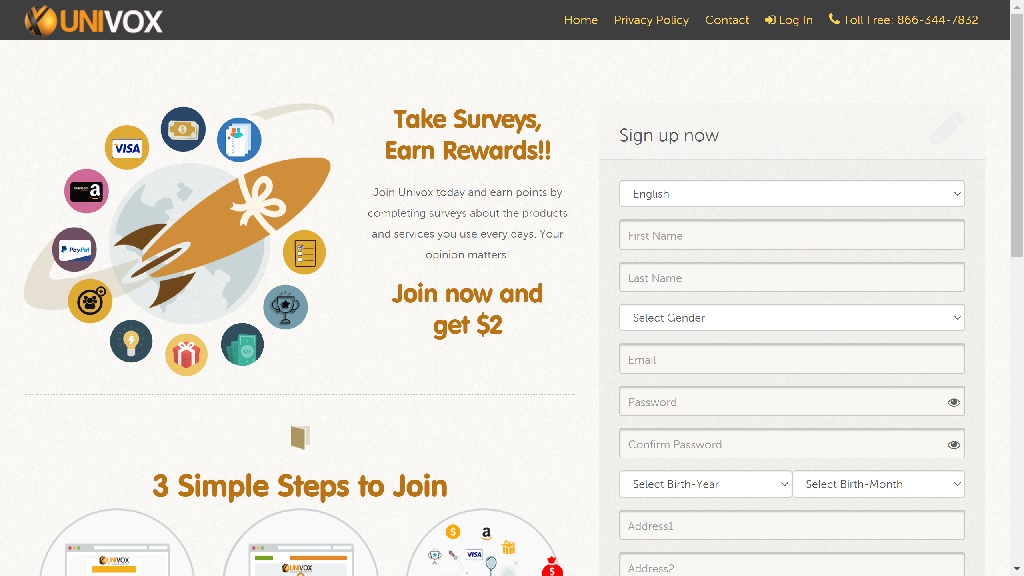 Univox Community Australia
You can earn e-Gift Cards or Virtual Visa credit by completing surveys about the products and services you use every day.
Univox Community Customer Support
Even if you're doing everything right, sometimes things go wrong. Luckily most survey sites have a layered approach to customer support.

Check the FAQs: We've been unable to identify a FAQ page either on the public or logged-in portal.

Lodge an online support ticket: This is available from the 'Contact' menu option.

Phone: Yes. You can call the American toll-free number +001 866-344-7832

Reach out on social media: Univox runs Facebook, LinkedIn, Instagram, and YouTube media channels.

Trustpilot: Your complaints on Trustpilot are likely to go unanswered as only one response has been made to over 108 negative reviews.
Conclusion: Univox Community Australia
Univox Community Australia

Univox Community has a lot of negative feedback on Trustpilot. While there are always disgruntled people who take surveys, the negativity around redemptions, communication, and screenouts is pronounced.

Should I join Univox? We don't see any issue with joining and seeing how you go. However, as a basic user, you will likely invest a decent amount of time before you can redeem your points. At this point, it may get interesting if something goes wrong.

So the best advice is only to join if you have time to spare (and possibly waste), and are enrolled in all the better survey companies. Redeem as soon as you can.

Thanks for taking the time to read this Univox Community review!
FAQ: Univox Community Australia Review
Is Univox legit?
Yes, Univox is a legit survey site and operates across many countries, including Australia, New Zealand, UK, and Spain.
What is the Univox Community phone number?
You can call the US line toll free on 866-344-7832
What is the cashout threshold for Univox Community members?
Basic users (newcomers) may cash out at 2,500 points ($25) while long-time users at the Ambassador level can cash out at 1,000 points ($10).
Who owns Univox Community?
Schlesinger Group owns Univox Community?