One survey site that receives less attention than other top survey sites is Survey Village. This site, while relatively new compared to some better known survey sites, is establishing itself as a legit way to earn money online with numerous opportunities to do so.
Join our Top surveys to make money now!
However, no survey site is perfect. In this review, we've taken a close look at Survey Village and covered everything you need to know in order to decide whether its right for you.
Read more about Survey Village below or click here to sign up now.
Making Money with Survey Village – Survey Village Review 2023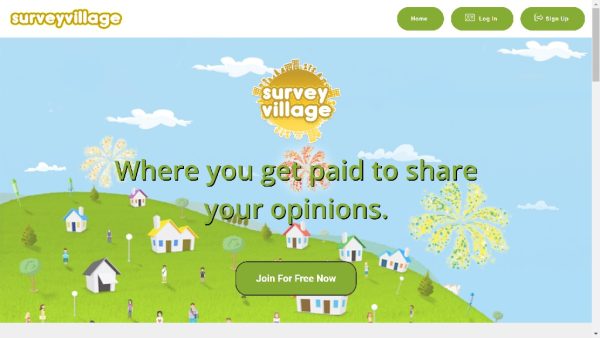 How regular are their survey offers?
Survey Village is a growing site with a range of opportunities to earn money, and when you sign up, you become a potential candidate for these opportunities. The specific nature of these opportunities are discussed further below.
In regards to how regular their survey offers are, the answer is simple – not very. This could be why less noise is made about this site than other top sites like Toluna which feature very regular survey offers.
However, don't discount this site just yet because where this site does excel is in its opportunities to participate in higher paid offers.
How do you earn points?
Survey Village uses a dollar based system in place of points making it easy to see how much you're earning – and there are multiple ways to earn.
As can be expected, surveys are the most common offers you'll receive from this site (and as mentioned above, these aren't super regular). However, Survey Village is a market and social research site, and so signing up opens you up to a wider range of opportunities than some survey sites.
There's a range of ways to get higher paid opportunities including telephone interviews, mystery shopping experiences, product testing, discussion groups, personal questionnaires, interviews and more.
Offers are sent via email.
How much do they pay?
Although surveys aren't the most regular, they are fairly well paid compared to other sites. On average, you'll receive $1 for every 5 minute survey you complete (or equivalent).
When you do receive the better paid opportunities that this site offers like research and participation groups, activities can earn you around $30 and sometimes even over $100 for very extensive participation.
All surveys include a qualifying questionnaire and you'll be awarded 10 cents if you're not accepted to that specific survey.
How to redeem points?
There aren't a great deal of ways to redeem survey cash from Survey Village. Their main offering is their Flexi eGift card which you can use at a range of retailers (like Coles, Target, Myer). Redemption start at $20 and rewards are sent to your email address.
Things to note
To sign up to Survey Village you need to live in Australia or New Zealand and be over 16 years old.
It's also worth noting that points expire after 18 months at the time of writing.
Survey Village are also notorious for changing and updating their terms of conditions. It's worth checking to see what changes are made when they do update them to see how it impacts you.
Summary – 3.0 / 5
While the potential to earn with this site is definitely there, the biggest problem is the regularity of their survey offers. There just aren't enough to make a consistent stream of income.
However, they do offer other high paid earning opportunities like participation groups, and if you have the availability, I'd highly recommend Survey Village for this purpose.
Click here to sign up to Survey Village now.
Want more ways to earn? Read about the best survey apps and other ways to make money from home.