Prime Opinion Australia – Overall Rating
When I first started this Prime Opinion review, my response to this website was largely positive. After all, Prime Opinion has been around for a long time, has a strong panel of survey providers, and the website itself is very intuitive and easy to use.

Earnings look to be on par with other middle-tier websites and the surveys appear numerous. However, with time, it becomes apparent that the challenge for Prime Opinion Australia is whether it can keep you coming back in a competitive market where some survey sites are more engaging.

Continue with our Prime Opinion review to discover whether it will suit your needs…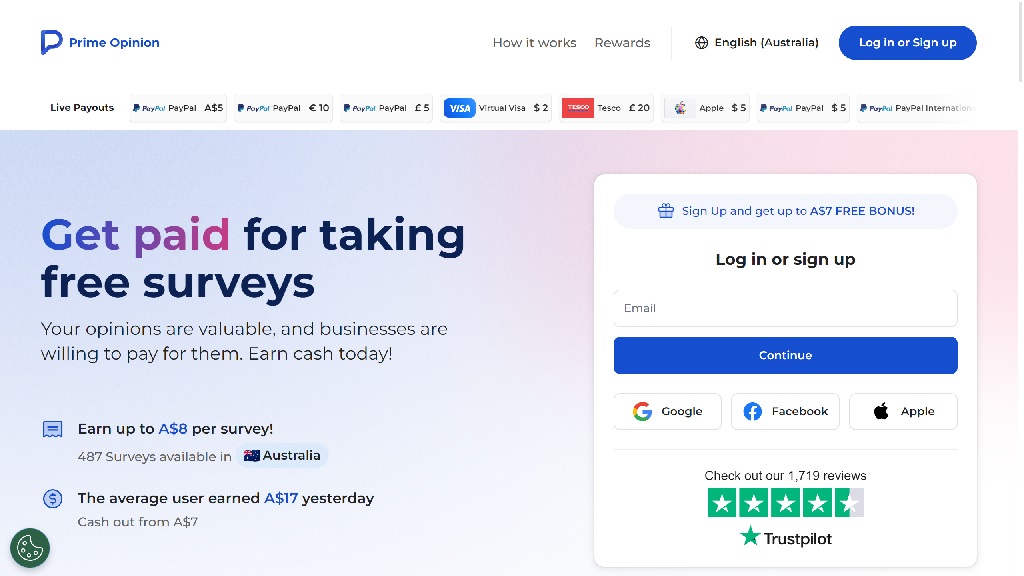 Prime Opinion Australia
Your opinions are valuable, and businesses are willing to pay for them.Sign Up and get up to A$7 free bonus.
Table of Contents
Is Prime Opinion Legit?
Prime Opinion is a legitimate platform for paid online surveys, owned by Prime Insights Group of Delaware, USA. It operates in 20 countries, across 12 languages, 40+ countries, and has 2m+ survey takers on the books.

However, like any online opportunity, it's important to exercise caution and do your own research before getting involved. Here are a few things we like to consider before joining a site:

Reviews and Reputation: We look for reviews and testimonials from other users who have participated in Prime Opinion surveys. This helps us gauge the legitimacy and reliability of the platform. Trustpilot shows a 4.4 out of 5 star rating based on 734 reviews. A good result!

Privacy and Data Security: We look at whether the platform has proper data protection measures in place to safeguard your personal information.

Contact Information: Legitimate platforms typically provide clear contact information, including customer support, in case you have any questions or concerns.

Frequency and Quality of Surveys: We look at the volume, duration, and payout for surveys and try to assess a likely screen-out rate.

Based on the above factors and more, we can advise that Prime Opinion is legit, and not a scam.
| Prime Opinion Australia | |
| --- | --- |
| Redemption Methods: | Direct Debit, PayPal, Gift Cards, Amazon, Visa |
| Redemption Threshold: | $1.00 |
| Survey Pay Range: | $0.05 to $8.00 |
| App: | No |
| Australian Based: | No |
| Referral Program: | Yes |
| Join: | Join using the Prime Opinion login here |
Who Can Join Prime Opinion Australia?
Anyone in Australia can join via the Prime Opinion website, provided they are over the age of 18 years old.

Prime Opinion is also available in 40-odd other countries, including New Zealand.
Who Is Prime Opinion Australia Good For?
Prime Opinion Australia may be a good fit for:
People Looking for Extra Income: With the volume of surveys on offer, those with time on their hands may be able to generate a nice little income stream for several hours per week's work.
Stay-at-Home Parents: A large number of the surveys are brief and this might work for stay-at-home parents with constant interruptions.
Students: Prime Opinion could definitely help with tuition costs.
Retirees: A large number of surveys are interested in spending patterns and this may suit retirees with a bit more time on their hands.
Prime Opinion Australia will not be a good fit for those looking to make money from Cashback, Get-Paid-To (GPT), Shopping, or Product Testing activities, as it is a dedicated survey website.
How Is Prime Opinion Australia Different From Other Paid Survey Sites?
In short, Prime Opinion is a pure survey site, which is not unique in itself. This makes it harder to differentiate itself from the GPT sites. But, there is the unique Welcome Bonus, as discussed below.
How Do I Sign Up For Prime Opinion Australia?
Simply head to the Prime Opinion login / join page website by following this link.
Is There A Prime Opinion App?
There does not appear to be an Apple iOS or Google Play Android app available at present.

If only app-based surveys are for you, check out our Best Survey Apps page here.
How Much Money Can You Make?
Prime Opinion Australia is one of the medium return paid survey sites available in Australia right now. But note that this can change relatively quickly.

A 15-minute survey can earn you between 30 to 220 points (approx $0.50 to $2.00). So, let's assume you'll earn less than $10/hour.

It does not sit within the Get-Paid-To or GPT sites genre and remains very focused on just surveys.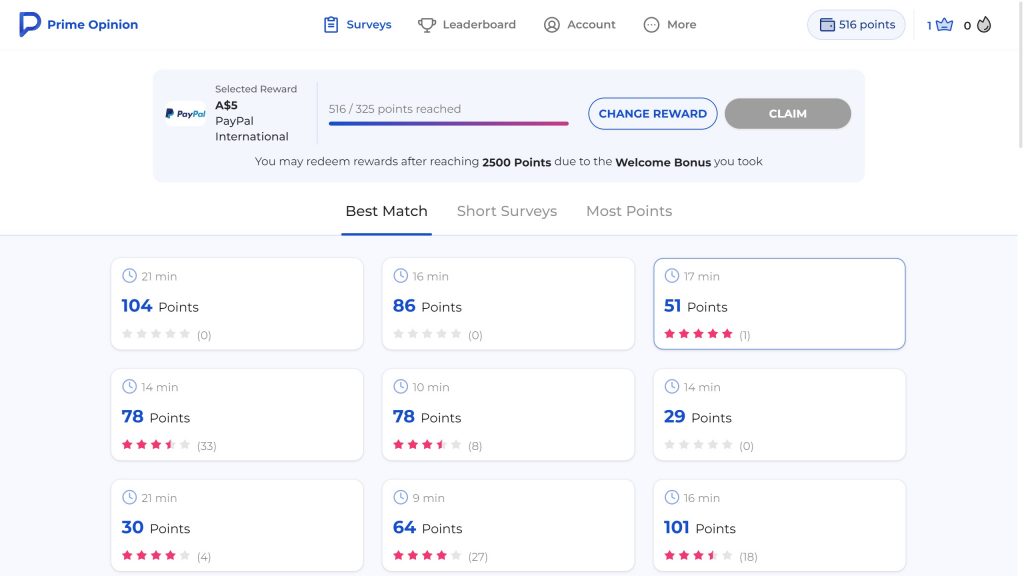 Prime Opinion Surveys
Putting aside the instant cash you can make with the welcome bonus or referring friends, answering surveys is the real way to make money online.

A 15-minute survey can earn you between 30 to 220 points (approx $0.50 to $2.00). So let's assume you'll earn less than $10/hour.

Prime Opinion makes it easy to search and start earning by 'Best Match', 'Short Surveys', or 'Most Points'.

What you'll quickly discover is plenty of short, low-value surveys are few above 200 points. If you were to look to earn $8/survey as advertised, you'd need to complete surveys in excess of 1,500 points, which would quickly be jumped on by everyone and the quota would be met quickly.
Prime Opinion Referral Program
You can earn 100 points by referring your friends. Don't bombard them with invites as they quickly become ex-friends though.

To make referrals, all you need do is:
Send your link to your friend.
Your friend signs up and takes surveys.
And… You receive a bonus of 100 coins once your friend redeems their first reward.
Prime Opinion Welcome Bonus
This is a unique methodology for welcoming participants.

Participants can choose when they can redeem their joining bonus based on the value they opt for. Naturally opting for the highest value will lock you in for a reasonable period of survey participation before the bonus can be extracted. Select the lowest points option and you'll be able to start earning by cashing out on the same day.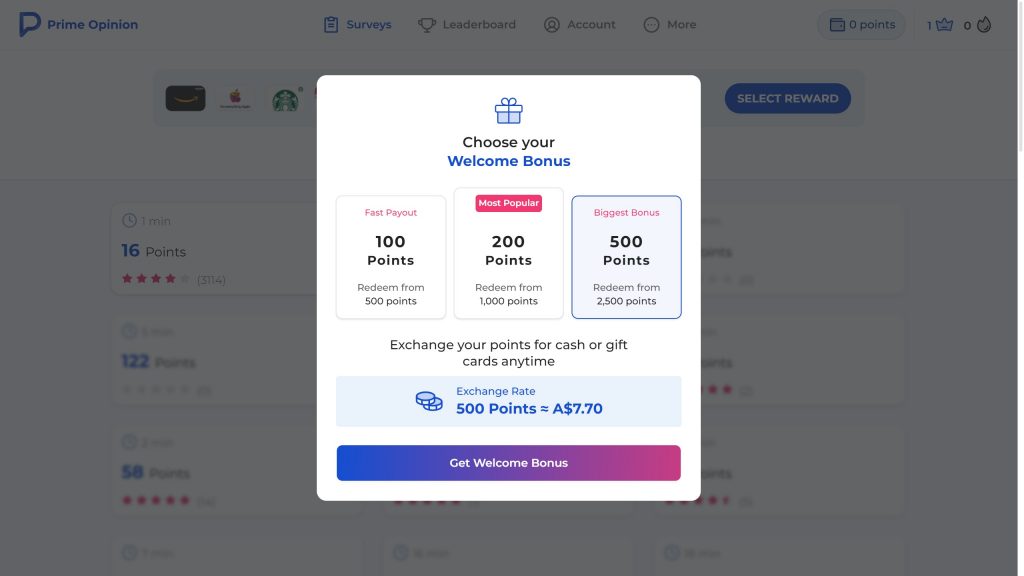 | | Points: | Redeem from: |
| --- | --- | --- |
| Fast Payout | 100 | 500 |
| Most Popular | 200 | 1,000 |
| Biggest Bonus | 500 | 2,500 |
Prime Opinion LeaderBoard
Complete surveys x10 to unlock the leaderboard and then become a top 10 respondent to be in to win from a weekly pool of 73,500 Points ≈ A$1,131.90 (at time of writing)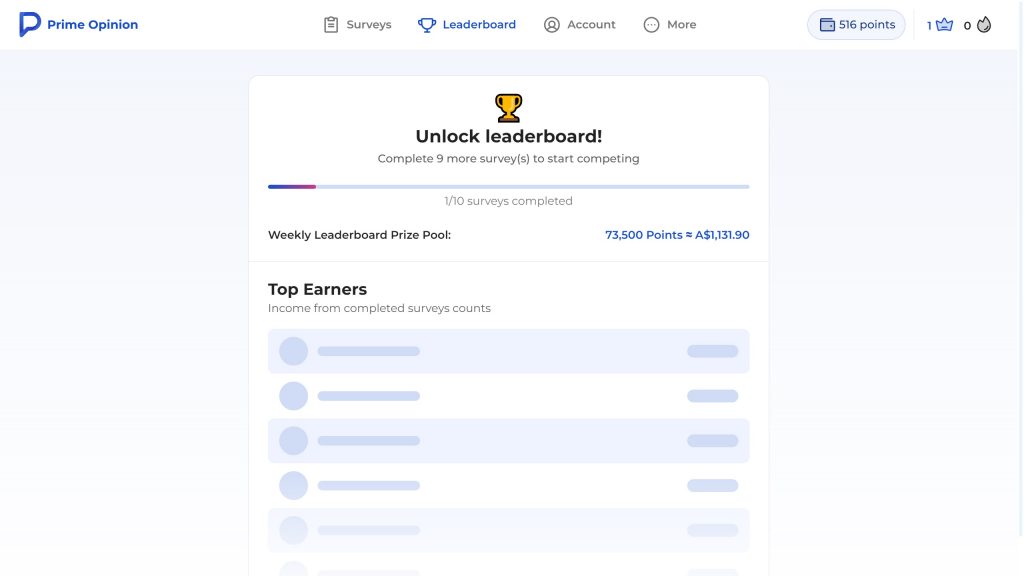 Redeeming Prime Opinion Earnings
Prime Opinion offers one of the best ranges of payment methods for any survey platform in Australia. At present 325 points are equivalent of AUD$5.00

Note that payout thresholds vary from country to country, so any review you're reading that states a $2.50 payout for PayPal is not an Australian-based review.

Paypal: By far and away PayPal is the choice of most survey takers. With payouts available as low as AUD$5.00 or 325 points, you can ensure you never leave too much money in your account, should things ever go wrong with the survey platform.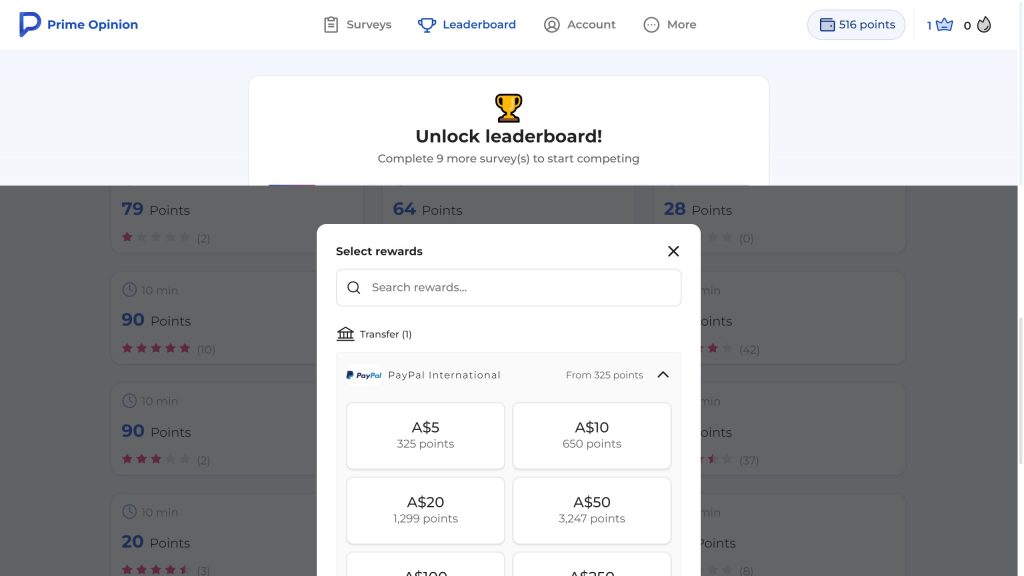 Bank transfer: Though not advertised as much as PayPal, Prime Opinion does have a bank account option for some countries, with the transaction occurring in a few hours, but not for Australia.

Gift Cards/Vouchers: A broad selection of 25+ options are present: RentacarGift, AirlineGift, Amazon gift cards, Apple, ASOS, BCF, BucketlistGift, catch.com.au, Coles, eLearn Gift, Flightgiftcard, FlystayGift, Global Experience Card, Global Hotel Card, Hotelgift, HotelsGift, JB Hi-Fi, Kmart, Myer, Priceline Pharmacy, Rebel, Spotify, Supercheap Auto, Target, The Good Guys, ToursGift, TripGift.

Most direct retail options start at $5.00, but the flight, accommodation, and experience options start at much higher redemption prices.

The Gift Card option is perhaps a letdown for the lack of retail choices.

Virtual Visa International: These start at $1, but a word of warning that international exchange rates may come into play, significantly devaluing your redemption. Note that these cards are prepaid cards and as such are not credit cards.

Charity Donations: There are three options for Australia: Doctors without Borders, Save the Children, and International Rescue Committee. 500 points ($5) is all it takes.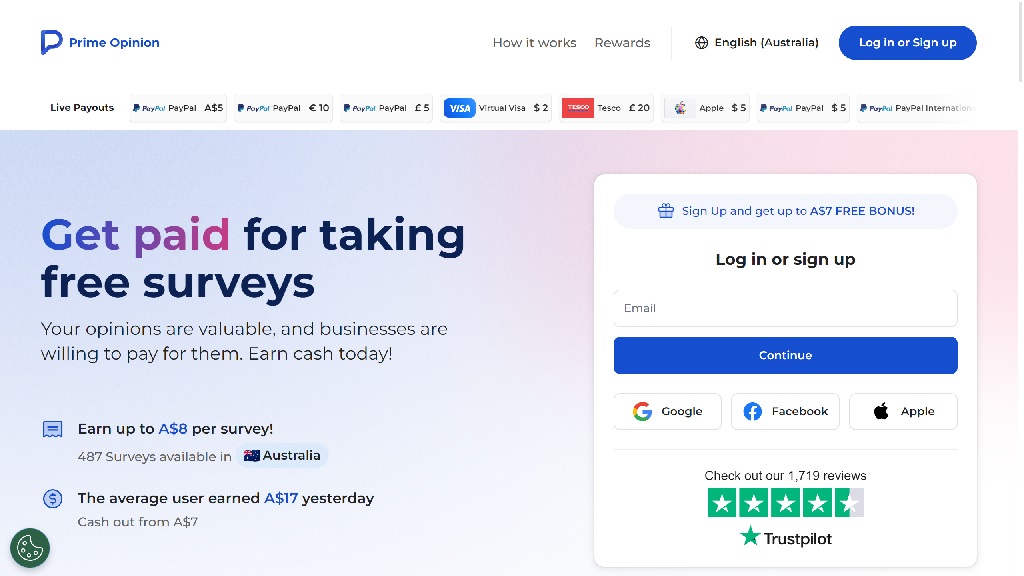 Prime Opinion Australia
Your opinions are valuable, and businesses are willing to pay for them.Sign Up and get up to A$7 free bonus.
Pros And Cons – Prime Opinion Australia
So this is where I get to lay the real issue out… If you select the low welcome bonus, you're able to cash out on the first day – that's a very positive experience. BUT… choosing the higher welcome bonus locks you in for the long haul. Collecting 2,500 points to cash out takes a long time!

You might say why??? It all comes down to the average value of each survey AND screen-outs! Here are the issues:
The survey companies behind Prime Opinion are American based and this may equate to a lack of AUS focus.
There is no substantial demographic data collection by Prime Opinion that matches you to the best possible surveys, so it's up to the survey itself to screen you each time.
You'll waste time being screened out of 8 out of 10 surveys.
Some review sites will say this is a way of life with survey sites, but for me, the screen-outs seem far more pronounced than other sites I've reviewed. For these reasons, I'm skeptical that you can achieve a strong return on your time.
Pros
Welcome bonus
Referral program
Good survey earning rate
Plenty of surveys
Cons
Limited gift card options
Numerous screen outs
No demographic info sought
Similar Sites To Prime Opinion Australia
Prime Opinion Australia Reviews
Prime Opinion, it's excellent

Prime Opinion is an excellent survey site. Lots of surveys available, and rewards are quick and easy to receive. A bit frustrating at times when you fail to qualify for surveys but this doesn't happen often. I love Prime Opinion.

Deborah Furner-Anderton, AU, Trustpilot, 05 Aug 2023
Better than the others, but…

Enjoy using this site but it's very frustrating when you spend a lot of time completing a survey only to be timed out. Should be one you're committed and passed the screening and already spent a certain amount of time that you're permitted to finish.

Suzanne Brendel, AU, Trustpilot, 01 August 2023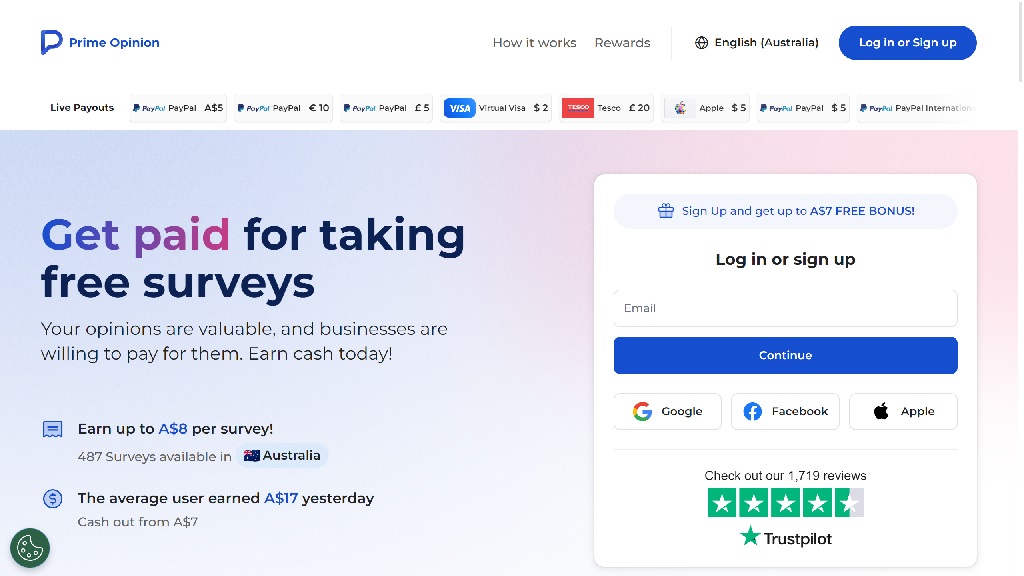 Prime Opinion Australia
Your opinions are valuable, and businesses are willing to pay for them.Sign Up and get up to A$7 free bonus.
Prime Opinion Customer Support
Help Page: The Help page is a little on the thin side, but bear in mind that the site is purely a survey site. Most complaints and issues stem from screenouts, or quotas filling fast that are outside Prime Opinion's control.

Note that using a VPN or Proxy to do online surveys will result in your account being permanently locked out.

Lodge an online support ticket: Under the help section you can lodge a ticket along with a screenshot in a contact form.

Live Chat: Some reviews make mention of a live chat capability, but this may be both country and timezone-dependent.

Phone: There is no telephone support option.

Reach out on social media: Prime Opinion does not appear to have a significant social media presence.

TrustPilot: Dropping a review into TrustPilot will get the attention of Prime Opinion staff. Be nice and clear about the issue and await their contact. Revise your review once your issue is resolved.
Conclusion: Prime Opinion Review Australia
Prime Opinion Australia

If you've got to the end of this Prime Opinion review, hopefully, you'll know the answer to the issue of long-term earnings with the site.

Should you join Prime Opinion Australia and hit it up daily for surveys? Yes, give it a go for at least a week to see how you go.

You may find a few better options such as Octopus Group, YouGov, and Toluna that offer more breadth of activities and surveys, but Prime Opinion should be in your mix due to its focus as a dedicated survey site.

Thanks for taking the time to read this Prime Opinion review!
FAQ: Prime Opinion Review Australia
Does Prime Opinion have an app?
No, there is no app for either Apple iOS or Android from the Google Play app site.
How much can I earn on Prime Opinion?
This is entirely up to the time you spend on site, the completeness of your demographics, the country you live in, the speed at which you act on the notification emails and many more factors.
Is Prime Opinion legit?
Yes, it has a 4.4 rating out of 5 on Trustpilot and we can attest to it being a genuine survey site. It is not a scam.
How old do I need to be to join Prime Opinion Australia?
You will need to be 18 years of age and be prepared to supply ID if asked.
Who owns Prime Opinion?
Prime Insights Group LLC owns Prime Opinion.