Ipsos iSay Australia – Overall Rating
Ipsos iSay Australia is an online survey panel owned and operated by Ipsos, a global market research company. It's a platform that allows individuals to earn rewards for participating in market research surveys and providing opinions on a variety of products, services, politics, topics, and current events.

In this Ipsos iSay review, we explain why this survey site should be on your go-to list and how and why it stands out from the competition.

Editor's note: Ipsos MyView has rebranded to Ipsos iSay.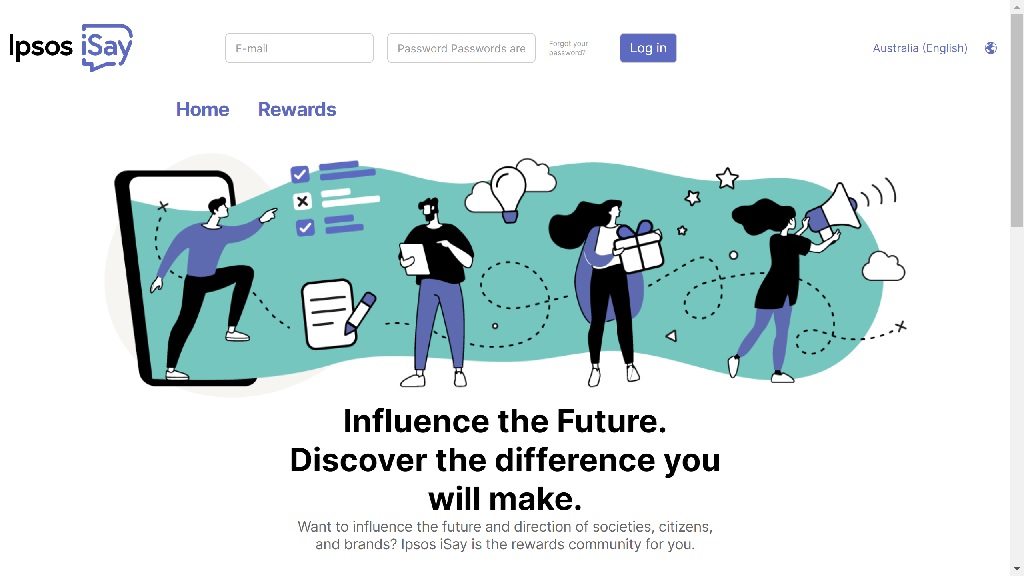 Ipsos iSay Australia
Do you want to influence the direction of societies, citizens, and brands? If so, Ipsos iSay Australia is the rewards community for you.
Table of Contents
What is Ipsos iSay?
Ipsos iSay is a survey panel for consumers with an interest in providing feedback on services and products, answering polls, and other activities.

Companies and brands commission Ipsos iSay to undertake market research with Australian consumers, with a significant amount of that money making its way back to members.

Surveys range from a few minutes to around 30 minutes, depending on the complexity of the topic.

The primary currency of iSay is in the form of points, which can be cashed out for rewards. Members can exchange points for e-gift cards, PayPal, and even charity donations.
| Ipsos iSay Australia | |
| --- | --- |
| Redemption Methods: | PayPal + eGift Card + Charity |
| Redemption Threshold: | Charity – $5, e-Vouchers and PayPal – $20 |
| Survey Pay Range: | $1 – $15 |
| App: | Android + Apple iOS |
| Australian Based: | No |
| Referral Program: | Yes |
| Join: | Join using the Ipsos iSay login here |
Is Ipsos iSay Legitimate?
Yes! Australian users can be confident that Ipsos iSay is a legitimate paid survey site and not a scam. Ipsos iSay is rated a 4.2 on TrustPilot with 45,000 reviews.

iSay Australia is backed by Ipsos, a global market research firm. As one of the world's largest survey companies, Ipsos conducts millions of surveys annually in 50 countries plus. Suffice to say that this is a legit and trustworthy company!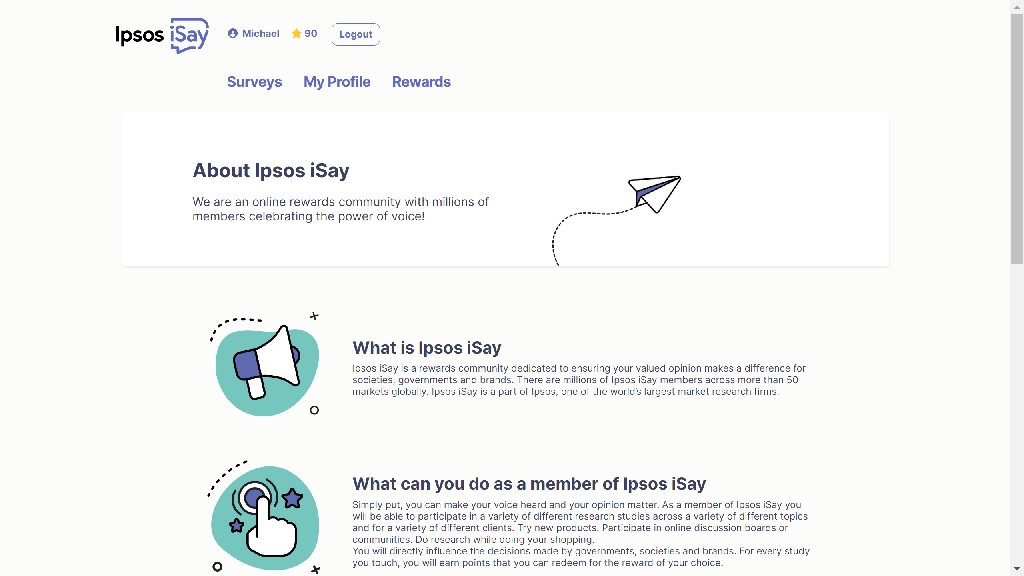 In addition, iSay provides a number of safeguards to ensure that users' personal information is kept. Australian Privacy Laws are adhered to and iSay is a member of The Research Society (formerly AMSRS) and holds a trust mark with the Australian Data and Insights Association.

We consider Ipsos iSay to be in the top tier of online surveys along with MyOpinions, YouGov, Octopus Group, Survey Junkie, and Toluna Influencers.

iSay's terms and conditions and privacy policy can easily be found on its website ipsosisay.com.
Ipsos iSay is legitimate!
Is It Free To Join Ipsos iSay?
Yes, joining Ipsos iSay is entirely free, as are all legitimate paid online survey websites. It is a very simple and quick process.

You'll need to be aged 18 or above.

During registration, you'll need to input your personal details, demographics, and interests. The data collected at this stage is used to match you with surveys that closest match your consumer patterns and profile, lowering the chances of annoying screenouts.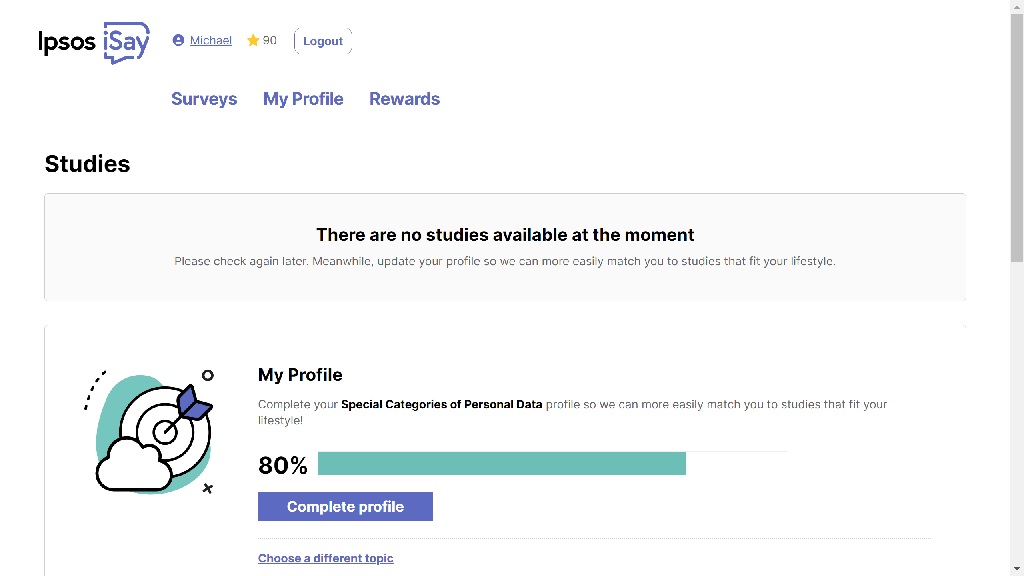 Joining and getting started is as simple as:
Complete your profile
Take part in research
Discover your influence
Choose your rewards
Is There An Ipsos iSay App?
Yes, there is a mobile app for both Google Android and Apple iOS platforms, but it attracts average ratings, so we'd suggest using the desktop-based application where possible.

If only app-based surveys are for you, check out our Best Survey Apps page here.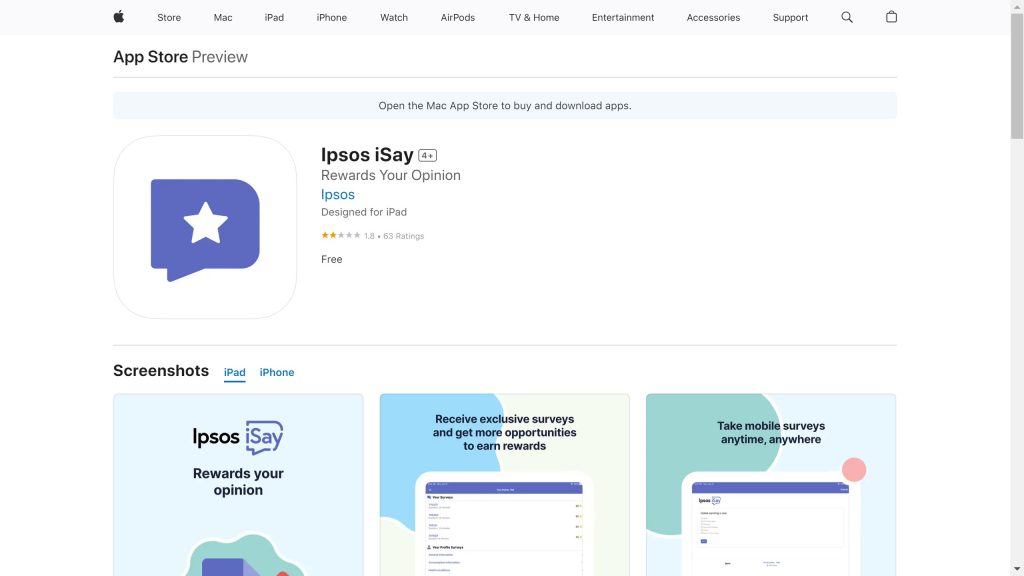 If you plan on joining via the app:
iOS users
Go to the App Store
Type "Ipsos iSay" in search bar
Tap the "Get" button to install
Android
Go to the Google Play store
Go to the Apps section
Type in "Ipsos iSay" in the search bar
Tap the "Install" button
Completing iSay Online Surveys
After you're done setting up an account and creating login details, you'll be sent survey invitations via email. Often the first invite takes a couple of days, depending on what available surveys are in the system. This is why we also advocate joining several survey companies if you wish to turn online surveys into a daily side hustle for extra money.

Members can also receive surveys on their smartphones. Surveys are designed specifically to be taken on mobile devices, offering members a chance to earn rewards on the go.

As well as email and smartphones, the user dashboard is the best place to peruse new surveys available. The notification will advise how long the new survey will take to complete and how much you'll be rewarded for your time.

Most surveys will take between 10 and 30 minutes to complete.

Screenouts can and do happen. Unlike some survey companies, iSay will reward you for your time with automatic entry into monthly sweepstakes or prize draws.
How often does iSay send new survey invitations?
Most users will receive between one email per day to one email per week on the low end. Participating in a survey is entirely optional and if left too long, the quota may be exhausted.

The volume of survey invites will depend on your individual profile. By paying particular attention to your profile information and demographics when signing up, you'll boost your chances of survey opportunities suited to you.

The more surveys you complete, the more points you'll earn.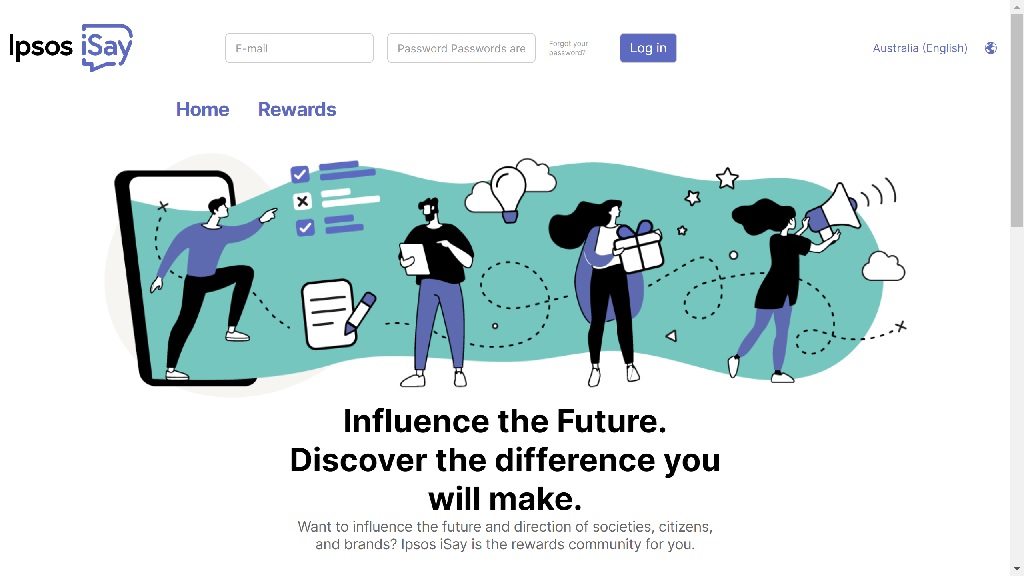 Ipsos iSay Australia
Do you want to influence the direction of societies, citizens, and brands? If so, Ipsos iSay Australia is the rewards community for you.
How Much Money Does Ipsos iSay Pay?
Most iSay surveys payout between 100 – 600 points – that's the equivalent of between $1 – $3 for your time. There are higher-value surveys regularly appearing but you'll need to move fast on those.
How much time does it take to earn money with Ipsos?
Since you can easily be doing a survey a day worth 300 points, or $3, it's entirely likely that you will be cashing out within a week of joining Ipsos iSay, due to the redemption threshold being anywhere from $5 to $20, depending on what you want. There can be a huge variation in earnings and redemptions given the number of surveys completed.
How much are iSay Points worth?
iSay's points system is one of the better points for cash systems in the online paid survey world in Australia. It is a very transparent and reliable system.

Simple: $1 = 100 iSay points.
How To Earn With iSay
Answering surveys is by far the main way to earn points. Some user-based reviews have suggested that Ipsos Australia may offer research opportunities, including focus groups and product testing, but we personally haven't seen it.
Refer a Friend
Another great way to make some side money is to refer your friends using the link on the 'Surveys' page.

Each friend needs to fill out their profile and complete at least one survey. You'll receive 300 points ($3) per successful friend.

Sign up a maximum of 5 friends per month, every month and you'll be on the receiving end of an extra $15/month. Nice!
How Do You Get Paid?
Probably the biggest complaint we hear is about the points redemption options with iSay.

There are 3 main options for redeemed points:
Charity with a low redemption threshold
PayPal with a $20 redemption threshold
GiftPay Flexi eGift Card with a $20 redemption threshold, including Amazon gift cards
Gift Cards can be redeemed for retailers such as Coles, Big W, Woolworths, Myer, Supercheap Auto, Apple, Google Play, and many more.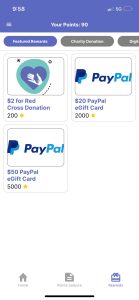 There is no direct cash-out option and the gift card option can be a bit limiting.

The huge benefit of all redemptions is that they are instant with no postage or waiting involved.
Do my points ever expire?
As long as you remain an active member of iSay, your points balance is safe and won't expire.

Terminating your membership, becoming inactive, or being deactivated, will lead to your unused points being forfeited.
iSay payouts vs other survey sites?
We believe Ipsos Australia payouts put it in the top tier of paid surveys. Obviously, we rate Octopus Group as the best, but iSay is comparable with YouGov, Toluna, and OpinionWorld.

As always, experiences vastly differ depending on profile management and usage of Refer A Friend schemes.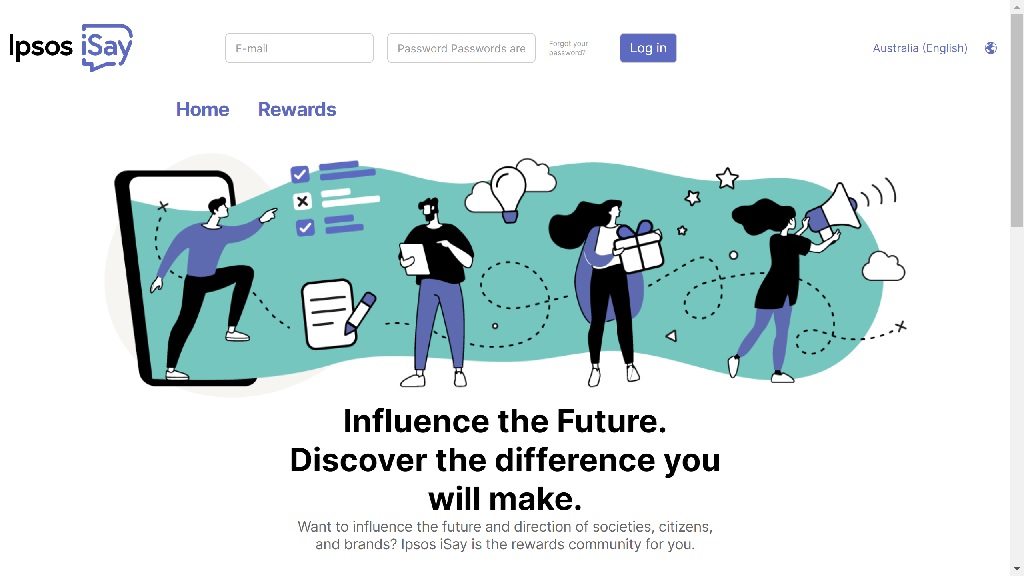 Ipsos iSay Australia
Do you want to influence the direction of societies, citizens, and brands? If so, Ipsos iSay Australia is the rewards community for you.
Pros And Cons – Ipsos Australia
On the whole Ipsos iSay comes up pretty well on the balance of things, particularly since it has simplified and repurposed its website in the last 2 years.
Pros
Trusted and legitimate
High survey payouts
Instant redemptions
User-friendly interface
Cons
No direct cashout option
Low survey frequency
Screenouts often occur
Limited redemption options
Similar Survey Sites To Ipsos Australia
Personally, we place Ipsos Australia in the top tier of online survey websites we regularly discuss.

But, we suggest those new to paid surveys explore a number of platforms before settling on a few sites that work for them. These are the ones we think you'll like if you like Ipsos iSay Australia:
Ipsos iSay Australia Reviews From The Web
A well-established and global operation like Ipsos iSay will trigger a fair number of good and bad reviews on a variety of sites like Google Reviews, Trust Pilot, and Product Review.

Because Ipsos iSay is global, it will also attracts a reasonable number of scammers and they tend to vent on forums alongside the innocent, so take everything with a grain of salt.
I have no complaints
I have no complaints. I managed a redeem with Amazon today, I received my voucher code right away. The process was incredibly fast and straightforward.

I don't get bombarded with several surveys a day, I would rather have too few than too many.

Trustpilot user, Mandy, 1 Mar 2023
Where are the rewards
The only reward available from this company are Uber vouchers. When asked when will the better Wish Gift Card, Dan Murphys Card and other will be offered again the only response is 4 weeks. For a company that offers rewards for doing surveys this is terrible.

Product Review user, Paul, 9 Aug 2022
In defense of Ipsos iSay, there was a period in 2022 where there were issues with the volume and choice of redemptions – possibly due to a system change.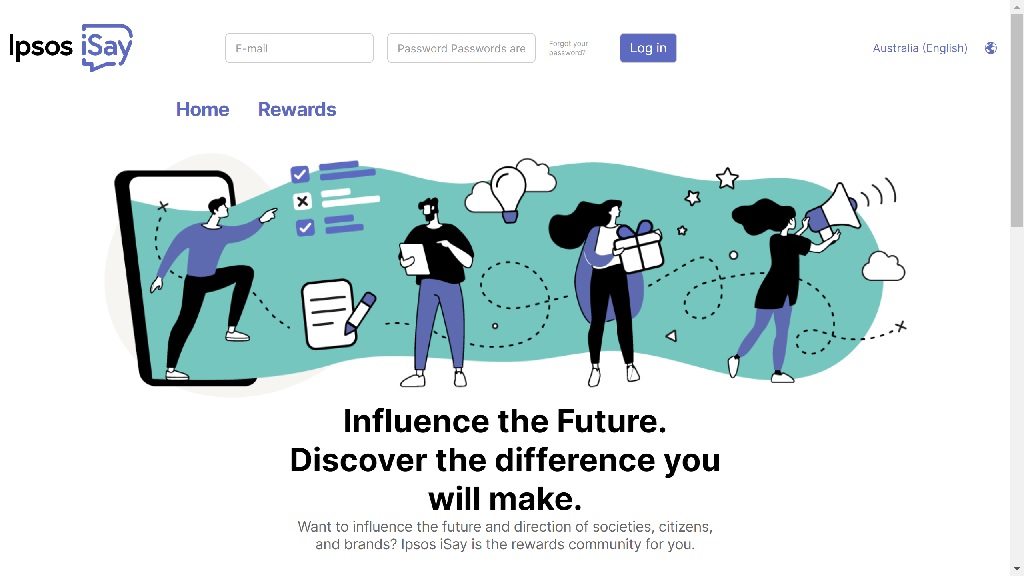 Ipsos iSay Australia
Do you want to influence the direction of societies, citizens, and brands? If so, Ipsos iSay Australia is the rewards community for you.
Ipsos Australia Customer Support
The most common problems of surveys freezing or not allocating points can usually be addressed by support teams.

Check the FAQs: Like other top-tier sites, Ipsos iSay has an extensive FAQ site. Start here.

Online support tickets: Failing that – create a support request by heading here.

Reach out on social media: The Ipsos iSay Facebook page is quite active and worth a try.

Trustpilot: A concise and rational post on the Trustpilot website might be enough to get you the remedy you seek. But be nice.
Conclusion: Ipsos iSay Review Australia
Ipsos iSay Australia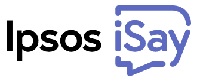 Ipsos Australia is one of the top-tier survey programs we think everyone should join.

While surveys are not as frequent as some others, such as Octopus Group, Ipsos iSay nonetheless offers good earning rates and an easily navigated reward program.

The referral program also allows for an extra $15/month solid income stream. Easy!

On the downside, limited redemption options exist, but their instantaneous delivery offsets that issue.

In total, Ipsos iSay is a must-have program to be involved with. Happy surveying!

Thanks for taking the time to read this Ipsos iSay review!
FAQ: Ipsos Australia
Is Ipsos iSay legitmate?
Ipsos iSay Australia is a leading global market research company. It conducts tens of millions of surveys per year across over one hundred countries. It is reasonable to say that this is a trustworthy and legit company!
How do you get paid by Ipsos iSay Australia?
PayPal, eGift cards, and donations to charity are all part of the payment mix. Ipsos iSay has a good reputation for paying fast too.
Do Ipsos iSay Australia points expire?
No. Ipsos iSay Australia points will not expire, provided you remain an active survey panellist.
How much money does Ipsos iSay pay?
Typical surveys will earn you anywhere from $1 to $3, depending on the time required to answer them. Higher-value surveys are periodically available and these would normally require at least half an hour and pay a lot more than usual.
Who owns Ipsos iSay?
Ipsos, a France-based multinational market research and consulting firm owns Ipsos iSay.